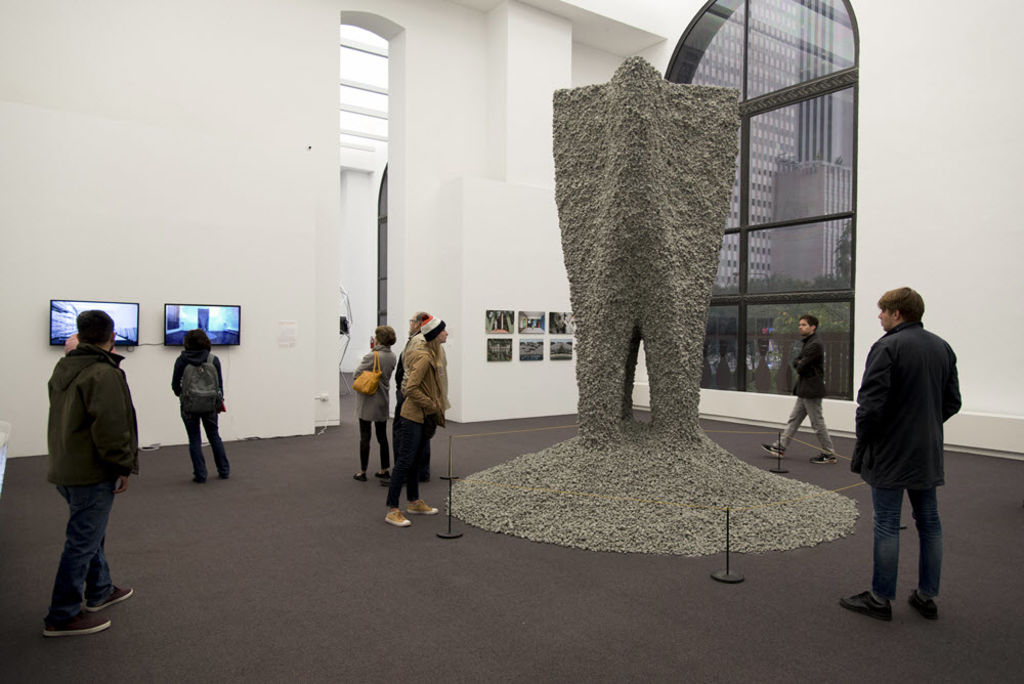 Robots are now making structures that you won't believe
We've seen the robotic arm laying bricks. It was a newsworthy video demonstration a couple of years back.
But in "the age of accelerations" when technology is so rapidly taking over many former manual functions, have you seen the footage of the two drones dragging rope line through the air to build a primitive bridge?
Dodging each other, they swoop, loop, weave, wind and attach the ropes to construct an aerially-suspended bridge strong enough for a man to cross.
Admittedly, "the flight assembled bridge" is an experiment conducted by Swiss PhD students. But it worked. Pre-programmed flying machines built a viable structure.
As Matthias Kohler, Zurich architect and one of the world's leading researchers and practitioners in the newish field of digital architecture and robotic fabrication posits: "Could we build a residential tower using flying robots?
Programmed drones managed to build a suspended bridge in a Swiss laboratory experiment. Photo: Institute for Dynamic Systems and Control and Gramazio Kohler Research, ETH Zurich
"Who knows what the future will bring?" he said in a highlight keynote speech at last month's World Architecture Festival in Berlin.
Kohler, professor for Architecture and Digital Fabrication and founder of Gramazio Kohler Research at ETH Zurich, whose special interest is the dynamic frontier where architecture meets digital fabrication techniques, said "developments in digital technology are transforming the way we build…
"And always when the ways we build change, architecture changes".
The founding director of the National Centre of Competence in Research (NCCR) Digital Fabrication (2014-17) in Switzerland – a cross-disciplinary research network tracking and experimenting with the myriad new possibilities – Kohler said that when he started playing with the ideas at the interface in 2005 "there was no machine capable of building digital architecture".
In the presentation that showed the aerial bridge building in action, he played a series of other short films that in turn showed a robotic arm selecting, gluing and placing bricks in a very complex pattern that became the attractive facade of a Swiss winery.
"Each brick was slightly rotated so that in sunlight, the facade shows an ornament of oversized abstract grapes", he said. "The winery is a traditional building. But its intricate facade was done by a robot."
Gramazio Kohler Research also shipped a robot to the Venice Biennale to build a 100-metre-long oscillating wall at the front of the Swiss Pavilion. "It had a very textile-like appearance".
Another extremely beautiful piece of architecture that was only made possible by using robotics is "the Sequential Roof", built last year within "our new institute in Zurich.
"We designed the roof with computational tools and it was assembled by robotic fabrication processing using 50,000 simple timber slats.
"The roof was not drawn. It would have been impossible to draw construction plans for this high a number of individual parts. It was very carefully programmed, including the complex nailing patterns that connect all the individual slats".
With their current architectural research demonstration project DFAB HOUSE, different professorships from the NCCR are experimenting with sustainable fabrication methods that could reduce the volumes and therefore increase the efficiency of concrete – one of the most ubiquitous and environmentally-expensive of all construction materials.
One method uses robots to combine reinforcement and formworks. For this, Kohler showed footage of a robot placing and spot welding a complicated reinforcement mesh for a long and undulating vertical wall that was later filled with concrete – by humans.
"Beyond offering new design possibilities", he said, "a core innovation of this structure is that it requires no formwork at all because the mesh density prevents the concrete flowing out. This process also demonstrates how an ecological attitude and new design and construction technologies are working hand in hand".
Everything Kohler showed and discussed exploded into future potential.
It was only by using robots that this beautiful wooden roof could be constructed. Photo: Gramazio Kohler Research, ETH Zurich
Yet nothing was quite as astounding as a highly-experimental process he showed in a video whereby a robot "knitted together loose rocks using a twine-like material that allowed the gravels to cohere into a column structure "without using steel reinforcement or binding material like concrete".
Erected in Chicago, the load-bearing column called "Rock Print" stood for three months before students unravelled the twine and the structure disintegrated again into a pile of stones.
Perhaps, Kohler said, a similar process might be used to structure buildings that at the end of their life "could be recycled into something else?
"Who knows what the future might bring when we start manipulating the physical realities around us with computational sensing and control?
"We can think of new worlds, or understand the current world in different terms".