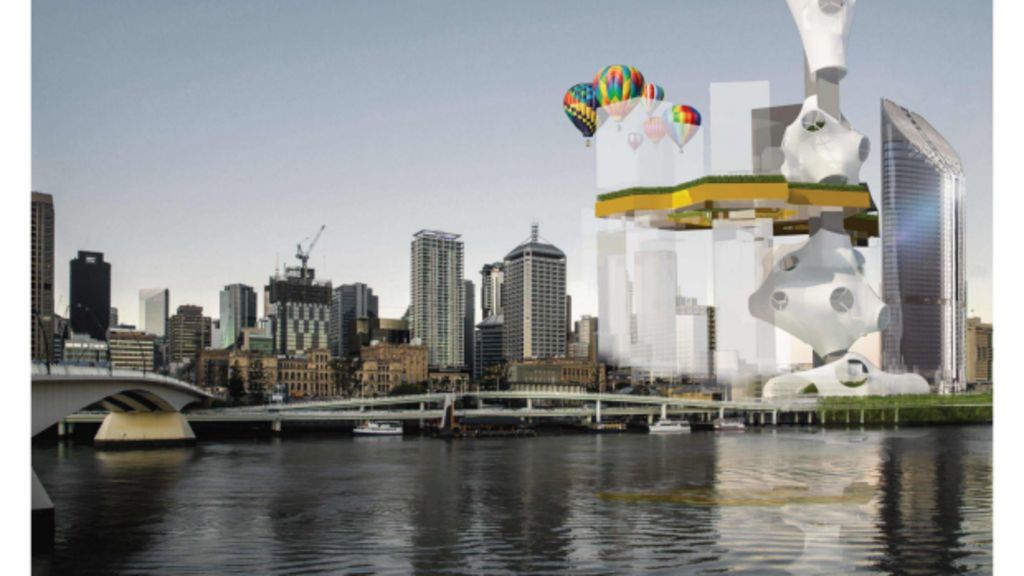 Brisbane architecture students create alternative Queen's Wharf designs
Queensland architecture students have created alternate designs for the "ethically and morally challenging" Queen's Wharf development in Brisbane city, which will begin development in 2017.
University of Queensland architecture students were asked to provide alternate designs for the Queen's Wharf Brisbane Integrated Resort Development and worked to a similar brief.
The Queen's Wharf development project will cover about six blocks west of Brisbane's city centre and aims to completely redesign and repurpose the area into a six-star casino, hotel, retail and dining precinct.
UQ Master of Architecture student Bram Chapman's Queen's Wharf design submission. Photo: Bram Chapman
The area includes the largest cluster in Brisbane of heritage buildings and sites, with nine heritage buildings and two heritage parks to be "revitalised, repurposed and made available for the public" as part of Destination Brisbane Consortium's (DBC) $3 billion development.
University of Queensland School of Architecture senior lecturer John de Manincor said the students' exercise was not a critique of the architecture or landscape design of the current proposal, but a process that highlighted the enormity of the task at hand and how it would affect the community.
"In a practical sense, the project has provided students with an opportunity to engage in a large, complex project that is ethically and morally challenging – with challenges they may well face in practice," he said.
"At Queen's Wharf, these challenges include the very morals of gambling, along with the ethical complexities of working in and potentially devastating important heritage buildings."
Mr de Manincor said the students provided compelling alternatives to the William Street development proposal, which he described as a "terrible urban outcome for Brisbane".
"In the current proposal, William Street is to be covered for nearly an entire city block to accommodate the enormous gaming floor demanded by the proponents," he said.
"The undercroft becomes a space for taxis, coaches and private vehicles for three major hotels and the casino itself.
"A number of students have provided compelling alternatives to this idea with new laneways, high level sky decks and subterranean gaming floors."
UQ Master of Architecture student Chris Ward's Queen's Wharf design submission. Photo: Chris Ward
Mr de Manincor said while the architecture students had the luxury of being speculative, the current proposal did not take into account Brisbane's full potential.
"The procurement process leading to the proposal for Star Entertainment has not engaged in enough speculation about what the city might be, apart from an imitation of Macau," he said.
Mr de Manincor said he held concerns for the management of public spaces.
"Whilst the new open spaces may well be high-quality design, that they are to be managed by a private body is not high-quality governance. It gives parties with vested commercial interest control over what should be true public space," he said.
In a bid to ease the "ethical challenges" of working within heritage-listed areas, DBC has worked with the Royal Historical Society of Queensland to uncover largely unknown facts of the heritage-listed buildings and sites in the proposed development area.
For instance, Queen's Wharf Road, which runs between William Street and Brisbane River, was made by convicts to connect a timber wharf to a lumber yard in 1826.
The wall, which only partially remains, was made from Brisbane tuff; volcanic sediment, and shell mortar, made from crushed down oyster and pipi shells which were burnt to create lime and produce mortar.
In 2013, remnants of a cat and a boot were found near a fireplace at the Immigration Depot on William Street, originally built in 1866.
It is understood construction workers at the time believed that concealing a dead cat and a boot near a fireplace would keep evil spirits at bay.
Both the cat and the boot are still kept within the building, but are not on public display.
The first building erected in Brisbane was the Commandant's Cottage in 1825, which housed the founder of Brisbane, first Commander Captain Henry Miller.
A brick paving outlines where the cottage once stood behind the old printing office in William street.
The Mansions building at 40 George Street housed the first female doctor in Queensland and the first female surgeon in Australia, Dr Lilian Violet Cooper.
The former government printing offices on the corner of Stephen's Lane and George Street, built in 1887, have what is known as 'printer's devils' at the entrance and on the parapet.
These "devils" are a tribute to either the apprentices who worked in the offices or reflect the belief that a special devil haunted every print shop during the 1880s, performing mischief such as misspelling words or removing entire printed lines.
A wrought iron gate on the corner of Charlotte and George streets hides a door on the left side that opens onto a secret spiral staircase, allegedly used as a hidden escape route by former government heads to avoid unwanted attention.
Heritage buildings and parks to be revitalised, repurposed and made available to public in the Queen's Wharf development proposal:
The Lands Administration and Treasury buildings, which currently house the Treasury Hotel and Treasury Casino respectively
The Mansions at 40 George Street
The Government Printing Offices and its associated courtyard located on the corner of Stephen's Lane and George Street
The old State Library building at 159 William Street
The former Immigration Depo at 95 William Street
Harris Terrace at 68 George Street
Public Service Club at 84 William Street
The Commissariat Store Museum at 115 William Street
Miller Park (located between the old State Library building and the Commissariat Store Museum)
Queens Garden (also known as Queens Park) located between the Lands Administration and Treasury buildings