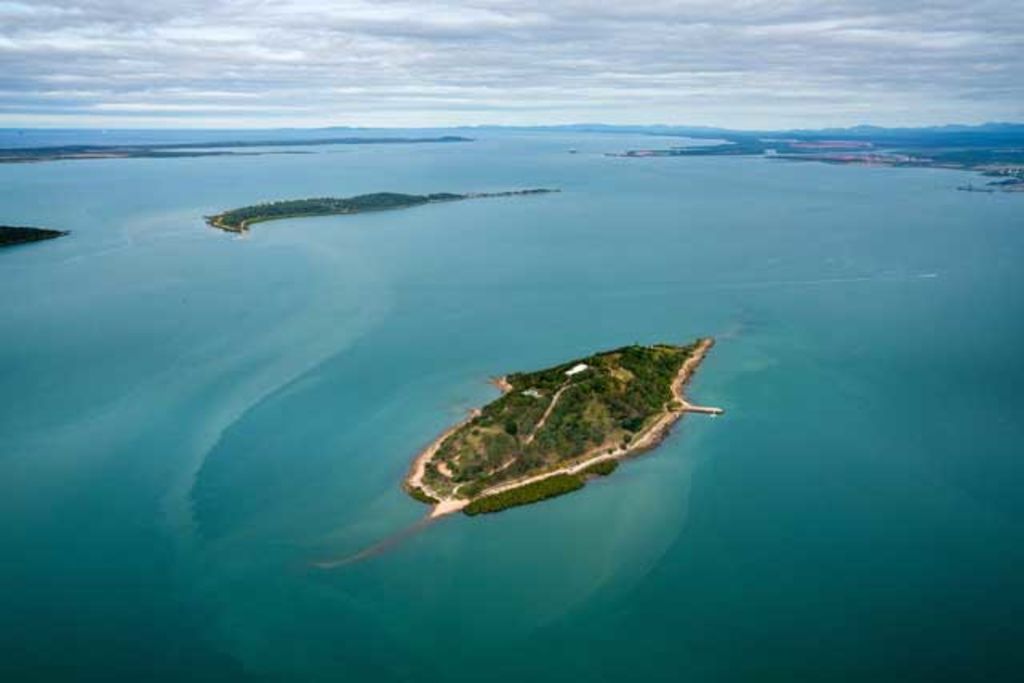 Turtle Island for sale: Celebrity lifestyle beckons in Queensland
A Queensland island paradise that has previously caught the eye of Hollywood celebrities is back on the market.
Actress Julia Roberts and reality star Kim Kardashian are two of the A-list names that have been linked to Turtle Island, which has been listed for sale with Colliers International with the option of being used as a private retreat or a tourist resort.
The 9.5-hectare tropical island, just off the coast of Gladstone, is one of only nine freehold islands in the state and, according to The Australian Financial Review, currently belongs to Sydney-based actor Brendon Lunney.
It comprises a main four-bedroom home, two helicopter pads, a private jetty, pontoon, car barge and in-ground pool.
The island comes with two helipads and a private jetty. Photo: Supplied
The island is being sold with council approval for use as a tourist resort, allowing Colliers to pitch the island to investors as well as the rich and famous keen to escape from the public eye.
The island reportedly has an expected price of around $4 million.
In the late 1990s, Roberts missed out on securing the island as her own private holiday haven. Instead it went to Sydney property developer Steven Christofidellis, his wife Marcia and their family, who bought it for $3 million.
"Given that Turtle Island is located at the southern end of the Great Barrier Reef, it has one of the seven wonders of the natural world at its doorstep," said Emily Fan of Colliers International, who is selling the island with colleague Matthew Meynell on behalf of Mr Lunney's Phoenix Avoca Pty Limited ATF Phoenix Avoca Trust.
The current owner has been using the island as a mixture of boutique resort and personal retreat since purchasing it almost two years ago, according to Ms Fan.
A four-bedroom house provides accommodation to island-dwellers. Photo: Supplied
"The Southern Great Barrier Reef is home to what is considered to be one of the top dive and snorkelling sites in the world, dotted with impressive coral caves and reefs that are only a stone's throw away from the coast," she said.
Turtle Island is four kilometres away from the mining town of Gladstone, allowing future island owners to experience tranquility without the fear of isolation.
"Gladstone offers an array of fine dining and entertaining options if you ever feel like stepping away from Turtle Island," Ms Fan said.
The island is accessible via boat, helicopter and car barge.
An aerial view of Turtle Island. Photo: Supplied
The island was developed by horse-racing identity Bob Bentley, who bought it in 1994 for $300,000, and has attracted plenty of high-profile attention ever since.
International expressions of interest close on Wednesday September 28, 2016 at 3pm (AEST) through Colliers International.