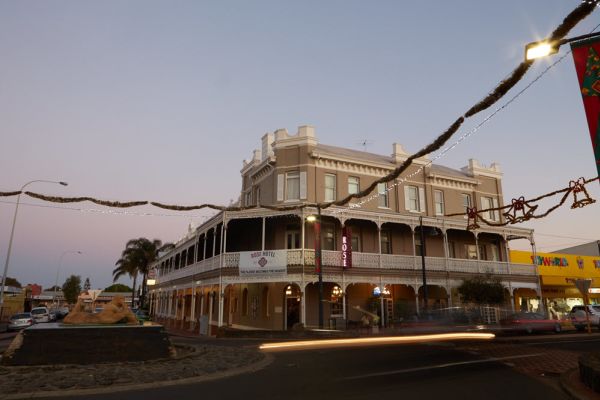 The historic pubs helping drive Bunbury's tourism revival
Bunbury's historic pub scene has undergone a big transformation, with three of the city's oldest hotels smarting multi-million-dollar renovations.
The 150-year-old Rose Hotel, the iconic Prince of Wales and the Parade Hotel on the shores of the Leschenault Inlet have each had facelifts designed to modernise their offerings, while maintaining their heritage roots.
The Rose Hotel celebrated its renovations with an event last month attended by 500 VIP guests, while the new look Parade Hotel re-opened its doors in October after almost 18 months.
[dm-listing-recommendation experimentname='midcontent-listings' positiononpage='midcontent']
The renovations represent a considerable investment in Bunbury's pub scene, and provide the icing on a hospitality cake that has seen a host of new small bars and restaurants spring up in WA's second city, as Bunbury transforms itself from a port city into a vibrant tourism destination.
Mayor Gary Brennan paid credit to the publicans for remaining faithful to the heritage of their establishments, and having the confidence to invest in Bunbury's future.
Mayor Brennan predicted a boom in tourism on the back of increased hospitality options in the city, along with a multi-million-dollar focus on new public infrastructure and amenities.
"Bunbury's got a great story to tell, and more people are experiencing that," Mayor Brennan said.
"We're anticipating a significant growth in tourism numbers. That will be people discovering Bunbury for the first time."
Sparkling Rose
Bunbury's grandest and oldest hotel, The Rose Hotel, has just completed extensive upgrades to its dining room area, bars and kitchen. The historic ballroom with its magnificent ceilings and stained glass windows has also received a facelift.
The Rose Hotel's bistro retains its heritage links. Photo: Sabine Albers Photography
The renovations also uncovered some surprises, including a historic archway in the front bar which has been preserved.
The upgrades have given patrons of 150-year-old hotel a more modern experience while keeping the historic essence of the establishment, according to Rose Hotel co-owner Dave Allen.
"We're incredibly proud to have ownership of such an iconic hotel," Mr Allen said. "Our ambition is to bring the entire building back to its former glory. It's been a big job, and we've worked hard to strike a balance between the old and the new."
Mr Allen said the community feedback about the renovations had generally been very positive.
He plans to continue renovation work, with a new alfresco area and work on the garden bar planned in the new year.
The Rose sits proudly in the heart of Bunbury and is a notable example of the historic gold boom hotel class. It was one of the few examples of a WA pub with a detached sample room – a place where commercial travellers could discuss business opportunities.
The Rose Hotel licence was originally knocked back on grounds that Bunbury already had two hotels. However, locals signed petitions and got behind Samuel Rose's push for a new pub, which saw the licence issued in 1865.
The original Rose Hotel had a bar and dining room downstairs and four small bedrooms upstairs. A billiard room was added in 1888.
Given its age, the Rose Hotel has always held a central place in Bunbury's history. At the end of World War I, the hotel was used as a venue for recognising Armistice Day. The Bunbury Municipal Band performed before about 1000 people, where "rousing renditions of 'God Save the King and 'Rule Britannia' were performed", according to reports.
Sadly, original owner Samuel Rose died two years after his pub licence was granted.
There have been numerous owners of the historic hotel since, including Col and Meg Sangster, and John and Elizabeth Drinkwater, who sold the hotel to current owners Dave Allan and Lawson Douglas's company Burt Cooper Pty Ltd last year.
Mr Douglas and Mr Allan also own the historic Exchange Hotel on Kalgoorlie's Hannan Street.
Shiny crown for Prince
Some 300 metres away on Stephen Street, the iconic Prince of Wales Hotel has undergone an appreciable facelift.
Owner Mitch Thorn has completed renovations which has seen the development of a new function room space and a street-side alfresco area.
The renovation of the Prince of Wales' function room has exposed some of the pub's historic timber beams. Photo: Prince of Wales.
The function centre on the second floor replaces several rooms and allows up to 70 guests an opportunity to enjoy historic decor and a spacious balcony overlooking the city.
The renovation has exposed some of the historic pub's massive timber ceiling beams, providing a unique highlight for the space.
The Prince of Wales' foundations can be traced back to 1858, when John Pratt built a house on the site. In 1873 John Edward Hands added a second house, before selling the property to John Fielder for a reported £1,456 in 1882, who promptly spent about £5,000 converting the house to the Prince of Wales Inn.
Noted owners included former policeman and licensee of Bunbury's Wellington Hotel Charles Wisby, who was a prominent Freemason and Bunbury's first mayor in 1887.
Prince of Wales Hotel owner Mitch Thorn, with managers Andrew Harnett and Crystal Mather. Photo: Ashley Pearce/Bunbury Mail.
Today, the Prince of Wales is renowned as one of the South West's premier live music venues. It has hosted some of Australia's biggest and best over the past 20 years, including Grinspoon, Karnivool, Tame Impala, Birds of Tokyo and Frenzal Rhomb.
Mr Thorn remembers one of the first gigs by a young up-and-coming WA guitarist John Butler at the Prince some years back.
"We paid him $100 for the gig," Mr Thorn recalls. "I don't know that we'd get him back here for that nowadays."
Parading a new look
The historic Parade Hotel opened its doors in October following an extensive makeover and an 18-month closure.
The Parade Hotel is well-known as the venue of several iconic Bunbury events including the famous horse swim. Source: Doug Green.
The Parade – famous for its Sunday session on a deck overlooking Bunbury and the Leschenault Inlet – has a clean new look that makes the most of the sensational view. The deck and lounge area has had a facelift, while the old sports bar has made way for a modern looking public bar.
Records show the Parade Hotel was originally built 1897, and was one of the first of Bunbury's pubs to incorporate a beer garden.
It has strong links to the city's port heritage. At one stage, timber from the Carbet Castle – wrecked after a fierce storm in Bunbury in 1897 – was used to build the hotel's staircase and a piano.
In 1978 Cyclone Alby washed away the hotel's dance floor and flooded the main bar. However, in true Aussie style, the barmaids kept pulling cold beers for patrons standing in knee-deep water.
[dm-listing-recommendation experimentname='below-content-listings' positiononpage='belowContent']
Keep up with Commercial Real Estate news.
Keep up with Commercial Real Estate news.