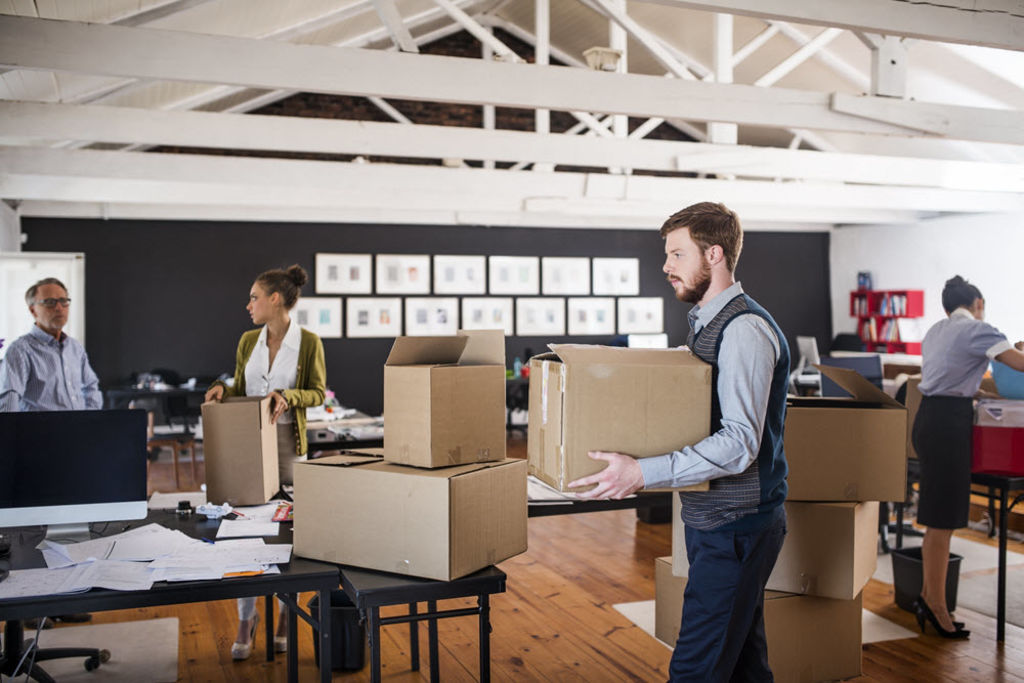 Five steps to making the leap from home office to your own office
Making the jump from a small home office or coworking space into your own commercial space can be a daunting experience.
It's one that comes with a whole host of new considerations and responsibilities, and can take crucial time away from actually running your business.
But it's also an exciting step forward for a small business, and if it's done right, can be a huge milestone in your journey.
Here are some things you need to consider when you're making this giant leap.
Make sure you really need to 
Before getting ready to make the move, you need to first make sure that you actually need to do this. Moving away from a cheap home office or coworking space is a time-consuming and costly activity, and one that should only be done if it's entirely necessary, says Billy Tucker, chief executive of OneFlare, an online marketplace that connects small businesses with customers.
"There's a fair amount of work with moving a small business, so you should only move when it's impractical to stay, when it truly becomes a constraint on your business," Tucker says.
The first and foremost reason for moving should be growth. If your small business has outgrown the home or coworking location, it's time to step into your own location.
Allow room for growth, but not too much 
You need to look for a new office that doesn't just accommodate your team now, but one that also has room for the anticipated growth over the coming years.
But as Beevo CEO James Nooney says, it's also important to not take on too much room and be left with bills for the unused space.
"Build out a three-year plan that has a low, medium and high case view, then take an office that caters for the medium case," he says.
Sort out the internet first 
A small business can't operate nowadays without the internet, and there's no point moving the whole team into a new space until the connections are sorted.
This might be as easy as switching the existing connection over, but it'll probably need an entirely new one and is a good time to review all of your services and suppliers. Make sure you do your research too or let Beevo do it for you, Nooney says.
"Check if it's NBN-ready – if it's coming or if it's there, you have to go on NBN," he says.
"There's no point in setting up stuff on an old copper network when the NBN is coming in three months. You may as well have something all sorted so when it switches over you won't have any disruptions."
While it might be tempting to save some money and do most of the move yourself, it'll pay off in the long-run to bring in the professionals.
This will let you and your team stick to running the business, and ensure everything is installed properly and quickly.
"You've still got a day job to do, and I wouldn't recommend anyone putting things on hold to do things that could otherwise be done by professionals," Tucker says.
Nooney's company Beevo can help with all of these facets of moving into a new space, offering a service to get companies connected on the best plans for the likes of electricity, phones, internet and business insurance.
"We've already done the research on the suppliers – who's good and who's not from a pricing perspective and from a customer service perspective," Nooney says.
"And we're about much more than saying that we've found the right suppliers – we're constantly doing the research and making sure they live up to the promises."
Beevo has already helped more than 20,000 Australian businesses get set up in new offices and get back to doing what they do best: running a company.
One of the big advantages with moving into your own commercial space is the opportunity to tailor your own space in order to create a good and productive environment.
This is an opportunity to set your business apart from the pack in the competitive hiring markets.
"You need to be thinking early on about how you can ensure the environment is an attractive place for the best employees to work," Tucker says.
"Offering little perks can make all the difference during the hiring process."