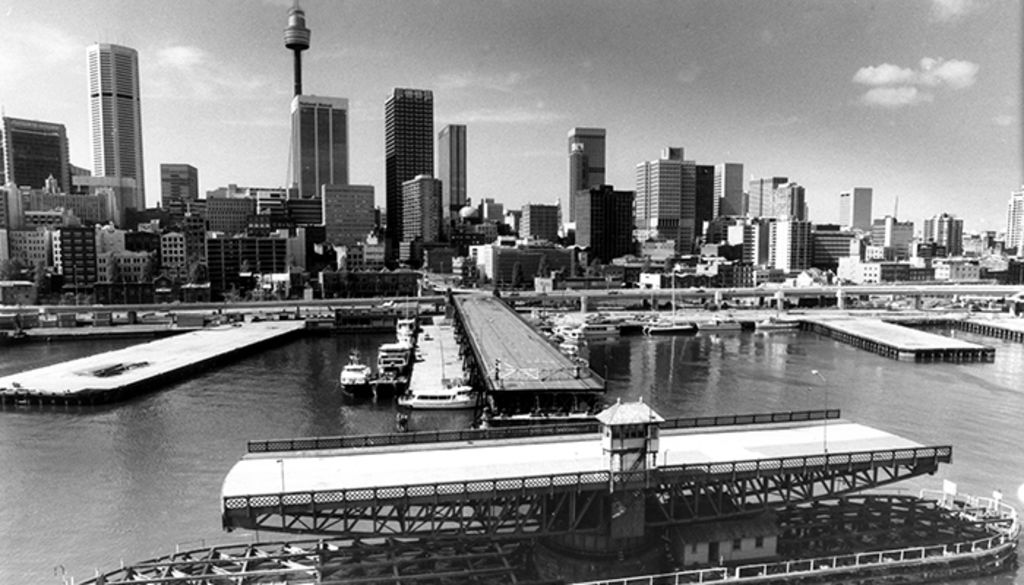 Sydney in the 1980s: A look at the past and a glimpse of the future
Big news, memorable music and movies and forgettable fluoro fashion – the 1980s had it all.
In 1985, we listened to Madonna, INXS and Mental as Anything and watched the Live Aid concerts, instalments of Back to the Future, Rambo and Mad Max and the first episodes of Neighbours.
Bob Hawke was prime minister, the wreck of the Titanic was discovered and Boris Becker won Wimbledon at the age of 17.
As another year ticks over, we explore the photo archives to remember Sydney's commercial precincts in the mid-80s, find out what's happening now and look at what's in store for the future.
Pitt Street's Golden Mile
Photo: Tony Lewis
The busy shopping precinct between King and Market streets – now the Pitt Street Mall – was known for having the highest rents in Sydney. Nowadays, they are the highest in Australia and one of the top 10 in the world.
Photo: Tony Lewis
The Imperial Arcade is now part of Westfield. Photo: Tony Lewis
Haymarket
Photo: Peter Rae
Bustling Haymarket, between Central Station and Darling Harbour, is the home of Sydney's Chinatown, which is Australia's biggest.
Oxford Street
Photo: Ian Cugley
The tobacco advertising is no more but the billboards are still on display above Taylor Square, at the junction of Oxford, Flinders and Bourke streets.
Oxford Street, which boasted 100 per cent occupancy in its heyday, lost many of its retailers to Westfield Bondi Junction when it opened in 2003. However, the area is going through a resurgence as developers and investors seek out high-profile hotels and convert old buildings in Paddington and nearby suburbs.
Public transport
Photo: Ian Cugley
Major public transport infrastructure development is having a big impact on the city.
Phone booths
Photo: Ian Cugley
Long rows of public phone booths have been well and truly relegated to history. The first mobile phone call was made in Australia in 1987 and before their use became widespread, the only way to make a call while out and about was by dropping a 20c coin or two into a Telecom public phone.
According to Telstra, the first mobile phones in Australia were about the size of a briefcase, cost more than $4000 and had a battery life of little more than 20 minutes.
Martin Place
The intersection of George Street and Martin Place, facing north. Photo: Peter Rae
In 2015, all commercial property roads seemed to lead to Martin Place, which first became a pedestrian mall in 1979 and is now known as the city's centre of commerce.
However, technology companies and high-end fashion retailers are now also taking up space in the famous boulevard.
Christmas
Christmas Eve 1985 in Pitt Street. Photo: Paul Wright
Online stores have changed our shopping habits but the lead-up to Christmas remains a hectic time in the CBD.
Gift shopping, traditional window displays and now illuminated buildings all draw families to the city during December. However, some retailers broke tradition in 2015.
Queen Victoria Building
Photo: Peter Morris
One of Sydney's favourite buildings since it was built in 1898, QVB was in the midst of an $86 million refurbishment in 1985 by Malaysian company Ipoh Gardens Berhad.
The renovation would be completed in 1986, after major excavation to build the carpark and detailed work to maintain the building's heritage features.
Photo: Ian Cugley
Darling Harbour
Darling Harbour's Pyrmont Bridge in 1985, four years after it closed to vehicles. Photo: Robert Pearce
In 1985, Darling Harbour was undergoing major redevelopment to transform it to the popular tourist precinct it is today.
Thirty years later, the area is again being transformed.
At the southern end of Darling Harbour is Lend Lease's Darling Quarter project, a mixed-use development of three buildings, including retail, commercial and public spaces. The development includes a new building for the Commonwealth Bank.
Get a weekly roundup of the latest news from Commercial Real Estate, delivered straight to your inbox!