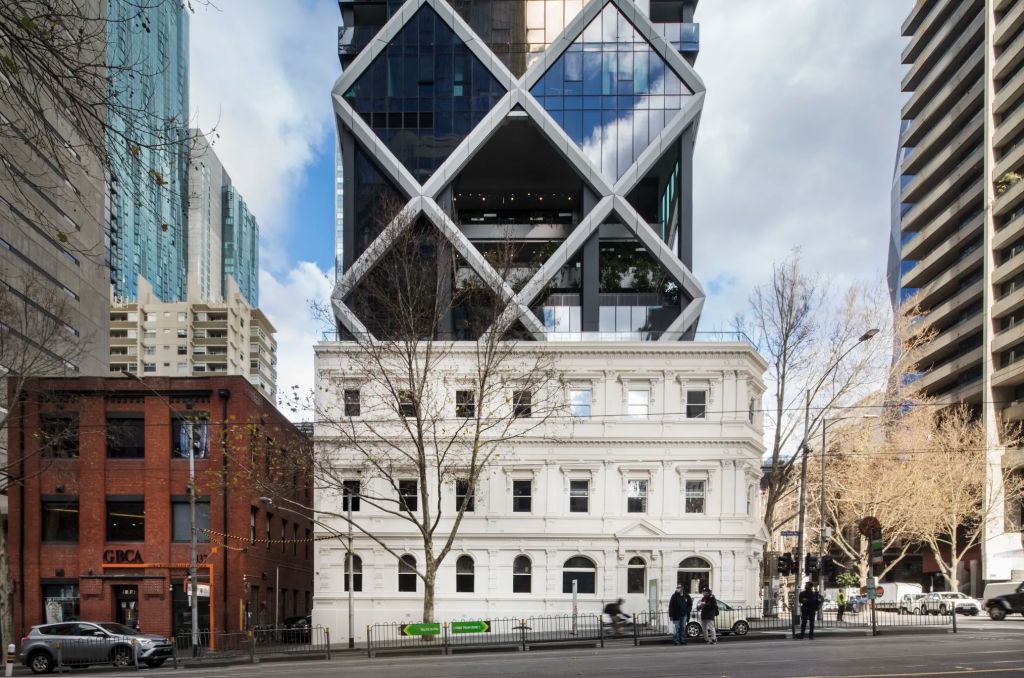 Strata sector robust as business buys offices to occupy
New strata office projects are boosting sales in a sector which has remained robust throughout the pandemic as business owners look to buy rather than lease.
While the slow return of office workers to Melbourne's towers is worrying big landlords, strata offices are being shielded by classic supply-demand dynamics.
There is a limited amount available. Only 60 CBD buildings contain strata offices and the majority of buyers are owner-occupiers, said Colliers' George Davies, who along with colleagues handles many transactions.
"The majority are purchasing to house their own business," Davies said.
Developer Golden Age has sold two-thirds of its premium 27-storey strata building at 130 Little Collins Street and is set to begin construction.
The Uniting Church offloaded the Little Collins site three years ago to developer Jonathan Hallinan's BPM who planned to convert it into a hotel before on-selling to Golden Age which opted to offer the city's only dedicated off-the-plan strata tower.
Davies said most of the transactions in the building last year, around $48 million worth, were done amid lockdowns and pandemic restrictions.
More recently, the commercial office component of Orchard Piper's upmarket $120 million apartment tower complex in East Melbourne sold within six weeks of being available for a total of $18.8 million. Davies and Anthony Kirwan handled the sales.
A high-end electronics distributor took three suites on level 1, paying about $10.5 million at a landmark rate of $14,117 per sq m, and amalgamated them into a single 742 sq m office.
An empty unfitted shell on the second floor of Beulah International's redevelopment on the corner of Lonsdale and Queen streets recently sold to a law firm for $3.6 million.
Beulah bought the hotel from Celtic Club Irish social club and built a tower above it.
The 515 sq m office purchased by the law firm fetched about $7000 a sq m It was the second to sell in the building where level three recently sold for $3.15 million but at a higher per sq m rate.
Beulah co-founder Jiaheng Chan attributed the buyer interest to the building's design and location.
Davies and colleague Anthony Kirwan, along with CBRE's Alex Brierley negotiated the deal, with Advise Transact's Mark Wizel representing Beulah.
Meanwhile, in the highly sought-after east end of the city, Brierley and colleagues Nathan Mufale and JJ Heng also sold level 2 at 165 Flinders Lane in a boardroom auction for a bullish $15,340 a sq m.
The price for the 88 sq m whole floor office space was $1.35 million. It last changed hands in 2019 for $1.04 million.
Seven offers were made during an expressions of interest campaign, so agents converted the process to an auction. All the bidders were owner-occupiers, Mufale said.
The seven-level McDonald House is on the corner of Hosier Lane, famous the world over for its ever changing graffiti art.
Not all strata is new. Old favourites, like Bank Place off Collins, are still trading well. Suite 101 in building No.4-10 sold to an owner-occupier for $555,000 at a rate of $11,167 per sq m.
So far this year, there have been 19 transactions in the sector worth $54 million at an average rate of $10,224 per sq m, Colliers data shows.