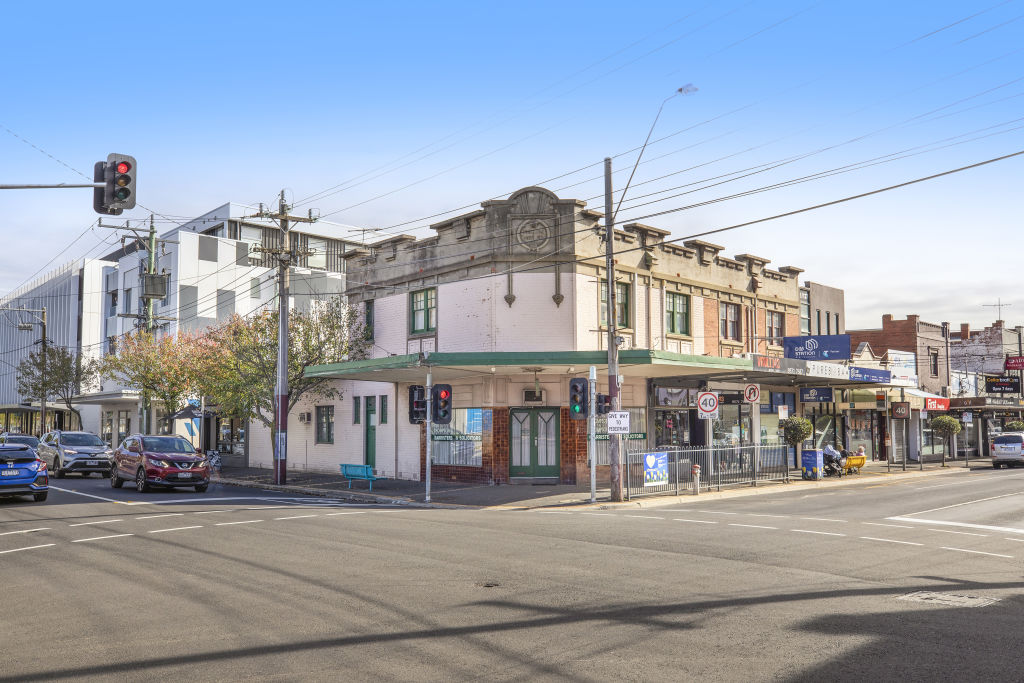 Sixteen retail shops owned by late businessman Harry Oviss achieve 100% clearance rate
Four of 16 Melbourne retail properties owned by the late businessman Harry Oviss have each sold for nearly $1 million over their reserves at the third portfolio auction of his commercial interests.
As an indication both of the desirability of well-located strip retail assets, and of the quality of Oviss' long-time holdings, they each sold for between $2.4 million and $2.5 million, when they'd only been expected to reach $1.5 million to $1.55 million.
"We saw prices exceed the reserves time and time again," said Mark Talbot of Fitroys, which conducted the auction this month. "I think it was the style of the properties and the appetite for Melbourne strip locations.
"Following the lockdowns, they've been performing very strongly and we had so much competition for every one of the 16 retail properties offered from bidders in Melbourne, metro Melbourne and even from Tasmania. And then we had a clearance rate of 100 per cent."
The 16 properties were set across 10 Melbourne suburbs and all sold on one day for a total of $29.14 million at Fitzroys' Melbourne Retail Portfolio Auction, at an average net yield of 2.99 per cent.
They had been bought over many years by Oviss, a Palestinian-born clothing entrepreneur, construction magnate and art collector who migrated to Australia with his Polish-born parents at the age of 11 months in 1924.
The stars of the show at this auction proved to be three properties in Alfrieda Street, St Albans, which sold for a combined $7.28 million on an average net yield of just 2.4 per cent. They are all leased on 5+5-year deals to eateries Quang Vinh (sold for $2.51 million, at 1.99 per cent), Xuan Xinh ($2.42 million, 2.56 per cent) and Pho Kim Long ($2.35 million, 2.63 per cent).
The fourth to shock with a stellar price was 138-140 High Street, Cranbourne, which sold for $2.485 million, despite having a reserve of just $1.55 million.
"These were all in good retail precincts and they sold mostly to individual buyers, with just one buyer ending up with two," said Chris Kombi, another Fitzroys agent working on the sales. "The market for good retail strips has been quite strong, and they've been well supported by people coming back and shopping there after the lockdowns.
"With the share market also a bit rocky compared to the property market, people have been coming back to bricks and mortar. It's something that everyone understands and there aren't usually huge fluctuations in price. We've also seen a bit of a swing away from residential, with its management costs and outgoings, to commercial property."
Five fully leased properties sold at sub-three-per-cent yields, including a shop in the heart of Hampton Street, Hampton, adjacent to Woolworths and leased to a giftware and tobacco shop.
Another four sold for below four per cent, including a corner property at the gateway of Koornang Road, Carnegie, leased to three tenants: Vault 143, Spilt Milk and Thompson & Thompson.
"Interest rate rises clearly haven't perturbed the market, despite negative press," Talbot said. "Property continues to be in good demand, and we saw this in the global financial crisis also.
"Investors clearly consider well-located Melbourne retail properties with quality leases [to be] a secure investment amid sharemarket and residential market volatility."
Other properties to sell included shops in the heart of Swan Street, Richmond, on Koornang Road, Carnegie, and on Ranelagh Drive, Mount Eliza.
"COVID has reinforced the role of village shops as places Melburnians want to connect with their local communities," Kombi said.