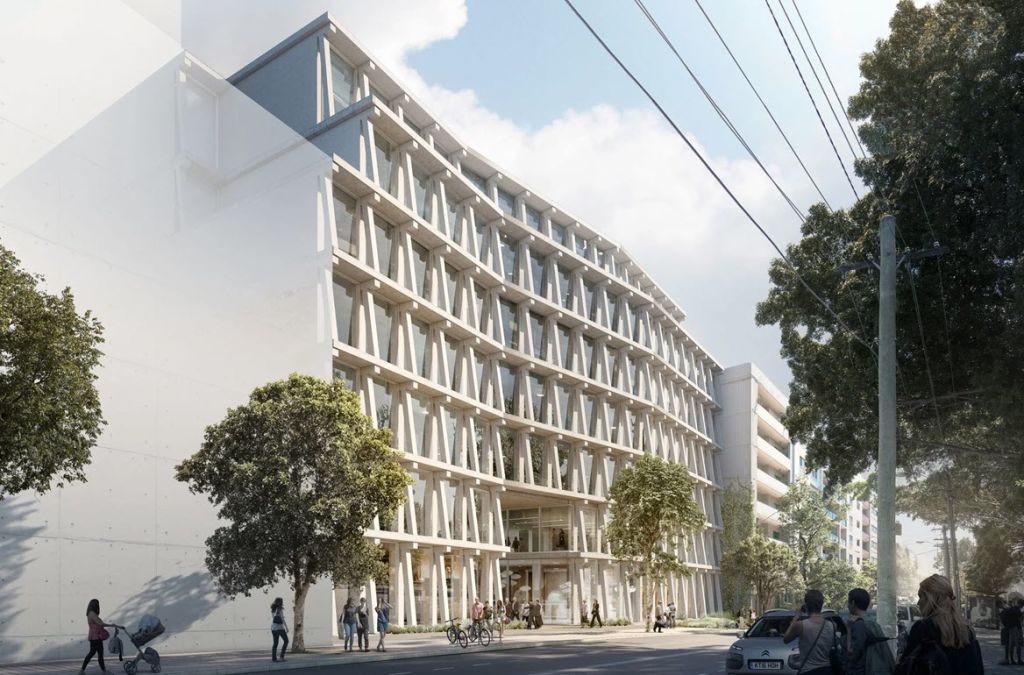 'Rent-free 2020': Landlords embrace incentives in Sydney's fringe office markets
Businesses in a strong financial position could be in the box seat to secure good lease deals in Sydney's fringe markets as landlords dangle offers to encourage tenants to sign on the dotted line during the pandemic.
Sydney developer Theo Onisforou is offering a 50 per cent net discount for the first five years of the lease term for his new development at 290 Botany Road, Alexandria.
The development, a seven-storey, A-grade commercial building with accompanying fitness centre and cafe, is due for completion in 2022.
It's also set to benefit from post-pandemic updates to the project like voice-activated lifts and touch-free toilet doors, according to listing agent David Brown of DB Property.
"We're getting a lot of CBD-based inquiries where people are thinking, 'I can come to a very good location and an A-grade building and pay a third of of the rent'," he said.
Landlords with far smaller-scale offerings are embracing a similar strategy, convinced that shouldering some short-term pain is worth the effort to secure a strong tenant on a long-term lease.
James Cowan, of Colliers International, readily cites the Alexandria deal as inspiration for his own campaign in Rozelle, where his client is offering an office for lease with no rent to be paid for the remainder of 2020.
The deal includes 413 square metres of office area and a 186-square-metre warehouse/parking structure at 128 Terry Street.
The office includes 40-plus workstations, a board room and private offices.
Mr Cowan advised that terms of the lease structure were to be negotiated but that the deal was on offer for "ambitious enterprises on a five-year term or longer for the whole building only".
Alternative deal structures are on offer for smaller tenants wishing to split the building up.
Mr Cowan, who recently managed the sale of the building to the current owner, said its three-storey layout and close proximity to Victoria Road's transport links lent it to use as a company headquarters.
"The building was owner-occupied for 20-plus years and now is ready for its next chapter. The imposing structure is configured over three floors and will service employees from all demographics considering the world-class transport links in walking distance," Mr Cowan said.
Now is the time for tenants to act 
Mr Brown said now was the ideal time for tenants with a strong balance sheet to be taking advantage of market conditions and securing a new lease.
"Absolutely if I was a tenant right now I would be looking to secure an A-grade premises – there's never been a better time to be looking for premises if you're a tenant. You're getting half-rent," he said.
Landlords across his portfolio had been offering incentives in the wake of COVID-19, although not on the same scale as Mr Onisforou's property.
"A usual deal would be a 20 per cent reduction over five years … [when this project launched] we were talking rents of $640 a square metre net, we're now at $320 a square metre – it's crazy for a tenant not to consider that," he said.
Mr Cowan said that more rent free deals were likely to appear in the coming months, although it would be "highly dependent on the asset quality".
"I'm finding that my clients are pleased to offer these types of structures for the right tenants as in the long run it adds significant value to the building. Whether it be by incentivising strong lease covenants with rent free, or providing cash for fit-out contributions, often both the cash flow and the building quality improves," Mr Cowan said.
"The tenant obviously enjoys the incentive provided by the landlord and as a result they often [are] prepared to invest in the building on top of the landlord contribution as they acknowledge the mutual alignment. It shows them that the landlord has confidence in their operation."