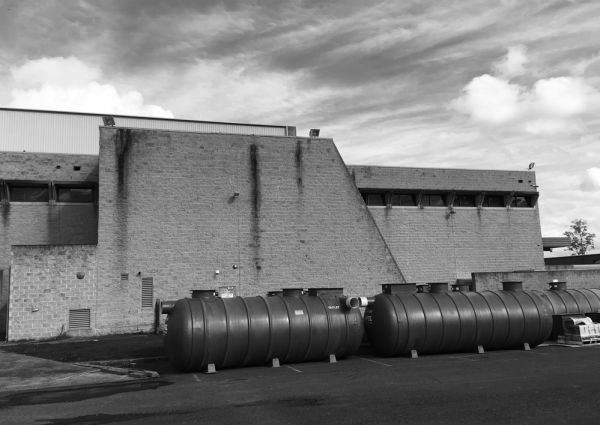 Rare Australian work of world-famous industrial architect for sale in Penrith
One of Australia's most architecturally significant buildings is not among the stately houses, grand buildings and historical relics that most often garner the title.
It's a 1970s warehouse in Penrith and it's on the market, destined to be an iconic address and trophy building for a new owner or occupier.
The imposing heritage-listed factory designed in 1975 by world-famous architect Marcel Breuer was commissioned by UK-based fan maker Torin, which already had eight Breuer-designed buildings around the world before its Australian venture.
The former Torin factory in Coombes Drive, Penrith, is on a corner site of more than 8000 square metres. Photo: Rebecca Holland
[dm-listing-recommendation experimentname='midcontent-listings' positiononpage='midcontent']
Now housing fibreglass tank maker Gebel FRP Engineering on a month-to-month lease, the 3800-square-metre plant at 26 Coombes Drive would be Breuer's only Australian building and his final project for Torin.
Fellow American architect Herbert Beckhard also worked with Breuer on the Penrith project and construction was overseen by renowned Australian architect Harry Seidler, who worked for Breuer between 1946 and 1948.
Seidler's own work includes Sydney commercial buildings Australia Square, Grosvenor Place and the MLC Centre, Brisbane's Hilton Hotel and QV1 in Perth.
The UNESCO building in Paris, known also as the World Heritage Centre. Photo: Wikimedia Commons
Breuer's first significant foray into international public buildings was in 1952 when he designed the UNESCO building in Paris.
Breuer and Seidler worked together again in the 1970s on the Australian Embassy in Paris.
But Breuer's work was not limited to buildings. While studying at the famed Bauhaus art college in Dessau, Germany, in the 1920s, he created the Wassily chair which would become an industrial design icon.
Breuer's Wassily chair in black leather with a chrome metal tubular frame. Photo: Eddie Jim
The former Torin building in Penrith is on a corner site of more than 8000 square metres and zoned IN1 General Industrial.
The property is fully fenced and secure with 900 square metres of yard area, two gantry cranes, a loading facility, offices and a warehouse.
The factory was designed to accommodate tall machinery as industries adapted to automation in the 1970s. Photo: Rebecca Holland
These days the area is a thriving industrial estate, between big residential developments Thornton and Jordan Springs, but it's not clear why the company decided 40 years ago to base its operation an hour's drive from Sydney.
"It would have been like Ayers Rock here then," said agent Matthew Neale, of Macquarie Commercial.
The 3900-square-metre factory, which has had several owners since Torin including the Penrith Panthers sporting club, is on the State Heritage Register and also listed on the Penrith Local Environmental Plan.
Mr Neale said price expectations were above $3.5 million. He is marketing the property in an extended eight-week campaign, longer than the standard six weeks. "People have got to get their head around the heritage listing first," he said.
The internal height of the Penrith building is up to 17 metres. Photo: Macquarie Commercial
Its statement of cultural significance on the State Heritage Register describes the building as a rare and intact example of internationally acclaimed master architect Breuer's work in his later career.
"The Torin building in Penrith is a fine example of Breuer's Torin Corporation architecture and the principles of his modernist design work where form is primarily determined by function," the statement reads.
Rather than being a dampener, the heritage listing offers the possibility for flexibility of use not usually available to standard properties. A buyer could change the use to something other than the current zoning, Mr Neale said.
According to heritage consultancy Edwards Planning, commissioned by Macquarie Commercial to prepare a report on the property, buildings that are used and occupied are often afforded a higher level of care and maintenance that ones that are vacant.
"Adaptive reuse" is considered a means of ensuring continued occupation, security and protection of a building.
The chimney was a later addition to the building. Photo: Rebecca Holland
"The heritage council want to see it occupied, they want to see someone maintaining it," Mr Neale said.
A combination of the market, nearby residential development and the heritage listing had driven strong interest in the property, he said.
Some investors had considering changing the building to an office block because of the price difference per square metre compared with the CBD.
Mr Neale said Sydney CBD office space was between $300 and $400 per square metre while in Penrith, industrial space was $120 to $150 per square metre. Training was another purpose for the building being considered by potential buyers.
"It's simply because the occupation cost is one third of the cost of the CBD," Mr Neale said.
In its heritage report, Edwards Planning found that the building reflected the change in small-scale industrial building design at the time to introduce automation and counter the rising cost of labour.
Torin had developed an automated handling system which dictated the basic shape of the Penrith factory – a high-rise storage unit for the system itself, manufacturing, assembly and office areas as well as a laboratory for measuring airflow.
"It is an exemplary late 20th-century international modern-style industrial building, is a powerful work, a fully resolved in three-dimensional architectural expression which is monumental in its bold geometry," the report states.
The internal height of the warehouse is up to 17 metres. The normal height of warehouses is 12 metres with anything above eight metres considered high clearance, Mr Neale said.
The Torin building in Connecticut is another design by Breuer. Photo: Tumblr
Edwards Planning also found that the Penrith building design had similarities with Breuer's Torin Technical Centre in the US state of Connecticut built in 1971.
The Penrith building is also on the Royal Australian Institute of Architects' Register of Twentieth Century Buildings of Significance and has been identified by the International Working Party for Documentation and Conservation of Buildings, Sites and Neighbourhoods of the Modern Movement (docomomo), an organisation which aims to document and conserve buildings, sites and areas around the world.
Breuer, who went on to design buildings in the US cities of Washington DC, Buffalo and Atlanta after the Penrith project, died in New York City in July 1981.
Expressions of interest for the Penrith property close on July 29, 2016.
[dm-listing-recommendation experimentname='below-content-listings' positiononpage='belowContent']
Keep up with Commercial Real Estate news.
Keep up with Commercial Real Estate news.