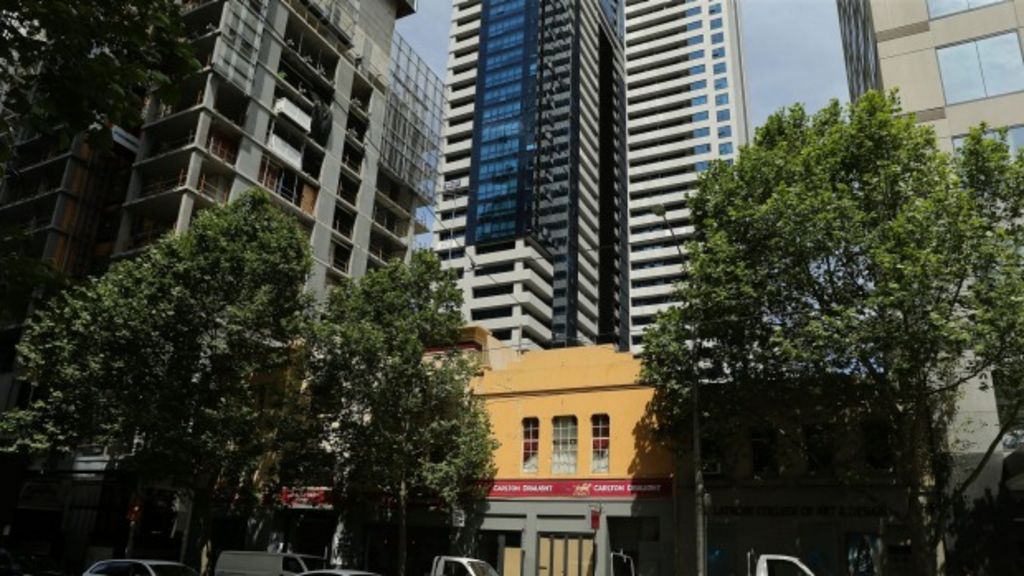 Plan for tower on tiny Duke of Kent Hotel site in CBD condemned by council report as too big
A plan to squeeze a 228-metre skyscraper onto a city block the size of a large tennis court has been condemned by a Melbourne City Council report, which labelled the high-rise an "overdevelopment".
The Duke of Kent Hotel, one of Melbourne's oldest continuously licensed city hotels, would be demolished to make way for the 353-apartment tower.
The 66-storey building at 293-303 La Trobe Street would also violate new Victorian laws restricting tower density, but the rules will not apply because they were introduced after the apartment proposal was submitted.
Under the recently-introduced laws, the high-rise by Singaporean developer Figtree Holdings, could only reach about 33-levels, or half of its proposed size.
But the council report argues that any significant tower would be inappropriate, because the 670-square-metre block is too small.
"To achieve reasonable street interfaces and tower separation, the tower needs to be set back an average of at least 10 metres from all boundaries," it said.
"Given that the site's depth is only 21.5 metres, this site is therefore not able to accommodate a significant tower without unduly compromising the surrounding streetscapes and the low-rise Guildford Lane precinct."'
The $116-million skyscraper would contribute to "a wall of towers" along La Trobe Street and create a 228-metre wall where it backs onto narrow Flanigan Lane, according council's report.
It also criticised the design of some apartments where the bedrooms only had access to natural light via a window positioned at the end of a corridor in the room, in a "saddle bag" design.
The Duke of Kent Hotel, built in 1929, is "C graded", but is not protected within a heritage overlay and council officers made no objections to the development on heritage grounds.
However Melbourne Heritage Action president Tristan Davies said the absence of enforceable heritage status was a result of a rating system for the Hoddle Grid, which is now more than 30 years out of date.
He said that, at the very least, the front eight metres of the hotel should be retained to preserve the traditional character of the Guildford Lane precinct.
Mr Davies said the hotel boasted an important social history. Its beer garden was, in the 1930s, home to an avant-garde theatre group New Theatre, which espoused communist ideas and was noted for its early public opposition of fascism in the lead up to World War II.
The hotel was bought for about $14 million last year after being owned by Yankos family members since 1965.
Councillors will vote on whether to support the skyscraper plan on Tuesday night, but Planning Minister Richard Wynne has the final say on whether it will be approved.
The council will also discuss a motion by Greens councillor Rohan Leppert for a review of graded buildings in the Hoddle Grid for possible inclusion in a heritage overlay.