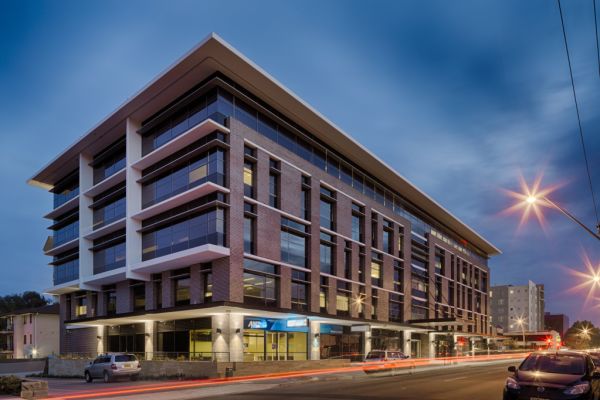 Newcastle and Wollongong office markets steam ahead during COVID-19 crisis
When commercial real estate agent Ben Mostyn steps back into his office after shopping for mid-morning coffee and chocolate, the whole building is humming with activity.
The Federal government's Department of Human Services on another floor is pretty much fully staffed, there are mums calling in to check on child support, there's a queue of people waiting to enter Centrelink, the Medicare office is frantic and Seven News is a hive of activity.
But his building in the centre of Wollongong, 70 kilometres south of the Sydney CBD, isn't alone. Most of the city's buildings went back into operation very quickly after the first COVID-19-related shutdown ended, and commercial deals on offices and  industrial sites have barely stopped since.
"Wollongong has done very well in terms of commercial real estate during COVID," said Mr Mostyn, Knight Frank partner and head of Illawarra.
[dm-listing-recommendation experimentname='midcontent-listings' positiononpage='midcontent']
"While people report a lot of other cities are almost ghost towns, with people staying home, here we're nearly all back in offices – or never left.
"We have a lot of buildings coming out of the ground, and leasing activity is strong with tenants negotiating and taking space long-term and being ready to invest in the future. As well, we've had some great sales, including brokering the record office sale for Wollongong for $58.4 million for the Australian Tax Office building to Castlerock, after 13 bids."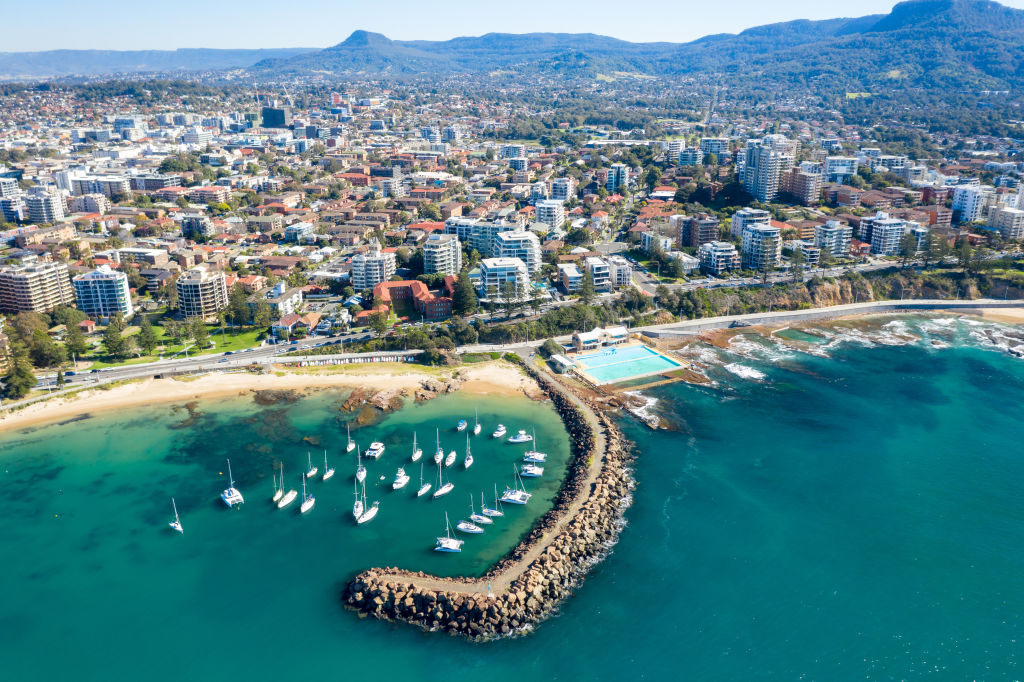 Meanwhile, 160 kilometres north of Sydney, Newcastle is also reporting record volumes of commercial leasing, and plenty of sales.
"Interestingly, from a commercial leasing point of view which is our core business, we've achieved some record results post-COVID," said Adam Leacy, partner commercial of the company Commercial Collective.
"There's been so much activity in the medium-sized business sector, from 300 square metres to 800 squares metres, across both the A grade and B-grade stock, with both sectors performing well, and it just hasn't stopped. We now have a less than half a per cent vacancy rate in the A-grade market and a real shortage of stock, with a lot more projects mooted to come online."
Decentralisation push to help regional hubs
Many of Australia's capital cities report that their CBDs are now exceptionally quiet, with locked-down Melbourne, of course, the quietest of all, and many companies revising, and reducing, their post-pandemic office space needs.
Most of the activity is about shorter-term leases. But it seems the commercial property markets in regional cities like Wollongong and Newcastle are escaping relatively unscathed.
Now they're even expecting something of a COVID-19-led boom with residents who might normally either commute regularly to Sydney – in the case of Wollongong, 23,000 workers a day – planning to work more locally in future and demanding satellite or shared office space closer to home.
"We feel we are going to benefit in some ways," said James Mulcair, partner and head of leasing at Knight Frank Illawarra, which also just negotiated the largest-ever lease for the CBD with a 5000-square-metre commitment from human resource and financial advise company Mercer for the future 12,500-square-metre Langs Corner development.
"We're interested to see what's going to happen next to those people who are now likely to demand satellite offices. They'll still travel to Sydney sometimes to head office for collaborative decisions, but they'll need office space here."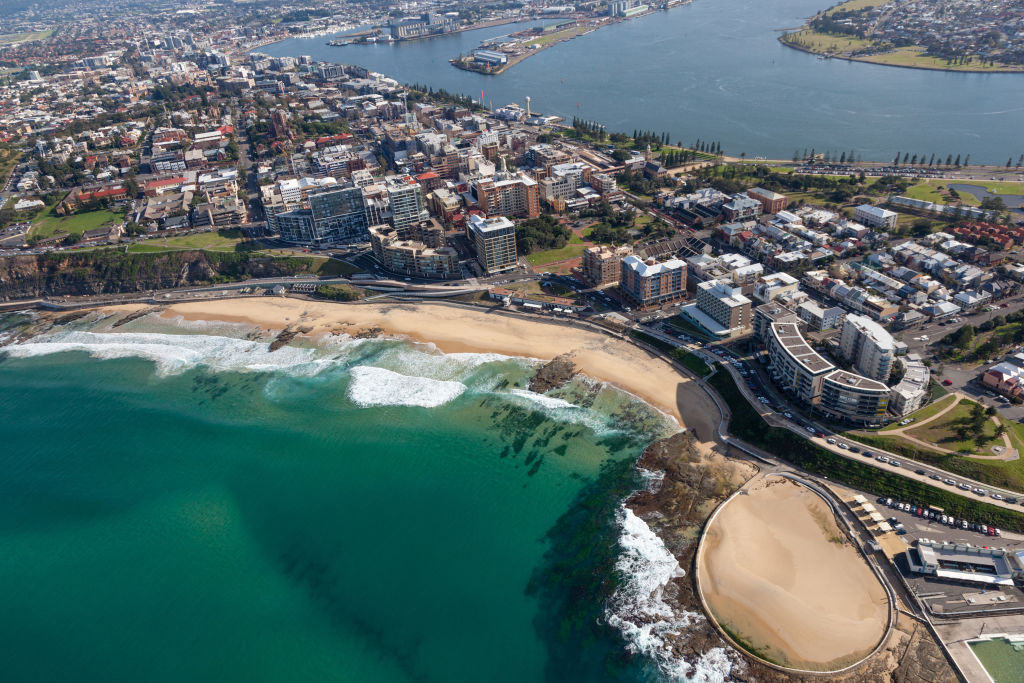 In Newcastle there's also been an unprecedented level of inquiry for office space from Sydney-based businesses.
"The office leasing market here is extremely strong," said Mr Leacy.
"We're finding that funds out of Sydney are coming up to Newcastle and putting us definitely on the radar.
"I think there's a reaction against the density of some cities and people perceive risk now in density. We're a much safer option. Some Sydney CBD businesses are moving out to Parramatta, and now they're looking further to Newcastle, where we have schools, the university and much more affordability."
Lee Follington, principal of Ray White Commercial Newcastle, agrees. He's just had a record five months of leasing transactions – 60 from May to September, compared to 43 in the same period last year – and is riding high.
"We had an almost unprecedented stretch of leasing in July, mostly from smaller businesses which are virtually back to normal," he said.
"We're still seeing some disruption and we've had a modest 10 to 15 per cent adjustment in asking prices to meet the market, but we're receiving a very strong level of inquiry."
Lack of density a strength post-pandemic
Agents in both regional cities put the relative strengths of their commercial markets down to the post-COVID-19 reaction against big city density. In the regions, space is less expensive and social distancing more easily achieved.
In addition, people don't need to travel on public transport for long periods to reach their workplaces; they mostly face a short drive and easy park. Then, when they arrive, with the bulk of office buildings usually no more than five levels high, they don't have to face an endless queue for numbers-restricted lifts.
Government functions also take up a higher proportion of the office supply, as well as other essential services, so they've tended mostly to keep going through most of the shutdown.
In Wollongong's case, the $1.4 billion in private investment in the city in recent years has helped enormously to attract new businesses – a 7.5 per cent rise in their number in the past two years – as well as its relative value and yield disparity compared to the Sydney market.
A Wollongong Council spokesperson said, "The level of commercial interest also coincides with record investment in new A-grade office space, with a 36 per cent uplift in A-grade office space either nearing completion or under construction within the Wollongong CBD.
"In addition to local demand, we have also fielded a number of inquiries from large Australia corporates looking at returning their back of house operations on-shore to the area."
Newcastle is similarly proving so attractive, it's struggling to keep pace with demand.
"Newcastle's absorption rate is one brand new A-grade building of 4000 square metres to 5000 square metres a year," said Mr Leacy.
"That's been true for the past decade … But now there's nothing available at all, and investor demand is fantastic across commercial and industrial."
[dm-listing-recommendation experimentname='below-content-listings' positiononpage='belowContent']
Keep up with Commercial Real Estate news.
Keep up with Commercial Real Estate news.