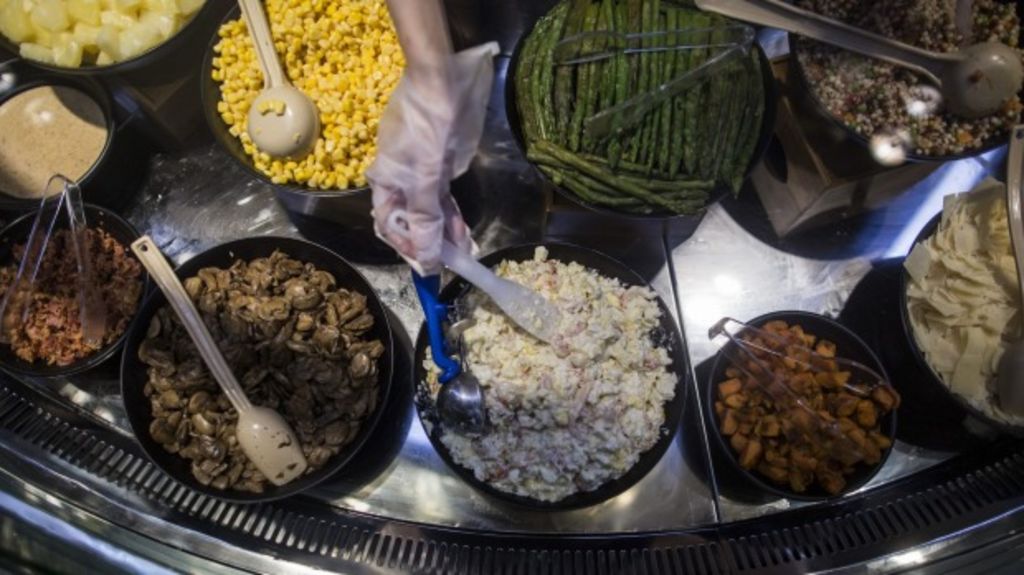 New look McDonald's concept store opens in Hong Kong
The burgers are served on wooden boards, there are bowls of asparagus and quinoa on offer, wait staff delivering meals, and not a red and yellow clown in sight.
A new-look McDonald's concept store has opened up in Hong Kong's busy Admiralty business and shopping district, featuring a huge salad and dessert bar, table service, and a modern, minimal dining area with mood lighting.
The McDonald's Next restaurant was designed by Australian company Landini Associates to compete with higher-end burger joints, The Independent reported.
The kitchen is on full display at McDonald's Next concept restaurant in Hong Kong. Photo: Justin Chin
The Sydney-based design company told Dezeen magazine the grey-walled restaurant is "an experiment in non-design".
"The colourful graphic environments that became the signature for McDonald's internationally, are now replaced with a simpler, quieter and more classic approach.
"The intention is to hero the food, the service and the people who come to enjoy it, and to create a 'recognisable neutrality' that allows this to happen."
Asparagus and quinoa are just some of the new foods on offer. Photo: Justin Chin/Bloomberg
There are simple, white illustrations of menu items on the walls, and computerised lamps vary in intensity depending on the time of day.
"This calmer, more intimate solution delivers a relaxed nighttime experience for the diners and a sharper, quicker one for the day," the design company said.
The restaurant offers table service after 6pm and is open until 1am.
An open kitchen allows diners to see the entire cooking process, and customers can order at a counter, via an online kiosk, or from wait staff at their tables.
Landini Associates is now working on similar stores in Australia, China and Singapore.