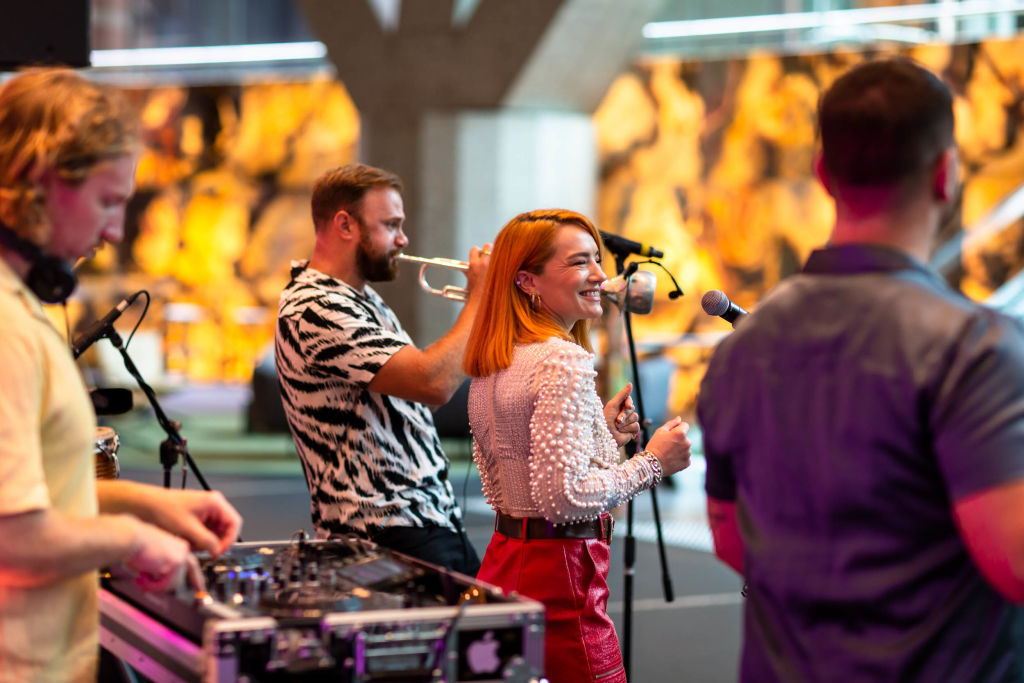 Live music and art installations: the office community with its own event calendar
These days, employees enjoying hybrid flexibility require more than a coffee machine and table tennis to draw them into the office. For those looking to foster an engaged on-site culture, prioritising overall staff wellbeing, implementing clever design and offering premium amenities are a must. 
One building in Sydney's CBD has hit the brief when it comes to enticing tenants back, boasting state-of-the-art facilities, a stacked event calendar – and even 60,000 bees – to create a work environment nowhere near replicable on Zoom. 
Grosvenor Place has been transformed with more than $32 million invested in upgrades over the past three years, modernising Harry Seidler's innovative '80s design and bringing it solidly into the present. 
Smart lifts now get people to their floor faster, and the doors open onto flexible, spacious layouts harnessing some of Sydney's best views and catering to a range of workforce sizes.
A new business lounge, breakout areas and meeting spaces were designed based on the needs of tenants and Bluetooth building access eliminates the need for swipe cards.
Alongside thoughtfully-designed, modern amenities Grosvenor Place strives to develop a sense of belonging for those who work there.
"They've got some amazing facilities. There's just something going on all the time," says office manager Siham Owen, from Ord Minnett in Grosvenor Place.
Connecting with fellow tenants is easy thanks to more than 60 curated events keeping the calendar packed all year round, from art installations and Paint and Sip workshops to weekly live music and Friday Freebies. 
Yoga, boxing and meditation are some of the 25 complimentary wellness classes tenants are offered to keep bodies moving, as well as minds. 
The 30 showers and complimentary towel service make it easy for tenants to workout during their lunch break, run or cycle to work. Parking for 300 bikes and an on-site repair station guarantee a smooth trip. 
"Fostering the right workplace culture and environment positively impacts physical and emotional wellbeing," explains marketing manager Ruth Hendy from Grosvenor Place Management, which is why all this and more can easily be found on the My Grosvenor Place app.
Grosvenor Place also has dedicated resources to refine the building's impact on the environment around it.
"There's a lot of sustainability here. They've got 60,000 bees on our rooftop. They're actually producing honey and gifting it to the tenants," says Owen. Staff can don beekeeper suits during their lunch break and have a guided tour on the purpose-built roof space with an apiarist. 
"It was a sustainability initiative, but also another area for our customers to connect with each other and the environment around them," says Hendy. 
Honey isn't the only delicious element targeted by the building's approach. Located on George Street, the building is in a prime position for the best lunchtime bites that the CBD has to offer.
With a slew of new venues opening in recent months, there's bound to be the occasional over-order from peckish tenants. But at Grosvenor Place, accidental surplus lunchtime sustenance never ends up in the bin. Instead, food waste is dehydrated in the basement and turned into fertiliser for tenants' gardens or for participating farms in NSW. 
"We divert about 200 kilos of food waste from landfill every day," says Hendy.
A 60,000-litre tank collects rainwater on the roof, which is filtered and used for toilets and showers for levels 1 to 14 and all common areas in the building are powered by solar panels.
These efforts combined have seen Grosvenor Place receive an outstanding 4.5-star NABERS Waste rating, placing them in the top seven commercial buildings in NSW.
Navigating all the perks that the building has to offer is made easy with the help of the executive concierge staff. As well as answering any questions, they are available to support daily tasks such as booking events, calling a taxi, or even organising dry cleaning. Booking meeting rooms or the building's in-house Tesla can also be arranged.
Owen says, "Management is amazing. If we need something, they're onto it straight away. They really look after their tenants, and their number one priority is to make sure we're happy and comfortable in our surroundings."
Get a weekly roundup of the latest news from Commercial Real Estate, delivered straight to your inbox!