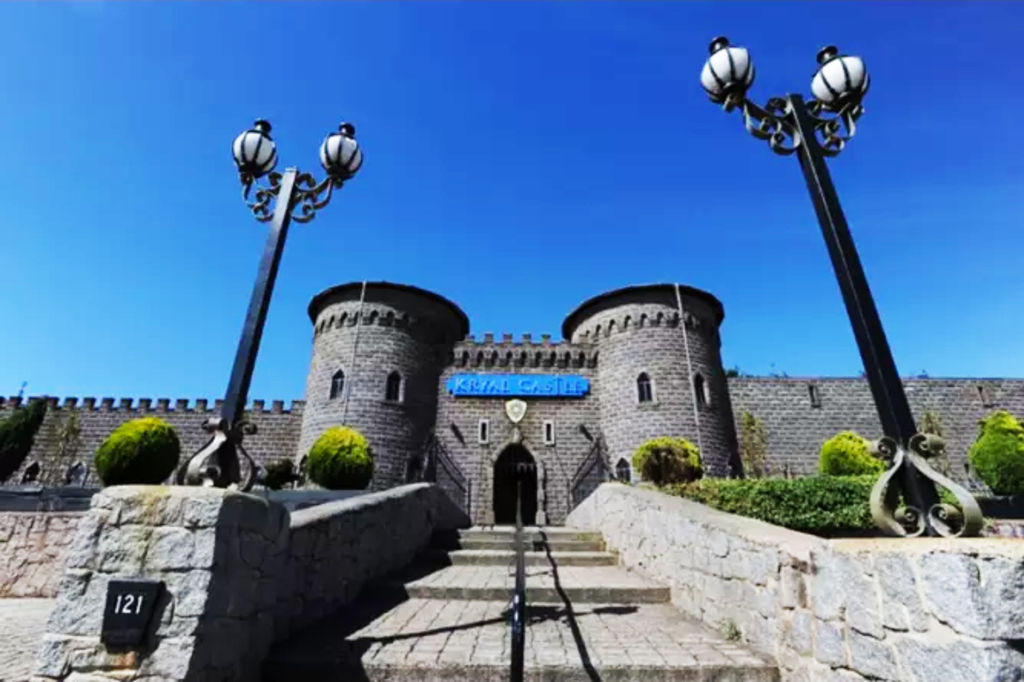 Kryal Castle for sale: Medieval amusement park comes with a colourful history
If there were amusement parks in medieval times, they must have looked a lot like Kryal Castle.
The 11-hectare tourism and entertainment venue near Ballarat, Victoria, has been entertaining visitors since the 1970s, realising the lifelong dream of its founder as well as building a colourful history as it fended off bids to turn it into a brothel and a heavy metal concert venue.
Kryal Castle at Leigh Creek, eight kilometres east of Ballarat. Photo: Supplied
The property at 121 Forbes Road, Leigh Creek, has just been listed for sale through Colliers International and CBRE, with agents already fielding inquiries from local and international prospective buyers.
Kryal Castle, 105 kilometres north-west of Melbourne, is billed as a medieval adventure park and resort, comprising a fantasy-based castle and theme park with 17 four-star accommodation suites, three food and beverage outlets, function and event space, retail outlets and established educational programs.
Its attractions include a drawbridge, a maze and torture dungeon with museum, as well as medieval activities including jousting, magic shows and a "sword in the stone".
Colliers International agent Guy Wells, who has been appointed to sell the property with CBRE's Scott Callow, said visitor numbers had swelled since a multi-million-dollar upgrade in 2012-13 and the owners had been approached by potential purchasers over recent years.
"Given the growth in visitation and buyer appetite, they now feel the time is right for a new owner to usher this unique property into its next phase," Mr Wells said. "Both local and offshore interest is already being fielded."
In recent years, Kryal Castle has become popular with local school groups and international study tours. Up to five inbound tourist groups a week visit the property, with strong demand from Chinese students for the educational visits and use of the accommodation.
An accommodation suite at Kryal Castle. Photo: Supplied
Mr Callow said there was potential for further redevelopment, including new retail spaces and attractions. The zoning potentially allowed for the property to be used for other purposes, including events or expanded accommodation.
"The low level of investment necessary to increase the accommodation capacity and include caravan park or camping possibilities would allow for increased revenue and would open the castle up to an even wider customer base," he said.
The castle was built in 1972 by Keith and Joyce Ryall and it opened to the public in 1974.
Since then, the property's unique attractions have caught the interest of not only thousands of tourists, but also business people and event promoters.
Knights of the round table at Kryal Castle after it reopened in 2013. Photo: Jason South
Last year, Kryal Castle was caught up in confusion after being announced as the venue for music festival Rolling Thunder, despite not having agreed to the idea. A spokeswoman said at the time a heavy-metal concert was at odds with Kryal Castle's strategy to rebrand itself as a family-friendly environment.
In 2007, the property was put up for sale with an asking price of $10 million and stayed on the market for several years.
During this time, a Melbourne businessman and brothel owner wanted to buy the property for $10 million and turn it into an exclusive brothel and spa resort, where international VIPs would be flown in by helicopter. The proposal reportedly upset the owners at the time, who indicated the property would not be sold for that purpose.
The property failed to sell at a private auction in 2010 and was eventually sold in January 2011. However, the sale fell through and the property was returned to the Ryalls.
In January 2012, Kryal Castle was bought by its current owner, consortium Castle Tourism and Entertainment.
Since its 2012 redevelopment, Kryal Castle has notched up high-profile tourism awards, including the Best New Tourism Development Award at the 2013 Victorian Tourism Awards, a gold award at the 2015 RACV Victorian Tourism Awards and the award for Special Events and Attractions at the 2015 Commerce Ballarat Business Excellence Awards.
The property was a finalist in the Tourist Attractions category at the 2015 QANTAS Australian Tourism Awards.
The first king of Kryal Castle, founder Keith Ryall, died in May 2015. According to the Kryal Castle website, Mr Ryall decided as a child he would one day build his own castle after his uncle returned from World War II with a sword as a gift.
Hundreds attended the medieval funeral held at Mr Ryall's former stronghold.
"He was a man of ahead of his time," Mrs Ryall told The Courier after his death. "He made my heart sing. He was man of dreams and early vision. Anything he did in his life, he gave it his all."