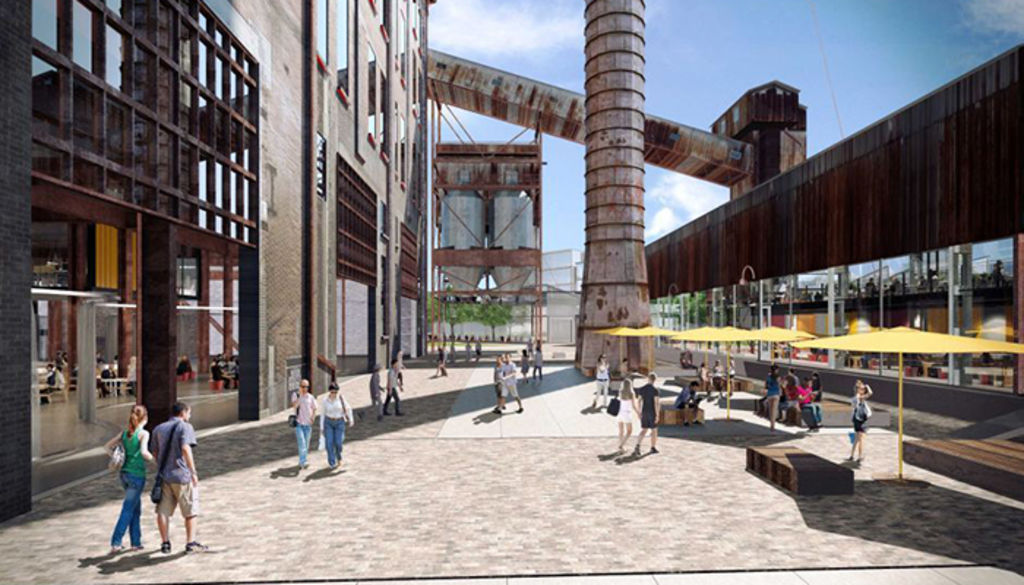 White Bay tech plan tipped to affirm Sydney as innovation capital
A surge of investment into technology on the back of the $1.1 billion federal innovation package is expected to lead to Sydney becoming the innovation capital of the southern hemisphere.
The NSW government's plan to create a new national "Silicon Valley" at the old power station received a major boost with Prime Minister Malcolm Turnbull's announcement last week.
The technology industry is now anticipating a fresh surge of investment funds into digital players and start-ups.
Already, insiders say a huge proportion of the 400 people who turned up at the White Bay open day have proposed using space, with requests open until February 25 next year.
An artist's impression of the White Bay transformation plan released in October 2015. Photo: Supplied
"It's a very exciting plan and it would be one vital piece in making Sydney a true tech hub," says James Riley, editorial director of the newsletter InnovationAus.com which publishes commentary on public policy issues in the information and communication technology sector.
"Usually, those kind of hubs grow up organically generally around universities that do research and need to be within cooee of an international airport so people can easily come and go and be closely connected with a mix of business and academia.
"You can already see the greatest number of entrepreneurs per square metre around UTS and that Ultimo corridor, and another at the Australian Technology Park in Redfern and the redevelopment of that site that's got a corridor to Sydney University.
"White Bay will be another arm of the eco system needed to deliver Sydney as an international hub."
Australian Technology Park, Eveleigh. Photo: Supplied
Australians are acknowledged to be great early adopters of technology and good at ideas and innovation, particularly in the financial technology (fintech) sector, but there's always been a gap in being able to develop those into commercial products for the global market.
To try close that gap, NSW Premier Mike Baird announced in October the plan for Sydney to have its own tech and innovation hub on the old industrial Bays Precinct which includes White Bay, Glebe Island and Rozelle.
NSW Planning Minister Rob Stokes, left, and Premier Mike Baird at White Bay Power Station in October. Photo: Edwina Pickles
Minister for Innovation and Better Regulation Victor Dominello said last week that the redevelopment of White Bay "into a Silicon Harbour" would affirm Sydney's status as the innovation capital of the southern hemisphere.
It would create 21st-century jobs and empower present and future generations to embrace the challenges and opportunities that exist in the information age.
"The redevelopment will also inspire the next generation of entrepreneurs and technologists to tackle some of society's greatest problems, and help develop a culture of innovation throughout NSW," Mr Dominello said.
It's hoped that the derelict power station, opened in 1917, decommissioned on Christmas Day in 1983 and which sits on a 38,000-square-metre site, could become a new HQ for a tech industry leader like Google or Facebook.
The hall of machinery in the White Bay Power House, Sydney, around 1930. Photo: National Library of Australia
White Bay in October 2015. The power station was decommissioned in 1983. Photo: Edwina Pickles
Property and technology expert Murray Cameron, of Strata Real Estate Services, welcomes the scheme.
"A tech hub would allow and support the infrastructure to be developed that gives huge opportunities to increase customer service and information that would no longer be tucked away on corporate databases behind veils of secrecy," he said.
"People want access to information and services that are delivered when, and where, they want to use them. A tech hub in Sydney will allow businesses to be incubated and developed.
"Australian innovation is at the forefront but we need now to generate the infrastructure to support it."
White Bay power station, pictured in 2009, is on a 38,000-square-metre site. Photo: Edwina Pickles
At the moment, many tech companies need to go outside Australia to secure funding for their projects.
However, with the Federal Government's new "ideas boom" package to support the country's business and research community, and then the establishment of the tech hub, it could be a whole new beginning.
Bruce Coombes, the CEO of QuickFee which provides payment options for accountants and lawyers called Professional Fee Funding, believes the White Bay plan could really help.
"We've almost got a brain drain, having to seek funding from overseas," he said.
"Although people here have great ideas, they're forced to go elsewhere. A tech hub will help us get the message out there that we need more capital and provide more recognition that Australia's financial companies, for instance, are suitable innovative and investment-ready."
An artist's impression of the White Bay power station, which is expected to attract bigger technology companies as well as start-ups. Image: Supplied
Already involved in that kind of enterprise is David Jackson, the founder of FundX, an online tech platform that connects Australian investors directly with Australian small to medium businesses needing to boost their cash flow.
He too is enthusiastic about a new Sydney tech hub at White Bay.
"I think it's a sensational idea," he said. "We definitely need something like that. The ATP is doing a phenomenal job with its incubator there and the government earmarking this new site is excellent.
An aerial view of Sydney and surrounds, with the White Bay power station site highlighted.
"Essentially, if you have Google or Facebook taking out a good size lease and you can get companies like [start-up supporter] BlueChilli and [the fintech co-working space] Stone and Chalk out there, with low rent and food and shops, it'll be great. We need somewhere where we can all get together."
Mr Jackson is on the board of Sydney Angels, whose members invest in innovative early-stage companies with high growth potential. He says so many tech companies are started by former high-flying corporates working from their bedrooms who move to co-working spaces but then founder when they have to lease their own space. The tech hub could really help.
As InnovationAus' James Riley says: "You're after a critical mass and cross-fertilisation of ideas and connectedness. That's when magic starts to happen."