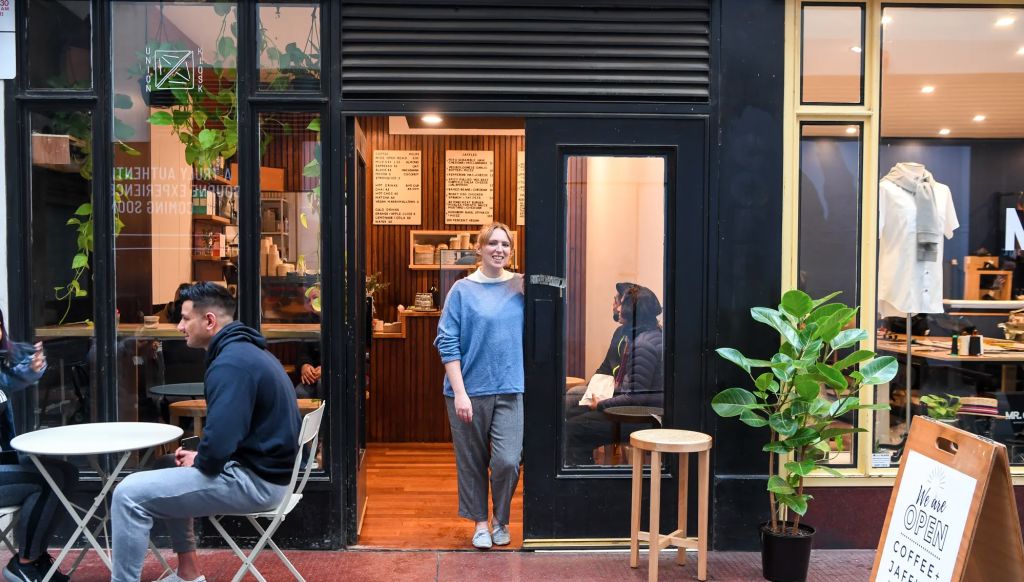 In Melbourne, a retail recovery is under way
Tatum Hehir first saw signs of Melbourne's recovery in March when regulars started coming back to the popular little takeaway vegan jaffle shop she co-runs in a bustling city laneway.
"We stayed open during COVID. We've seen all the highs and lows. It got very quiet in the city," Hehir said. "[But] since March there's been a big change. There's lots of activity in the city again, it's vibrant and nice."
Recently Hehir, like many others, moved her business Union Kiosk to a slightly bigger space in Howey Place, taking advantage of falling rents.
"It's been really great. We're at 80 to 90 per cent of pre-COVID levels," she said.
Fitzroys' James Lockwood, Franklin Gikas and Travis Keenan, who negotiated Union Kiosk's lease at 10 Howey Place, recently signed up two other food operators.
Bent-Oh! will open its second Melbourne store in Shop 3 at 237-239 Flinders Lane, committing to a 5+5-year lease at $40,000 per annum, and Sul Wha dessert bar signed a 5+2-year deal paying $68,500 a year at 347A Little Collins Street.
"We're again seeing businesses prepared to make bigger commitments. The lease terms show tenants are confident in the CBD and are in it for the long haul," Lockwood said.
"Hospitality operators have dominated retail leasing inquiry over the past two years," he said.
Corporates, too, are repositioning their stores.
The ANZ bank is taking over a 200 square metre former NAB bank space at 100 Exhibition Street on a five-year lease after NAB moved around the corner to 24 Collins Street.
The lease, understood to have been in the market for around $400,000 a year in rent, was negotiated by Ainsworth Property.
The firm's principal Zelman Ainsworth said it has recently completed a string of deals in Elizabeth Street, Flinders Lane and Strand Arcade with a diverse group of tenants, including tea merchant Dropout Chai Wala, Kimbao Beauty, Franck Provost hair salon, Yarra Falls bar and Studio Absent Tatoos.
"We're getting a steady flow of inquiry from both small and large retail businesses that maintain the CBD is a critical part of their networks," Ainsworth said.
Ginnane Associates retail consultant Martin Ginanne said the retail revival is underway.
Ginanne, who is managing Melbourne Council's shopfront activation program, said some 20 tenancy deals were struck in the past eight months.
"About six of those are going on to longer-term rentals," he said.
Prime spaces on Collins, Exhibition and Bourke streets are starting re-lease, although at shorter rental periods.
"We're seeing a lot more confidence come back into the market. There's definitely a change, particularly a desire to have different size templates."
Nonetheless, Melbourne's office occupancy remains the lowest out of any capital city in the country and that is dragging the recovery.
"It's a slow but steady recovery for Melbourne's CBD, after a few false starts through the pandemic. We're finding that Mondays and Fridays are quieter, given they're the most popular days people choose to work from home so they can extend their weekends," said Fleur Brown, chief industry affairs officer at the Australian Retailers Association.
"It means there are less people out and about on those days, and it's having an impact on the city's small businesses in particular," she said.
"Even though the vast bulk of COVID restrictions are gone, we haven't seen a huge flood of people back to the city's workplaces."
But Ainsworth says Mondays and Fridays aren't as slow as many believe. "If they're not working in the city, they're playing in the city," he said.
City of Melbourne pedestrian traffic data shows night-time activity is up across the CBD's dining precincts.
Weekend visitation during the Grand Prix, Comedy Festival and the early part of the footy season was higher than pre-pandemic levels.