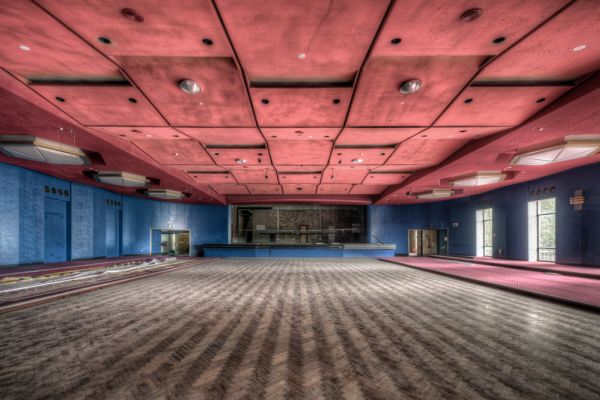 Images of the old Bankstown RSL capture a time when kitsch was king
The bar that was once heaving with thirsty patrons now stands deserted with its trademark multi-patterned carpet displayed in all its garish glory.
The busy swimming pool has been drained and lies empty with a towel flung carelessly over a rail the only poignant sign of its past patronage.
And the stage that was used by generations of talent for the entertainment of thousands, is today merely the proud showcase for a few empty rubbish bins.
This is the old Bankstown RSL Club as it's never been seen before, in the days before its demolition and replacement next door by a new club, as captured by photographer Brett Patman, whose Lost Collective specialises in taking images of deserted buildings.
[dm-listing-recommendation experimentname='midcontent-listings' positiononpage='midcontent']
"It's the stillness of the last moment that so appeals to me," Patman said. "It's the frozen moment in life, of the past how a place was, and captured in the period between when it's first left and when it gets trashed and covered in graffiti.
A hallway with an open door that leads up to the projection room for the main auditorium. Photo: Brett Patman/Lost Collective
The former bar with much of its equipment stripped out. Photo: Brett Patman/Lost Collective
"Photographing this abandoned RSL club was like a dream come true for me. It's about preserving the history of the place, completely intact as it used to be, with those astonishing blue walls and bright red ceilings. Those are the kind of features we'll never see again, and never saw since!"
The demolition of the iconic 1955 home of the club, first formed in 1928, began in March 2019. The owners sold half their land to developers Poly Australia to raise funds to construct a new premises, and to make way for a mixed-use commercial, retail and residential development.
The area, close to the Bankstown CBD, is earmarked to be home to 500 apartments across five buildings above two levels of retail and office space, with restaurants, cafes and childcare facilities.
The stage and backstage area of the main auditorium. Photo: Brett Patman/Lost Collective
The main auditorium with its wave ceiling and recessed lights. Photo: Brett Patman/Lost Collective
But before work began on the footprint of the old club, the developer was keen to preserve the memory of a site that played such a prominent role in the local community.
"I've always admired Brett's work, as he has a real eye for capturing the beauty within the dereliction of old buildings, and we really wanted to do something to capture the club's history," said Jay Carter, Poly Australia's sales and marketing director.
"We wanted to do something to respect the site, and pay homage to it, while also helping support a talented independent artist. I love the photos he's taken. There is such charm in the club's pre-demolition state, and the images are taken with such skill and love and passion, they really grab me."
The series of photographs are of the entertainment areas of the club, with bright blue walls adorned with acrylic-encased retro artworks, the disco room with its brown bar tiles and a ladies' powder room, and the underground sports club featuring the pool, squash court – now with its wooden floor bowed – gym and sauna.
The stage in the smaller disco room. Photo: Brett Patman/Lost Collective
One of the ladies' powder rooms. Photo: Brett Patman/Lost Collective
They'll be part of an exhibition in the nearby display showroom for the apartment development, and will find a home too in the new Bankstown RSL Club.
The club's chief executive Scott Dickson said the land housing the former club on Kitchener Parade was sold to Poly Australia in 2017 after it fell on hard times, started operating on just a third of its floor space and was judged not to be up to the challenge of being modernised to cater for future needs. It closed its doors for the last time on January 15 this year, while the new club was opened on January 21.
"But the photos are lovely; we're over the moon with them," Mr Dickson said. "The photos are probably better than the actual conditions of the place when we left!
"I think it's lovely to have those memories preserved in that way as it had enormous history and at one stage was one of the biggest clubs in NSW. We'll be more than happy to exhibit those photos. It's a fact of life in the hospitality business that we're all about reinvention, and the club was old and rundown, and we needed to have something that was modern and contemporary."
The underground pool. Photo: Brett Patman/Lost Collective
The old squash court with peeling floorboards. Photo: Brett Patman/Lost Collective
The images are a reminder of a time when the original club was vitally important to the local community, and is still regarded fondly.
"I remember when I was a kid and families would go into these clubs on a Friday night and we'd all run off to play without bothering the adults who, I now realise, were off drinking," said Patman, who takes photos of all kinds of abandoned buildings around Sydney and Melbourne, including factories, power stations, hospitals and community facilities.
"So I think it's important to remember what this place was, and what it meant to so many people. It's a very important part of our social history. In this process of ageing and weathering, places start to get even more character, and feel a bit more mysterious and are just so much more interesting!"
Jay Carter from Ploy Australia agrees. "It would be great if other developers saw what Brett has done here, and use him in a similar way for their projects," he said. "When you work with historic sites, there's a great opportunity to honour them in this way."
 Many of Patman's images are also for sale through his site.
An earlier version of this story said Jay Carter was Poly Australia's chief executive. He is actually their sales and marketing director.
[dm-listing-recommendation experimentname='below-content-listings' positiononpage='belowContent']
Keep up with Commercial Real Estate news.
Keep up with Commercial Real Estate news.