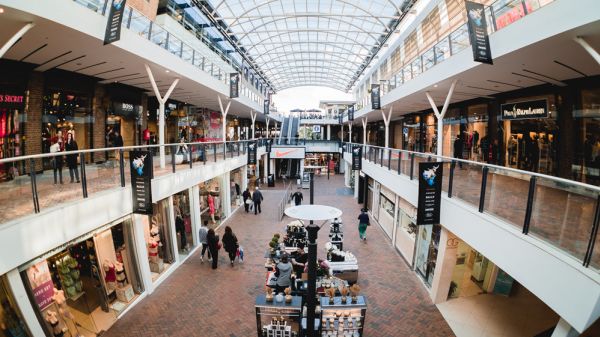 How the online shopping revolution is actually helping bricks-and-mortar retailers
The assault of online shopping services is helping sharpen up Australian retail centres and forcing them to be made over into much more inviting, comfortable and attractive places to be, says the architect in charge of reinvigorating one of the country's top outlet hubs.
While it may be a painful process for many, there are hopes that as Amazon prepares to start trading in Australia, it will spur the sector on to be better prepared for any future headwinds.
"While online retail businesses have the privilege of unlimited space, shopping centres have to turn every inch into a profit-making asset, or make it indispensable to the customer experience," says Jason Marriott, director at Ignite Architects, which has just finished its third major redevelopment of Sydney's Birkenhead Point Shopping Centre.
Birkenhead Point shopping centre was at one stage a tyre factory in the early 1900s. Photo: Supplied
[dm-listing-recommendation experimentname='midcontent-listings' positiononpage='midcontent']
"You can't stop businesses like Amazon, but you just have to manage it. You have to come up with new ideas all the time and challenge yourself, and looking at new ways of working, to continue to be successful. But in some ways, online shopping is changing retail centres like ours for the better.
"You then strive harder to make them more interesting destinations, so people want to come here, rather than sit at home on the computer."
Certainly, it's an approach that seems to be working. With Mirvac buying the centre in 2014 and investing $19 million in the redevelopment, the number of weekday shoppers are now up by more than 30 per cent, and weekends are nearly full. Sales are expected to hit $300 million in 2018-19, compared with $200 million in 2014.
On one Wednesday morning when Commercial Real Estate visited Birkenhead Point the stores were thronged with shoppers, with more meandering along the walkways, eating at the cafes and chatting around the curved wooden seats.
Marriott regards the scene with satisfaction. When Ignite started its association with the centre at Drummoyne in 2004 it was a dated, rundown jumble of old buildings plagued by vacancies and added to in fits and starts.
Now, after its final redevelopment and a new owner in Mirvac Retail, it's buzzing, with a series of specialist precincts, a new raft of top designer stores, a series of fresh walkways through and a much more streamlined look.
The waterfront site was originally an old rubber foundry that started in 1900 and was taken over by Dunlop in 1929 to produce tyres. The plant closed in 1977 and the area was rezoned to allow an outlet shopping centre in and between the four old heritage buildings, with the marina out front.
The most recent renovation to the centre was finished this year. Photo: Supplied
When the centre began, it looked more like a cut-price market, with much of the site open-air and special bargain bins everywhere, that seemed filled with items no one could sell elsewhere. Today, however, it's barely recognisable. The centre contains a number of leading brands and has just brought in the first, and only, Australian outlet stores of Bally and Harrolds, as well as up-market global designers such as Coach and Michael Kors.
It boasts an almost seamless transition from the red-brick heritage warehouses to the new additions, mimicking the look and then adding elements such as a sweeping glass canopy roof, digital screens and large glass display boxes set into the façade.
"There were a lot of issues with the planners, with the marina and with the heritage," Marriott says. "But one of the most difficult complexities was all the different levels of the centre.
"It used to be a rabbit warren of different heights of floors, trails and bridges between them, stairs and lifts and escalators…every sort of means to move people around, and all added ad hoc. We had to sort out the heights of floors and create a clear circulation, and line-of-sight, around the site, with cohesion and flow."
It has increased its number of luxury shops. Photo: Supplied
Now there's a distinct demarcation between the different levels, with a fresh-food and supermarket basement, and separate precincts for, for instance, Australian brands and the eat street. There are bridges between different levels, and the new upmarket stores are subtlety grouped together with black cladding on columns outside, black steel around the windows and grey tiles outside.
All the shopfronts and signs are designed in conjunction with the stores' designers to make sure they work well together.
Cafes are placed at the ends of the levels as attractive bookends, there's stylish wooden seating incorporating planters and USB chargers, and there are regular "shoppertainment" events and promotions. There's an outdoor dining terrace, Wi-Fi throughout, and a new level of offices on the fifth floor above.
"It's about attracting people here, locals, Sydneysiders and visitors alike, so they choose to come out to the venue rather than shop online, and once they've arrived, to keep them here," says Marriott.
"It becomes more than a shopping centre; it has a whole leisure and entertainment and experience overlay, and we're now taking our cues from the hospitality and residential sectors to make shopping centres as friendly and comfortable and warm."
With the rise of online shopping and Amazon, that's never been as important as it is now. "Australia is now a hot destination for a lot of new money so part of our agenda was to upgrade and rebrand this centre as an upmarket precinct to attract that shopping tourism, particularly from Asia," says Marriott.
"Barangaroo from a workplace point of view is up there with the rest of the world's best. And now retail in Australia needs to get to that level."
[dm-listing-recommendation experimentname='below-content-listings' positiononpage='belowContent']
Keep up with Commercial Real Estate news.
Keep up with Commercial Real Estate news.