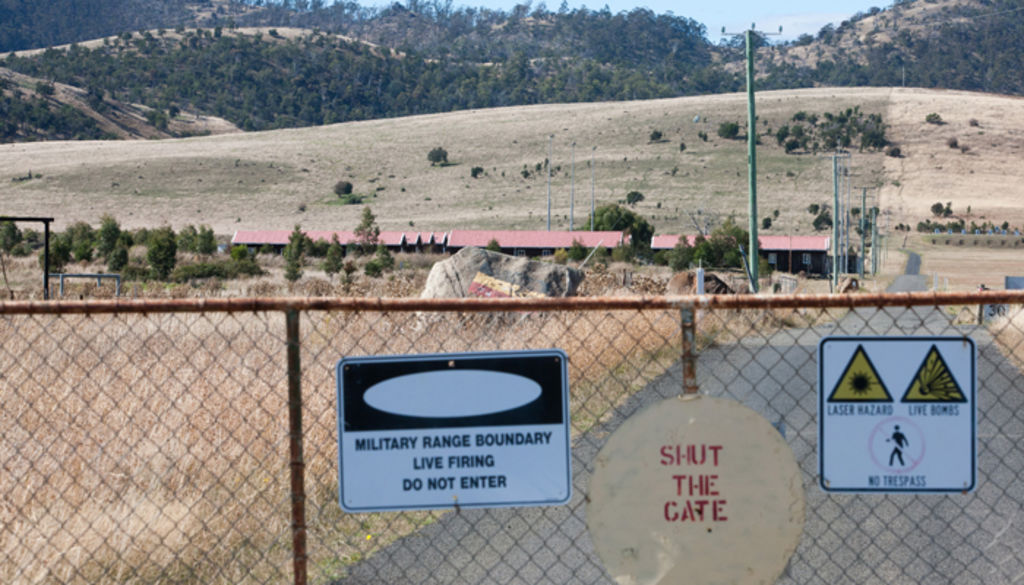 Former Pontville immigration detention centre is for sale
A large parcel of military land and buildings that has polarised governments and communities for years over its controversial use is on the market.
The first stage of the two-parcel sale began last year with the main site opening to potential buyers this month.
Pontville has a layered history, from operating as a training base for Australian soldiers since World War I gaining it heritage listing, to more recently housing hundreds of immigrants, including unaccompanied children.
The site at 108 Rifle Range Road, Pontville includes about 90 buildings, mostly demountables installed in 2011. Photo: Supplied
Federal Assistant Minister for Defence Darren Chester said the department no longer needed the site for training, and net proceeds from the sale would be channelled to other Defence projects.
"The sale of the Pontville site supports government estate consolidation objectives and, at the same time, releases a useful parcel of land for purchase by the public," Mr Chester said in June last year.
Marketing agents for the sale said a confidentiality agreement with Defence prevented them from discussing price expectations or other details around the listing.
Buyer interest
Brighton Mayor Tony Foster has inspected the site to assess whether it could be bought by the region's local government for community use.
Cr Foster believes it will sell for a fraction of the $15 million the Government spent to redevelop it in 2011.
"Council was interested in the property because we thought it could have a multitude of community uses but found the buildings had all been stripped bare and left a shell so we were no longer interested," Cr Foster said.
"The frontrunners to show interest are probably farmers who originally owned the land.
"It may be a local farmer who buys it to use the (sheep grazing) land, divest themselves of the buildings and comply with the current zoning which favours agricultural use."
Heritage status
The Defence website states that Pontville is on the Commonwealth Heritage List and also contains sensitive flora and fauna areas.
"Any future use of the Rural Resource zoned land will need to be consistent with its heritage status and protect the environmental and heritage value of the site," the site states.
"The well-maintained facilities include approximately 90 buildings, mostly demountables installed in 2011, but also older barrack-style camp buildings."
Part of the property used for grazing is under lease and the site includes a 10000-metre shooting range.
The Commonwealth Property Disposals Policy allows for open market sales at full market value and for off-market sales direct to local, state or territory Governments in certain circumstances.
Expressions of interest close on March 10, 2016.