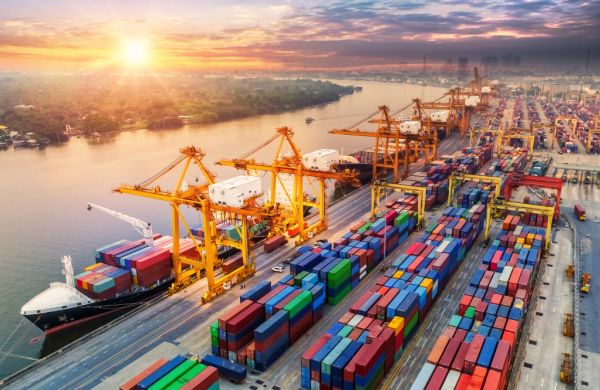 Ecommerce growth in Australia still lags much of the world, new warehouse data shows
The seemingly insatiable demand for warehouse space by the online retail sector has been quantified for the first time, and the figures show that the growth of ecommerce in Australia still lags many other countries.
JLL's head of research Sass J-Baleh has calculated that the amount of new warehouse space needed each year by online retailers (and associated activities in transport and logistics) has been fluctuating, but on average is 60,000 square metres for every $1 billion of extra online sales.
Online retail sales in Australia are projected to exceed $30 billion for the first time by the end of this year, assuming an average annual growth rate of $2.3 billion, based on data from NAB. That equates to about 140,000 square metres of extra warehouse space annually.
"If we assume that the increase in online retail sales is consistent with that recorded over the past four years, averaging an extra $2.3 billion [per year], then we can expect by the end of this year for online retail sales to equate to around $30.9 billion and next year [2020] to around $33.2 billion," Ms J-Baleh said.
[dm-listing-recommendation experimentname='midcontent-listings' positiononpage='midcontent']
However, the 60,000-square-metre figure was still lower than the take-up rate for warehouse space recorded by some other countries, and the world benchmark was currently about 120,000 square metres of space for every $US1 billion ($1.4 billion) of growth, she said.
In 2018 JLL estimated that Australia's "industrial investment universe" – the tradeable space within the asset class – consisted of 31.5 million square metres of gross lettable area (GLA).
"We are at the initial growth stage of the ecommerce growth phase, and not close to the online retail penetration levels currently recorded in some of our major trading partners like China and the UK," Ms J-Baleh said.
However, JLL is predicting an uptick in the take-up of warehouse space to sales ratio between 2022 to 2026, as the local ecommerce industry gathers pace.
Chief among the drivers for this growth would be population growth and the entry of traditional retailers into the online space, Ms J-Baleh said.
This comes as the independent valuer and advisor m3property described the industrial sector the best performing in the country.
Their Australian Industrial: Winter 2019 report found prime yields were at a record lows in the June quarter 2019 – ranging from 4.5 per cent to 8.75 per cent nationally for prime stock, and 5.5 per cent to 10 per cent for secondary stock – with sales activity over 2018 the strongest recorded since the mid-2000s.
m3property's national director of research Jennifer Williams said the industrial market was enjoying its best period in years.
"Australia's industrial market is in the upturn phase of the current cycle and, while some states are further advanced in the cycle than others, it is generally a time when landlords should be locking in longer-term deals," Ms Williams said.
"Sydney is experiencing boom-like conditions, Melbourne is experiencing significant land value increases and the Brisbane market is also seeing rental growth, land rates rising strongly and yields continuing to tighten."
Ms J-Baleh said it wasn't just major logistics companies benefiting from the uptick in ecommerce and driving industrial activity, but second-tier companies such as those specialising in picking and packing parcels were also cashing in and expanding their physical footprint.
"When we look at take-up from ecommerce we cannot solely look at the retail trade sector category. We have to also look at transport, postal and warehousing sector," Ms J-Baleh said.
Uncertainty on the horizon
But land constraints, particularly in Sydney, and global economic uncertainty, may bring the reliability of future growth projections into question.
"I think that the global economic uncertainty will be a factor hindering the growth in industrial take-up activity – particularly in Sydney," Ms J-Baleh said.
"I also think the lack of new industrial development in the pipeline, due to land constraints in Sydney, is another major reason why take-up over the next two years will be subdued.
"I do, however, believe that Melbourne's strong take-up activity will continue over the next 12 months and perhaps make up for the stalled figures recorded in Sydney."
 NAB's online retail sales index grew at an average 1.6 per cent a month between January and September 2018, but since then activity has slowed to an average of less than 0.5 per cent a month.
"The dip in online sales growth since late in 2018 is also a warning to investors but, more importantly, to speculative developers who need to be aware of the risk of an overblown response to the ecommerce-led demand for new distribution stock. Already we are seeing a slight rise in vacancy for quality, well managed, industrial space,'' Ms Williams said.
However, Ms J-Baleh said the federal government's income tax cuts could help to prop up online retail sales, so long as taxpayers chose to spend their refunds rather than save.
"UBS on Tuesday sent a report on tax cuts, and how it would boost retail by around 1.1 per cent in FY20, thereby boosting retail and consumption. They stated the sector most likely to see the benefit is discretionary retail. Therefore the fiscal stimulus may counteract the current economic uncertainties," she said.
[dm-listing-recommendation experimentname='below-content-listings' positiononpage='belowContent']
Keep up with Commercial Real Estate news.
Keep up with Commercial Real Estate news.