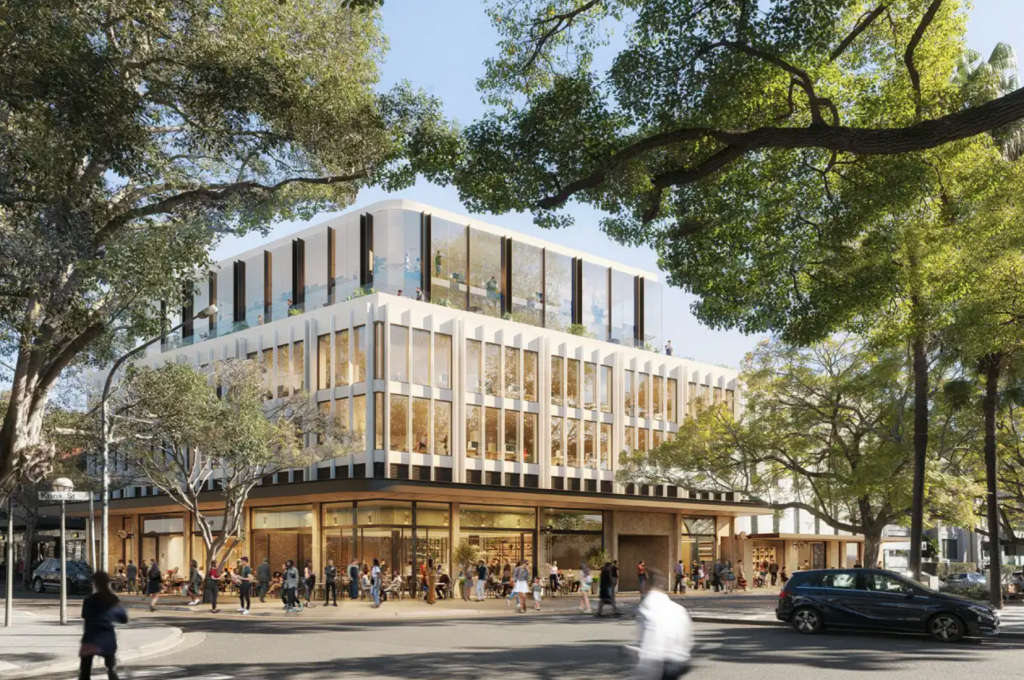 The developer setting out to change Sydney's Double Bay forever
Although he is undoubtedly a property developer, Charles Mellick is also somewhat of a town planner.
A wealthy pocket in Sydney's eastern suburbs has become his self-proclaimed "passion project". As the director of boutique developer Fortis, he has the money and ability to achieve his mission: to transform the neighbourhood he grew up in.
Fortis has splashed approximately $128 million on five commercial development sites in the Double Bay area in the past 18 months – and the spending spree is not over.
"Once you have a lot of property in one spot, you can change a suburb forever," Mr Mellick said. "And that's what we're trying to do."
The latest purchase was the most expensive: a Bay Street asset that settled for $38.5 million last month. The site is slated for a five-storey modern office precinct with 500 square metres of retail and hospitality on the ground floor, with an expected final value of $90 million.
And on the same street is Pallas House, opening next month after the low-rise commercial building underwent a $13.5 million revamp. It's set to be the headquarters of Pallas Group and Fortis and will house a new restaurant venture by Neil Perry.
Mr Mellick has a vision of revitalising the suburb by bringing A-grade commercial assets into town.
"I've spent most of my life in Double Bay, and I've watched it lose its appeal since the day they lost their cinemas in the mid-'80s," Mr Mellick said. "That all shut down when Westfield opened. It lost its appeal for about three decades."
"I want to try to recreate the village atmosphere – when it was an exciting place to work, shop and eat."
With hopes of reinjecting life into the neighbourhood, Fortis is in talks with a diverse mix of food and beverage enterprises and high-end fashion retailers.
"With an increased nightlife and revamped hotels, we could see the likes of Louis Vuitton, Rolex and Gucci coming in," Mr Mellick said.
Set against the backdrop of one of the wealthiest enclaves in the country, Fortis has pitched its projects squarely at locals of the eastern suburbs.
"You need to bring business with strong covenants from the CBD," Mr Mellick said, adding that Fortis was taking advantage of the increasing demand for well-connected city fringe sites and the desire to remain closer to home since COVID-19. 
"We've had a huge amount of enquiry from wealthy families. They just want a 300-square-metre space for their family office.
"We've also had plenty of fund managers and other businesses that have been strong during COVID [such as] property developers."
The next hotspot?
Fortis is not the only group with Double Bay on the radar.
The sale was handled by Miron Solomons and Matt Pontey of Colliers, along with Ray White's Grant Whiteman.
Mr Pontey said new investors, owner-occupiers and developers were looking for sites in the eastern suburbs.
"There's a lot of unplaced capital," he said. "People are having more awareness about working and setting up in city fringe markets."
"The one we sold at 356-366 New South Head Road needed a bit of TLC," Mr Pontey said. "It was an older building that required an upgrade … whereas the asset we have right now is considered more shiny and polished and ready to go."
Built in 2015, the building comprises retail and office space, providing a net return of more than $1 million.
It's expected to appeal to investors, lenders and owner-occupiers. 
"We might see a shift from a business that was traditionally set up around the CBD core. It might be a corporation, headquarters or private family office," Mr Pontey said.
"These are the guys we normally see leasing in bigger office towers or buying office floors."
The CBD office isn't dead
It's a trend that has been noticed by Real Capital Analytics, a research firm tracking sales of more than $1 million.
Head of analytics Ben Martin-Henry said there was more activity in the suburban locations, as people took advantage of a hub-and-spoke business model.
"There is a push into more suburban areas by tenants and investors," he said. "Prices in offices have been going crazy, and a lot of investors have been priced out of the market."
Mr Martin-Henry said deals for small-to-medium offices had dropped off since the pandemic struck.
"We haven't seen a lot of distressed assets come onto the market, and it's generally in the smaller end of town where you do see that.
"I think we'll start to see more boutique office sales in fringe and suburban markets because there are small companies looking to relocate to those areas."
But despite high vacancy rates and a shift toward downsizing or relocating office space in city centres, Mr Martin-Henry believed CBD offices would remain the hub of major businesses.
"Last year, we saw three of the biggest transactions ever in the Sydney CBD. You're not buying into a $2 billion asset if you think the sector is dead."