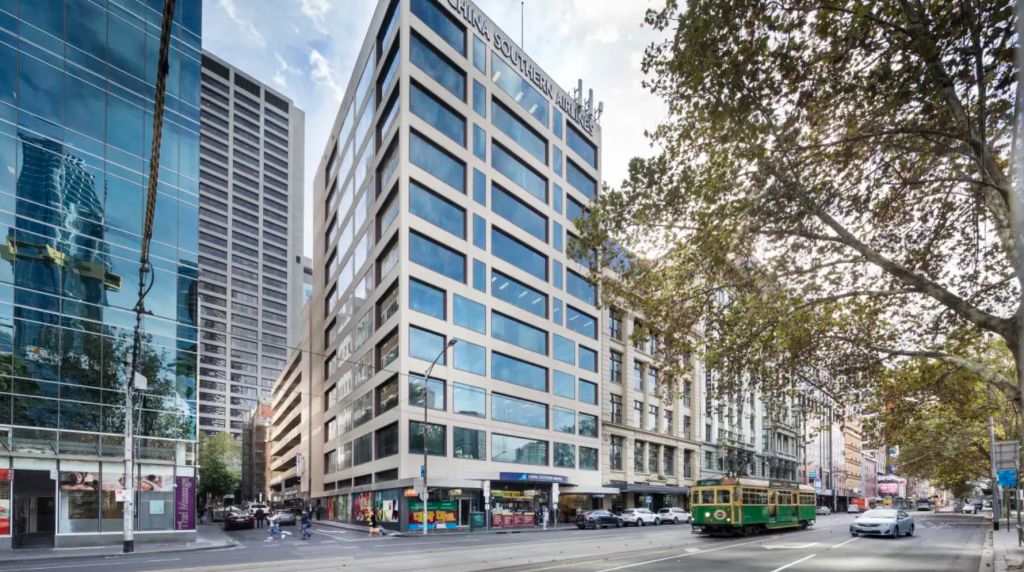 Collective Capital on track with $40m Flinders Street deal
Boutique property investor Collective Capital has bought a Melbourne CBD office block for about $40 million, picking up what it hopes is a counter-cyclical prize that will deliver as the market rebounds.
The privately held 11-storey building at 342-348 Flinders, formerly known as the China Southern Airlines headquarters, is just a block from where the Town Hall station of the city's new metro line will emerge.
The station development, undertaken by Lendlease, has galvanised a $300 million run of commercial property investment into the surrounding precinct, with six or more properties changing hands in the past 18 months alone ahead of an anticipated resurgence of tenant demand and foot traffic.
The Flinders Street building has some vacancy across its 5200 square metres, with existing tenants all on short- to medium-term leases, creating the opening for a major revamp.
Collective Capital's Nicholas Thompson compared the CBD acquisition with the investment platform's purchase of a $20 million office block in the city's south-east two years ago.
"We've built our business on a counter-cyclical investment thesis," he said. "Like our Frankston property – which is now fully tenanted – before it, we tend to buy when the market is baulking. That's how we find value."
Backed by a green loan facility from the Commonwealth Bank. which will be used to enhance the building's energy efficiency, cutting emissions by 30 per cent, Collective Capital plans to begin the upgrade work immediately.
"We firmly believe the market will follow," Mr Thompson said.
The deal was brokered by Colliers' Matt Stagg, Oliver Hay, Daniel Wolman and Leon Ma. Mr Stagg noted the run of deals along Flinders Street, Flinders Lane and nearby as the new metro station nears completion.
"Strategic investors throughout Australia and offshore such as Collective Capital are seeking to capitalise on what is the biggest infrastructure project in the Melbourne CBD since the City Loop in the 1980s," he said.
"Upon completion around 2025, City of Melbourne forecasts the intersection of Flinders Street and Swanston Street will become the busiest public transport commuter and pedestrian hub in the Melbourne CBD and is set to reinvigorate the precinct."