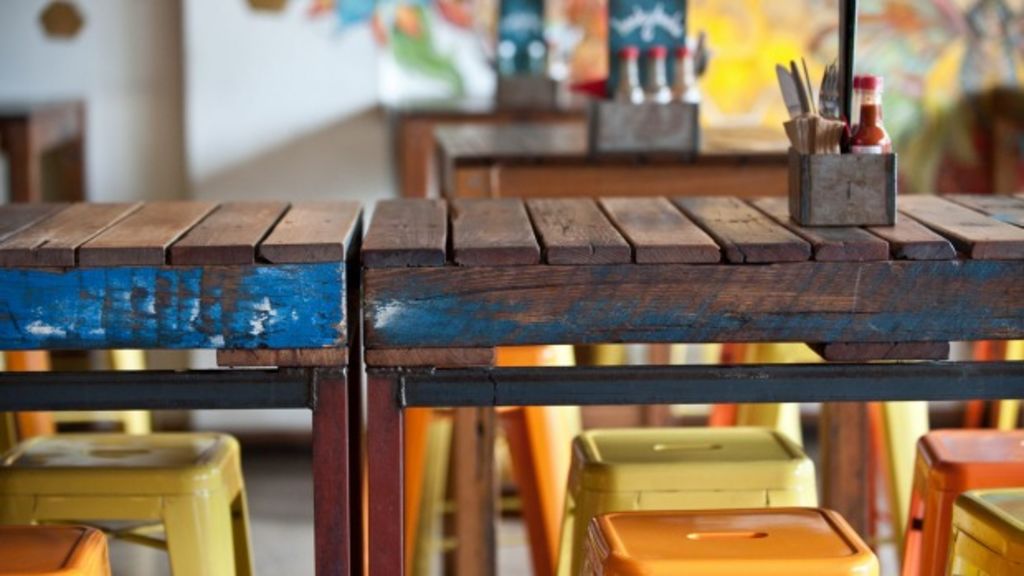 Canberra's most stylish and sustainable interiors revealed
Some of the city's most impressive interiors are also the most sustainable. Old roof trusses, a coal wharf and a basketball court have been stunningly repurposed in some of our favourite fit-outs.
NISHI
Nishi was designed with a vision – to be one of the most sustainable buildings in the world. The finished product demonstrates that an environmentally friendly development can also be a spectacular piece of architecture. While Nishi includes many practical features including solar power and a blackwater recycling plant, it's the extensive use of reclaimed timber that really gives the building its beauty.
"We wanted the building to look warm and unlike anything else," Molonglo Group development manager James Bichard says.
"We've used it in its rawest form to bring out the beauty of the material, as opposed to it being a heavily manufactured product."
Nishi's grand staircase and entrance foyer, designed by March Studio, create one of the most striking interiors in Canberra. Thousands of pieces of recycled timber from demolitions, basketball courts and Nishi's own construction site have been pieced together in this collage of colour and texture. The ceiling alone includes more than 2000 pieces of reclaimed timber beams that seem to float above the staircase.
"The timber is one of the most successful features of Nishi," Bichard says.
"We've used it in unexpected ways. The recycled timber has character and it's really brought out the romance in the material."
HONKYTONKS
It's only just celebrated its fourth birthday, but some of the pieces you'll find in Honkytonks have a history of more than 100 years.
"Just about everything is second-hand," director Laurence Kain says.
"Our bar top and all of our tables came from timber experts Thor's Hammer. The bar comes from a 120-year-old wharf in Newcastle, we made a bunch of tables out of shipping pallets and all of the high tables are built out of timber from an old wool shed."
Honkytonks in Garema Place. Photo: Daniel Spellman
Kain says the materials used are long lasting, which is one of the major benefits of salvaged timber.
"The cool thing about the stuff that Thor's Hammer produces is that it's super durable and high-wearing," Kain says.
"That's a major factor when you own a bar. Even though it costs a bit more upfront, it's way cheaper in the long run."
These pieces with a story are also a great conversation starter for patrons.
"People are always interested in the bar and ask about it," Kain says.
"You can see the old bolt holes."
GROOMED
The fit-out is a huge part of the authentic barbershop experience that every visitor to Groomed will enjoy. Owner Stephen Gamarra and Chris Catena of Created Bespoke Joinery and Furniture envisioned a classic barbershop of the early 1900s and walking into the store is like stepping back in time.
The use of reclaimed timber sourced from Canberra suppliers, Thor's Hammer, has given the store its distinctive appearance.
"The design morphed over time while we were doing the build," Catena says.
"As we were using recycled timber we used what was available. Instead of a rigid design, we could see it becoming alive."
Groomed barbershop in Braddon. Photo: Daniel Spellman
Rustic beams from an old Meadowbank factory are arranged in a herringbone pattern, timber cladding comes from demolished Sydney houses and a wine barrel has been converted into a fully plumbed sink.
The extensive use of timber cladding adds warmth to the store, in more ways than one.
"You can sense the change of temperature when you walk in," Gamarra says.
Every last detail has been carefully considered, including the all-important chairs. After searching eBay and antique shops, Gamarra​ finally found what he was looking for when a Brisbane woman advertised three authentic barbershop chairs from the early 1900s on Gumtree.