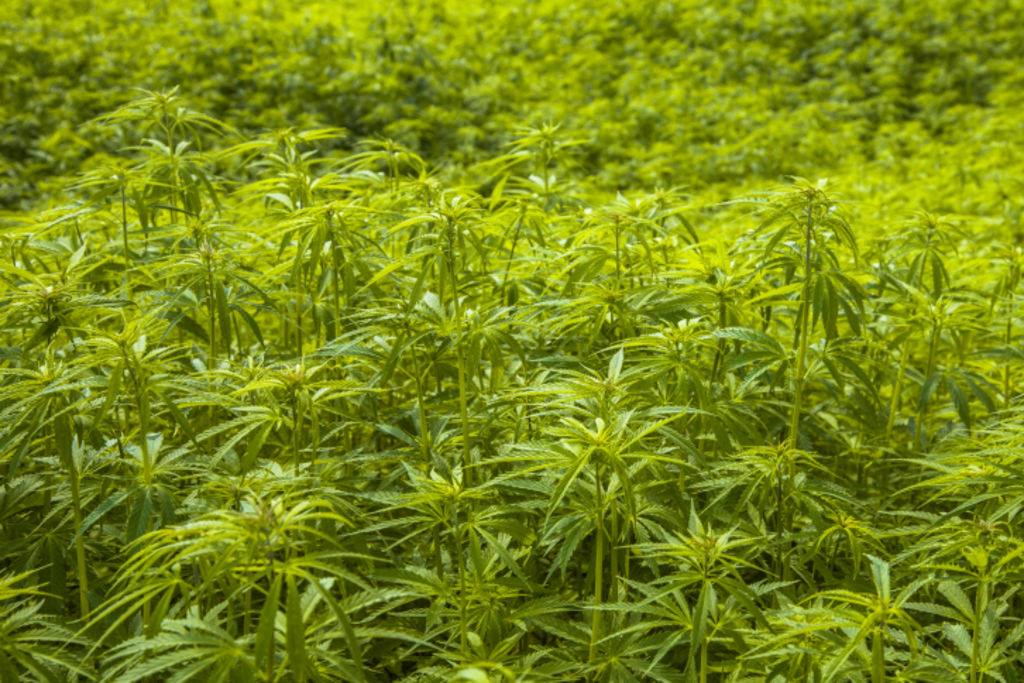 Agribusiness investment interest grows as Australia considers cannabis laws
Although the legal framework around medicinal cannabis in Australia is still being considered, commercial real estate agents are already fielding inquiries about marijuana-growing facilities from potential investors.
CBRE regional head of agribusiness Danny Thompson believes the medicinal marijuana industry has strong potential, particularly for existing growers who add the crop to supplement cash flow.
In February, the federal government passed legislation allowing the cultivation of medicinal cannabis before Australia's first marijuana farm site was announced in March. The site is in an undisclosed location.
On Thursday, Victorian premier Daniel Andrews released photos showing the progress of the state's first medical cannabis crop.
The developments have led to the predictions that the industry could be about to take off in Australia, with the success of poppy farms in Tasmania being used as evidence of the crop's potential.
"I'd liken it to poppies in Tasmania, which is obviously controlled," Mr Thompson said. "That's been a particularly positive occurrence in Tasmania.
"Any time a new cash crop becomes available, even if it is controlled, it's a positive for the industry growers. It's another feather in their bow."
Dan Haslam, who passed away last year, was a leading force behind the push for legalising medicinal marijuana. Photo: Geoff O'Neill, Fairfax Regional Media
Mr Thompson said that CBRE had received inquiries about growing facilities in NSW.
"We've already had a NSW inquiry into a glasshouse facility in an urban area, a secondhand glass house that's been used for tomato growing or something similar," he said.
Growing is expected to be contracted in a similar way to the poppy industry in Tasmania, where three major players – Glaxo Klein Smith, Tasmanian Alkaloids and TPI Enterprises – control all crops and impose high standards, according to Mr Thompson.
"They manage the accreditation of growers and are relatively stringent. They ask for criminal record checks, background checks, that sort of thing."
But don't expect giant fences and security guards to be protecting any marijuana crops.
"You could walk straight into a property. There'd be plenty of signs telling you not to, but you could walk straight in," he said.
Cane farmers in the Queensland's north have already expressed interest in establishing a medicinal marijuana industry, stating that growing the plant alongside their existing crops would likely help improve soil health as well as business margins.
Tasmania's poppy industry was now worth about $290 million, with around 23,000 hectares of crop grown by 850 farmers, the report stated.
Medicinal cannabis was one of the United States' fastest-growing markets, according to the paper, with its value increasing from $1.5 billion in 2013 to $2.7 billion in 2014. Estimates suggested the US market would be worth $25 billion by 2020.
Australia's first farm site, a 47-hectare property near the regional NSW city of Tamworth, was named in honour of Dan Haslam, whose battle with cancer has been credited with changing NSW premier Mike Baird's view on medicinal use of marijuana.
Mr Haslam lost his battle with cancer last year, but his family, led by mother Lucy, are now determined to not only begin cultivation of the drug, but also establish a holistic treatment facility for patients on the site.
If granted a licence to cultivate the plant, the farm – "DanEden" – could become the first of its kind in Australia.

The late Dan Haslam's parents at the launch of the proposed medicinal marijuana farm named in his honour. Photo: Troy Grant via Facebook
Federal parliament gave bipartisan support for a bill legalising the cultivation of medicinal marijuana in February, although a clear framework for cultivation and provision of the drug is yet to emerge.
Announcing the site in March, Mr Joyce stopped short of putting a timeframe on the federal government finalising the medicinal cannabis legislation.
"I'm not going to start announcing for (health minister) Sussan Ley her timeframe, but I can absolutely give a warrant that she has been working flat out," he said.
"Take it as motivation that, if we're here, we're not here to muck about, we're here to make it happen."
Victoria was the first state to legalise marijuana use for medical purposes.
NSW is conducting trials of medicinal marijuana for patients with severe epilepsy, terminal illness and those suffering from side effects of chemotherapy treatment.
The Queensland government has previously announced its intention to begin medical trials of the drug in 2016.