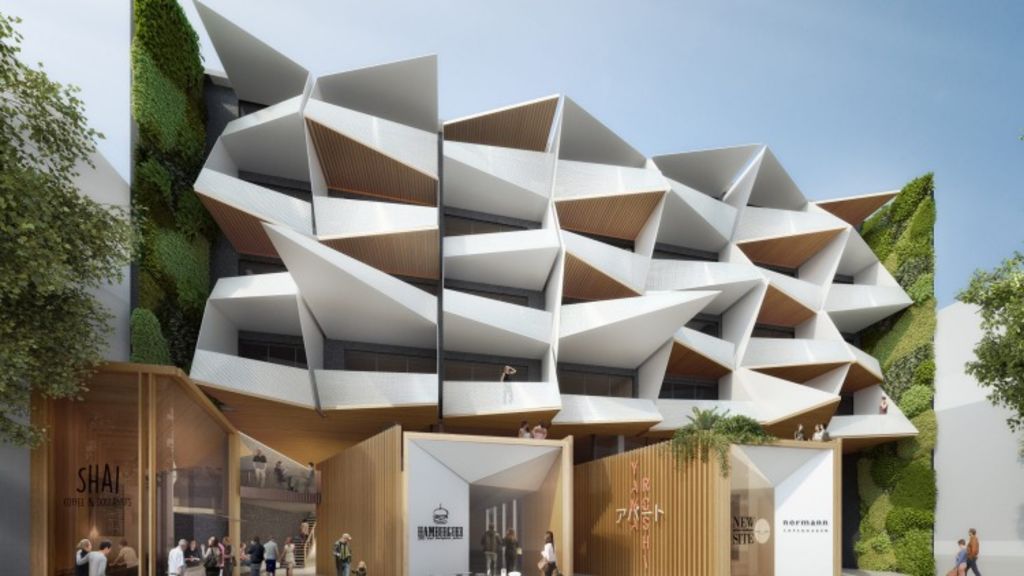 Yamaroshi's design makes all the difference as commercial space sells fast
Yamaroshi's futuristic design and laneway approach is appealing to buyers, with almost 70 per cent of the development's commercial space sold a year ahead of its completion.
Yamaroshi selling agent Chris Antos, from Laing+Simmons Commercial ACT, said the site at 32 Mort Street, Braddon, had attracted interest from restaurants, bars, casual eateries, gyms and hair salons.
An artist's impression of Yamaroshi, in Braddon. Image: Supplied
"Buyers seem to be really interested in the boutique-size space, particularly newer investors, due to the lower upfront costs and loan repayments," Antos said.
The development's compact floor plan was designed to specifically give small local businesses a foothold in the hipster inner-city suburb, he said.
"Retail space has been very popular and we expect there will be a rush on office space closer to the completion date as some businesses don't want to move ahead of time," Antos said.
Retail and office areas range from 30 to 150 square metres and the floor plan is flexible to include an indoor and outdoor space of up to 300 square metres, he said.
An artist's impression of Yamaroshi. Image: Supplied
The visually exciting mixed-use complex melds commercial and residential precincts through laneways, courtyards and atriums which have been a major drawcard for unit buyers.
Residential marketing agent Keenan Veraar, from LJ Hooker Canberra City, said about three-quarters of the residential project had been sold.
"There are sixty60 units in the block and there is only one two-bedroom left and 15 one bedrooms," Veraar said.
"It's well above expectation, particularly as building hasn't started yet."
Yamaroshi unit buyers are seeking a dynamic commercial offering, he said.
"Our buyers are predominantly young professionals and they are wanting to see more of what's already happening in Braddon at their door step.doorstep. They want great restaurants, cafes and boutique-style shops at Yamaroshi."
Bloc, which is one of Canberra's leading construction companies, has been contracted to build the complex, Veraar said.
"The announcement of the builder has had a very positive impact on sales as buyers are very savvy these days, t. They do their research and want highly reputable builders."
Commercial prices in the building range from $6000 to $9000 a square metre, while one bedroom plus study rangeranges from $429,900 and two bedroombedrooms from $599,900.
The six-level complex will have commercial tenancy on the first and ground floors.
Developer The Bulum Group and Nathan Gibson Judd Architect are the creative minds behind Yamaroshi, which will be completed in July next year.