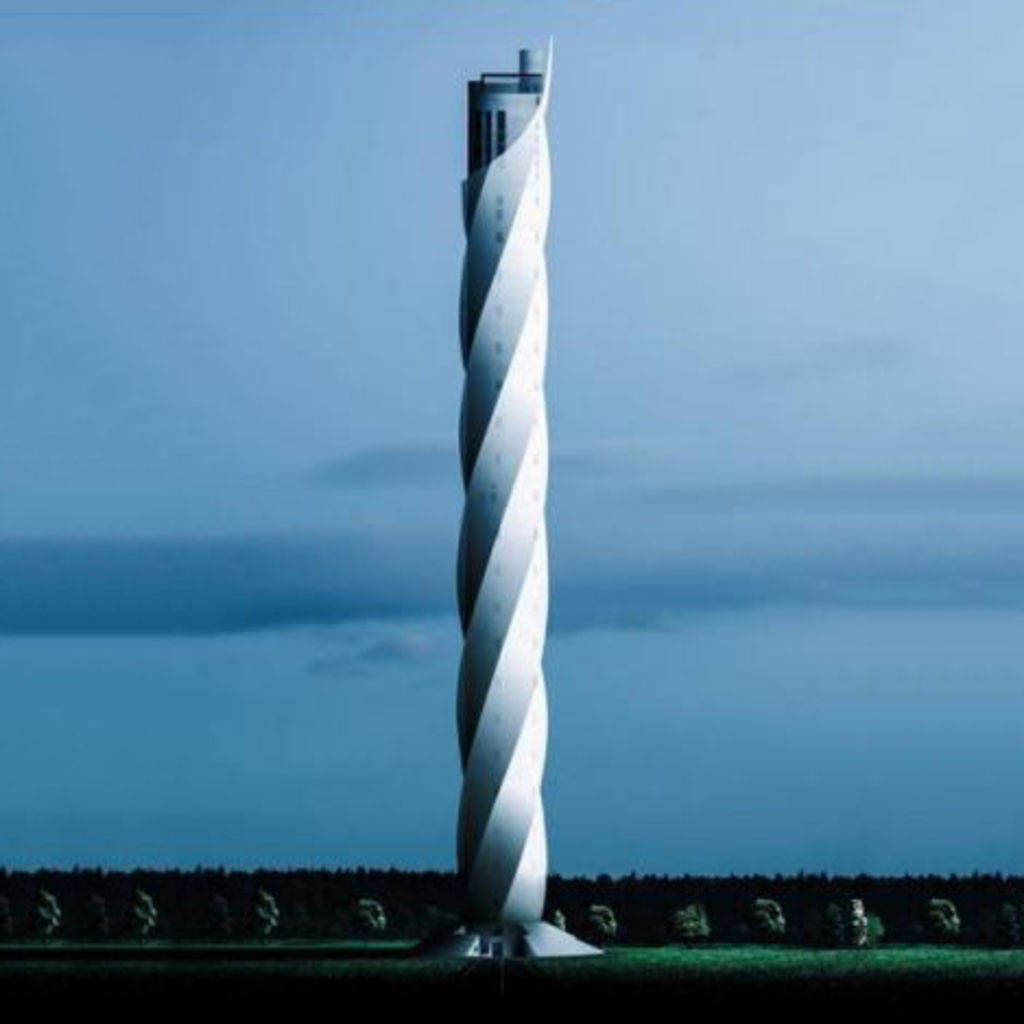 World's biggest drill bit may hold key to city space squeeze
It looks like the world's biggest drill bit. But the oddly shaped building under construction in Germany is set to play an important role in developing the world's future skyscrapers.
In an era when buildings are taller and narrower, demand is rising for elevator technology that can move more people, more efficiently in buildings of the future that will exceed 600m.
The 246-metre ThyssenKrupp "Testturm" test tower in Germany, due to be completed next year, is purpose built to test lifts.
ThyssenKrupp test tower from above. Photo: ThyssenKrupp
It will also offer some of the best views in Europe from its observation deck, the country's highest at 232 metres, which will be open to the public.
Below visitors' feet, new lifts will be put through their paces at speeds of up to 64.8 km/h.
ThyssenKrupp Elevator chief Andreas Schierenbeck said limited space in urban areas meant mid and high-rise buildings were the most viable construction options. This resulted in greater demand for elevators.
"This tower will enable the quicker development of solutions that address challenges such as increased energy efficiency, faster travel times and advanced security," Schierenbeck said.
Only Frankfurt's CommerzBank Tower (259m) and MesseTurm (256.5m) will be taller than the Test Tower, making it the third-tallest structure in Germany.
CommerzBank Tower, Frankfurt. Photo: Klaus Ohlenschläger
There are 10 buildings currently under construction around the world that will stand taller than 500m. The tallest, the Kingdom Tower in Jeddah, Saudi Arabia, will surpass 1000 metres once completed in 2018.
Of the 12 shafts inside the Rottweil test tower, three are set aside for testing the new ThyssenKrupp MULTI elevator, a cable-free system that can move cabins sideways as well as up and down in an effect not unlike the 1980s arcade game Pacman.
The company expects MULTI to reduce the elevator footprint in buildings by as much as half.
An illustration of the MULTI elevator system. Photo: ThyssenKrupp
ThyssenKrupp unveiled a 3:1 scale model of the MULTI in Spain last week.
The ThyssenKrupp tower's drill bit shape will come from its yet-to-be-installed spiral shell, designed by architects Helmut Jahn and Werner Sobek.
It will be created from 17,000 square metres of fibreglass coated with a self-cleaning, durable material of a similar formula to Teflon.
Artist's impression of the test tower. Image: ThyssenKrupp
The shell will appear transparent and allow light into the tower while protecting it from the elements.
Rottweil, the oldest town in the Baden-Württemberg region, dates back to Roman times and is the ancestral home of the rottweiler dog breed.
ThyssenKrupp chose the site because of its proximity to the high-tech corridor between Stuttgart and Zurich and the company's own elevator factory in Neuhausen auf den Fildern, 75 kilometres away.
The test tower under construction. Photo: ThyssenKrupp
Bringing new industrial technology to a medieval town seems an odd match but Rottweil welcomes the development.
"The combination of old and new has the potential to create something unique, and this high-profile move offers lots of potential for tourism and business," Mayor Ralf Bross said.
The project is attracting plenty of community interest, with photos already turning up regularly on social channels.
But there is still a big question to be answered about what is probably the most memorable – or forgettable – part of the everyday lift experience. Will there be elevator music in the test tower?  ThyssenKrupp is open to ideas.
@rebeccaholland That's a great question! It's not actually open until 2016 but we could make a recommendation. Any requests? — ThyssenKruppElevator (@TKE_Americas) November 10, 2015