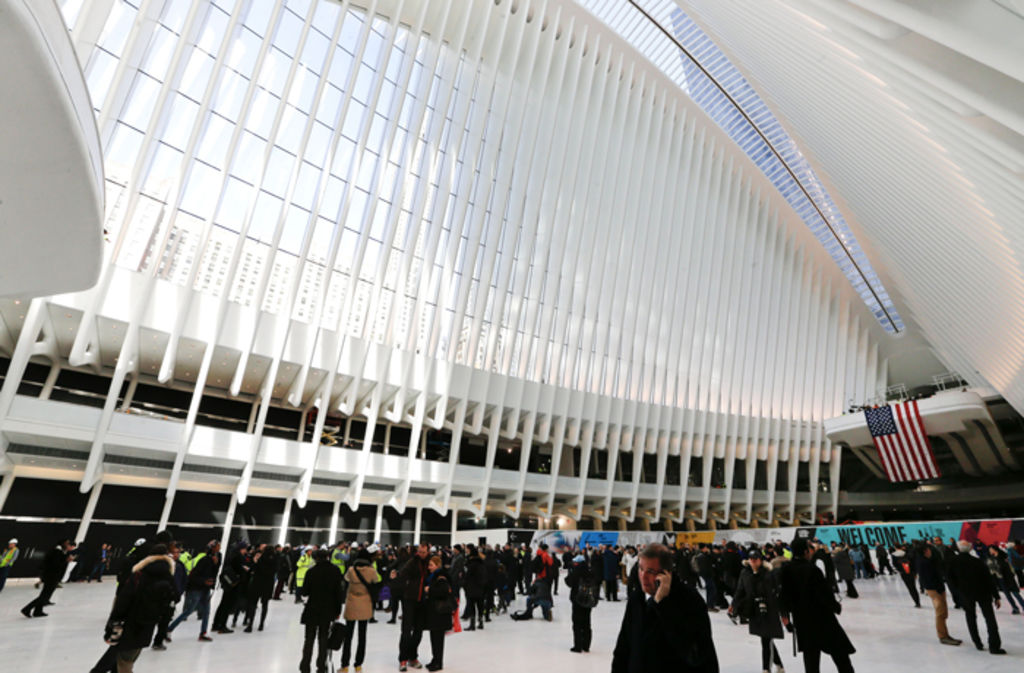 World Trade Center: The most expensive transport hub ever has everyone talking
Is it a bird? Is it an armadillo? New York City's newest architectural landmark has only just opened but already has a few potential nicknames.
Architect Santiago Calatrava's skeletal World Trade Center Transportation Hub design has drawn unprecedented public interest for its soaring structure and unconventional lines.
Like it or not? Watch the 360-degree video below and decide for yourself.
To view 360-degree video, use Chrome or Firefox. (Sorry, Safari users.) If you're using a mobile device, click through to your YouTube app.
The hub opened on March 3 to high praise but also to raised eyebrows – mainly at its record-setting final cost of $4 billion ($5.4 billion AUD).
Interest has been heightened because of the hub's location near the site of ground zero, where nearly 3000 people died after terrorists crashed passenger planes into the World Trade Center on September 11, 2001.
The new transport hub is near the 9/11 Memorial, which includes the names of people killed in a truck bombing at the World Trade Center in February 1993. Photo: AP Photo/Richard Drew
The distinctive structure in downtown Manhattan with wing-like ribs connects the PATH commuter trains from New Jersey to the New York subway system, as well as the Hudson River ferries.
More than 50,000 commuters are expected pass through the facility every day.
Visitors get their first look inside the cathedral-like hall. Photo: AP Photo/Frank Franklin II
The hall of the hub, which Calatrava has dubbed the Oculus for its circular shape, has white "wings" to symbolise the phoenix of Greek mythology rising from the ashes of its predecessor.
Inside the complex, which will eventually connect 11 subway lines and a shopping mall, the Oculus' white-ribbed vaulted ceiling and white marble walls and floors gleam with reflected sunlight.
White surfaces reflect sunlight inside the Oculus. Photo: AP Photo/Frank Franklin II
"It all shines … It is a public space like that of Grand Central Terminal, free and open for everybody to enjoy," said Calatrava, who marvelled at a stars-and-stripes flag draped over a balcony.
"I wish I had thought of that – to put the American flag there. It took my breath away. This is an event for the people."
And the people have been coming. Thousands of visitors are checking out the new space each day, going to great lengths to find the best angle for photos.
Like any significant building, the hub is already inspiring comparisons with other things.
Popular suggestions include a bird, an armadillo or a hedgehog and it has also been likened to a dinosaur's ribcage, with each steel "rib" weighing 50 tonnes.
The complex under construction in July 2015. Photo: AP Photo/Mark Lennihan
"It's a building that's generated a lot of strong opinions," said Sam Cochran, features editor of Architectural Digest.
"For people in the architecture world, the chorus has always been to reserve judgment. Would this be like Penn Station, a source of daily annoyance? Or would this be like Grand Central, a source of daily inspiration?"
Bloomberg reported that when he visited the hub's hall, Cochran was pleasantly surprised. "Having seen the building, I think it's going to be the latter," he said.
The hub is expected to handle 50,000 commuters a day. Photo: AP Photo/Frank Franklin II
The cost of the 12-year-long project started at $2.2 billion before ballooning to $4 billion and the title of "most expensive train station, ever", according to Bloomberg.
For context, the nearby 104-storey 1 World Trade Center – the tallest building in Manhattan – took seven years to build and cost $100 million less.
"It's a huge improvement over what was here before," said Doug Burke, a retired court reporter who was visiting the hub on its first day. "But it sure ain't worth four billion bucks."