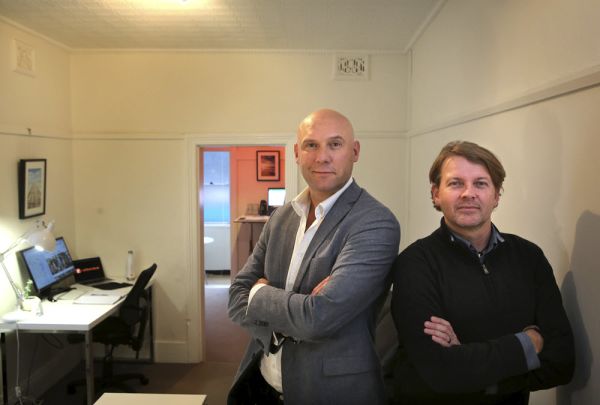 Will this Australian startup be the Airbnb of office space? Its creators hope so
They're billing it as the Airbnb of office space, and the Australian creators hope it could end up the same kind of global phenomenon.
With so many businesses across Australia – and worldwide – having spare room in their premises, Rubberdesk offers them the chance to earn extra cash by sub-letting to smaller tenants.
"We created Rubberdesk as a form of Airbnb for office space, and we're thankful to Airbnb for getting people used to the concept of sharing space," said the company's co-founder, former investment banker Jim Groves, 45.
"So many companies have under-utilised space that could be earning them rent.
[dm-listing-recommendation experimentname='midcontent-listings' positiononpage='midcontent']
He started Rubberdesk two years ago with business partner David Dale, 43, who has worked developing websites and systems for 20 years, and it has "been growing steadily since then".
"We plan to focus on Australia to really get the model right and then we've trademarked the product and will roll it out overseas as well," Mr Groves said.
As the latest addition to the sharing economy, it does, however, diverge in significant ways from the scheme for sharing homes. Rubberdesk's clients can inspect space they're thinking of renting, meet their prospective hosts to see if they're a good fit, and rent by the month, with the option to keep the deal rolling on.
An image from one of Rubberdesk's listings in Sydney's CBD. Photo: The One Centre
For such a space-letting service, the hosts pay nothing, but the rent for the tenant includes the company's 10 per cent fee, for which they'll also organise the rental payments and deposit them in the host's bank account. The average desk rate in Australia is $510 a month.
The rapidly rising popularity of coworking spaces is proving a huge boost to the business, with awareness of large players such as Hub, Regus, Servcorp and WeWork dramatically expanding the potential customer base.
A new Colliers International report about flexible workspace has found that total flexible office space in Sydney in 2017 amounted to 79,000 square metres, with the total new space leased by coworking operators in 2017 adding up to 20,500 square metres. In addition, there's an extra 26,000 square metres of area forecast to become available for lease operators in 2018 – equating to year-on-year growth over 2017 to 2018 of more than 27 per cent.
The Rubberdesk founders puts the expansion down to a growing appetite for more flexible working practices, the new portability of businesses, advances in technology, more premises having Wi-Fi and ease of access to connections. It even now lists the professional coworking spaces on their platform, aggregating both small operators' listings, as well as those of the bigger players, and showing customers all their various offices, and allowing them to choose between them.
"They'll look at the spaces, meet the hosts, take a tour, and usually make their decision on the basis of location, the people they'll be sharing with, price, feel and environment," said Mr Groves.
"We even used Rubberdesk to find an office for ourselves in Sydney."
The pair work in Manly in a building on The Corso, which is leased by behavioural change expert Emma Weber, whose company Lever – Transfer of Learning shows people how to translate what they learn on training programs into business results.
She loved the premises but realised it was too big for her current needs, so decided to sub-lease the vacant offices on Rubberdesk – and ended up with the company itself as her tenants.
"It meant we could cover the cost and have an additional cash flow," said Ms Weber, 45. "Also, when the business is ready to grow, we have the space already available to expand into.
"But this arrangement has worked out really, really well. We've become almost the cheer leaders for each other's businesses in a way, and it's really nice to have that mix of energy, and we can learn from each other and share ideas."
The Rubberdesk listings on Commercial Real Estate.
The creation of that kind of community feel is an important aim, just as it has been for many other coworking spaces.
Melbourne healthcare consultancy boss Cesar Aldea, 36, decided to rent out his spare office space on St Kilda Road on Rubberdesk after some of his staff elected to work from home, and he was left with empty rooms. He now lets them to an SMSF provider and an executive coach.
"Everything's working very well," said Mr Aldea, the managing director of Aldea Consulting. "We all get along so well and even have lunch together two to three times a week. I couldn't ask for better tenants and it's been a great experience for them too."
Commercial Real Estate is now hosting Rubberdesk listings on its website under a separate 'coworking' tab on its homepage.
[dm-listing-recommendation experimentname='below-content-listings' positiononpage='belowContent']
Keep up with Commercial Real Estate news.