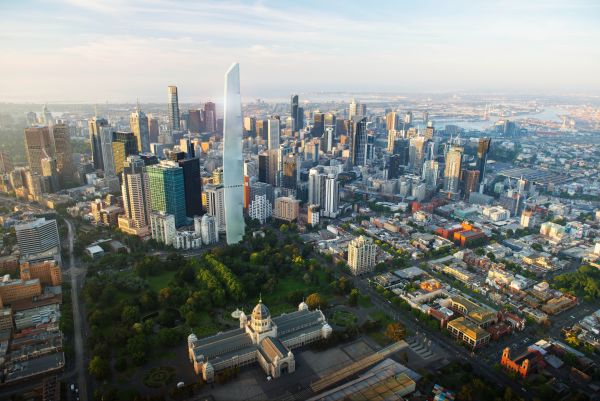 Why Melbourne will see more skinny skyscrapers
A skyline of ultra-skinny skyscrapers can easily be found in the high-rise capitals of New York City and Hong Kong, but Melbourne is emerging as Australia's own city of pencil towers.
While Australia has its fair share of high-rise buildings, land shortage in the Victorian capital's CBD has driven developers to target tiny land sites to build skyscrapers like the Phoenix apartment tower, which takes just eight steps to walk from one side to the other.
In contrast with Melbourne, the City of Sydney council has not received any applications for skinny tower developments, or similar, in the last year, a spokesperson confirmed.
Slenderness is based on the site's width in proportion to the building's height; a tall tower is not necessarily skinny.
[dm-listing-recommendation experimentname='midcontent-listings' positiononpage='midcontent']
The Magic Tower will spring up from a block just half the size of a tennis court. Image: Decibel Architecture
The latest planning permit for this type of development set to be proposed is the Royal Society of Victoria's proposed Magic Tower at 1 Victoria Street in the CBD. The 60-storey, 330-metre building is on a triangular site about half the size of a tennis court with a width of 18 metres.
Decibel Architecture's Dylan Brady, who is on the Magic Tower project, said the slender tower concept was attractive because of its ability to make use of a very small site which would have otherwise not been suitable for higher density development.
"It is not inherently more efficient, nor cost-effective, as the engineering around a slender tower is more complex, and generally therefore more expensive, than a regular building," he said, adding that slender towers are virtually always residential.
"That said, a slender tower is generally more lucrative from the point of view that the towers tend to have smaller floor plates suited to whole-floor apartments… with views from every side, rather than a single aspect or even a corner as is more traditional."
The Phoenix apartment tower at 82 Flinders Street, Melbourne, has a width of just 6.7 metres. Photo: Angela Wylie
Mr Brady pointed out that slender towers "can demand very high prices in the market". In New York City, the 92nd-floor penthouse at 432 Park Avenue – one of the slenderest towers in the world – had an eye-watering $US39.75 million ($51.68 million) pricetag.
"You need location, location, location here though. Views over parks, and low lying land is excellent, and many of the slender towers in New York are basically empty up to 100 metres, as they have no view below that."
Slender towers are becoming increasingly viable, Mr Brady said, not just in terms of engineering, but also market perception and finance.
"Around the world, the major cities (are) driving infill development, increasing density and value-adding to existing, constrained urban markets," he said.
"This type of engineering is most traditionally seen in Hong Kong, and most recently and innovatively seen in New York City."
And slender towers are "as safe as squat buildings", the architect said.
"Super-slender buildings embody the very latest proven technologies and engineering, and have multiple redundancy in both structure, systems and operations."
A City of Sydney spokesperson said the development of smaller sites "needs to be managed to ensure the (Sydney CBD's) economic performance and future… is not compromised".
As well as the height of towers being limited by the CBD's proximity to Sydney Airport, the spokesperson said developing on some smaller blocks in the CBD could make it more difficult for larger office developments that require the amalgamation of multiple sites.
"Minimum requirements for developments on a small site include location to neighbouring towers, day and sunlight access to public spaces and parks, outlook for future residents, wind impacts and access for vehicles and emergency services."
Changing market
BPM is selling two slender tower projects off-the-plan, including 33 King Street, Melbourne. Image: Supplied
Developer BPM is known for its experience with pencil-tower projects. In early April, the Melbourne-based group listed a 34-level, 130-room hotel project, approved on a 168-square-metre site at 9-11 Exploration Lane, Melbourne, with hopes of about $50 million.
And at the 350-square-metre site at 33-35 King Street, Melbourne, the developer is offloading a 30-storey, 241-room hotel development for $80 million.
Both of these projects had been changed from residential to hotel use in light of slowing off-the-plan apartment sales. Meanwhile, BPM intends to swap the originally approved 75-level apartment tower at 54-56 Clarke Street, Southbank, which has a 12-metre width, for a more modest 24-storey apartment block.
BPM development director Tom Howgate said such skinny apartment towers "are not feasible in this market".
"We could not deliver these as apartment buildings in the current environment. It's either we don't deliver them or we get smarter and change the use, change our approach and deliver a hotel so we can actually deliver a building," he said.
The reason why slender towers are the most prevalent in Melbourne, Mr Howgate said, was because the existing permits were issued by former Victorian planning minister Matthew Guy, who earned the moniker "Mr Skyscraper" from his pro-development approvals.
"If you take out the planning policy and regulations out of the equation, there's huge benefits in building skinny towers. It means people (can) live in the buildings and get access to everything that they require out of a building but on a whole lot smaller piece of land."
And while slender towers are more challenging to build as all the services need to fit on a smaller footprint, they are more lucrative from a developer's perspective.
"The yield's more efficient if you can get the height," Mr Howgate said.
Despite Melbourne's growing pipeline of pencil towers, Mr Howgate said it won't reach the extent of New York and Hong Kong.
"There will be plenty more high-rise but I don't think we'll be punching with those guys."
[dm-listing-recommendation experimentname='below-content-listings' positiononpage='belowContent']
Keep up with Commercial Real Estate news.
Keep up with Commercial Real Estate news.