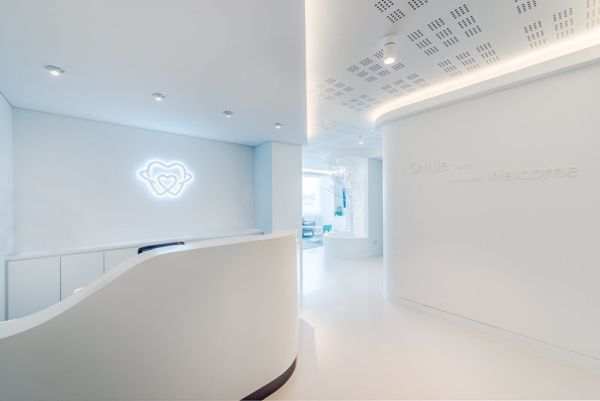 Why dentists are looking to retail and hospitality for the design of their surgeries
Dental surgeries have traditionally been clinical places with hard seating, fluorescent lighting and ancient magazines.
But today, many are taking their cues from the latest styles in experiential retail and hospitality, and looking more like day spas, hotel lobbies and luxury stores.
"A lot of customers tell me they now really enjoy being here…although I'm not sure if they're telling me that before the appointment in the hope it will go better," said dental surgeon Dr Rick Iskandar, of Tailored Teeth in Burwood, Sydney.
"But they tend to come in and say, 'Wow! This is a surgery?' I think they're very pleasantly surprised."
[dm-listing-recommendation experimentname='midcontent-listings' positiononpage='midcontent']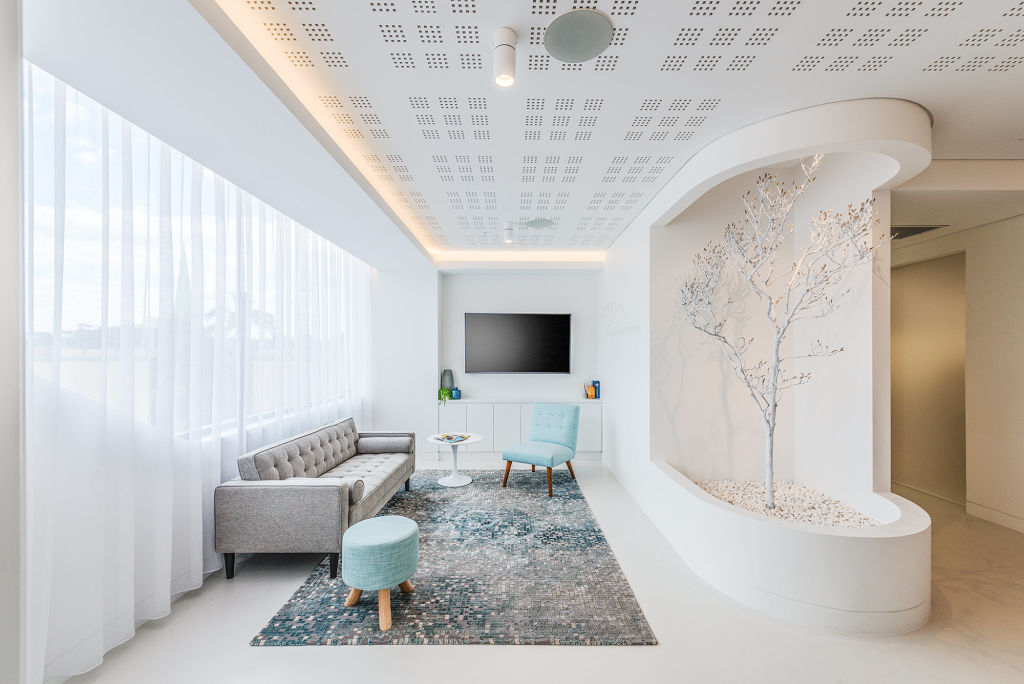 Dr Iskander completed a new fit-out of his surgery three years ago, with the help of an interior designer. Now everything is in a soft aqua and white palate, with comfortable chairs, a beautiful Japanese lily, a real magnolia tree – painted white – a feature rug and ceiling, and a large-screen TV so patients can watch Netflix or Stan while they're undergoing treatment.
Favourite shows tend to be Seinfeld, anything by David Attenborough, Top Gear and How I Met Your Mother.
"They have to control themselves a little bit if they want to laugh," he said, turning on the vaporiser, today with an oregano scent.
"But it's much better than staring at my chin.
"Some things in dentistry can be uncomfortable, like holding your mouth open for long periods, but with a focus on making it a more pleasant experience, then people are more likely to come back every six months, so we can give them more preventative care."
Dentists across the country are now taking the bit between their teeth and bringing in architects and designers to remodel old surgeries into much slicker showcases for their services.
Increased competition, customers more likely to post reviews on social media, deregulation with big companies buying up stylish retail spaces and installing dentists in them, and higher consumer expectations are all factors, believes Dr Myles Holt, director and head trainer of the Australasian Academy of Dento-Facial Aesthetics.
"There's also been a generational change, where people now expect a different level of customer service across all industries," he said.
"Most of our members now do Botox, fillers and skin-care treatment along with fillings and regular dental work, so they're looking to have a different feeling to their environment.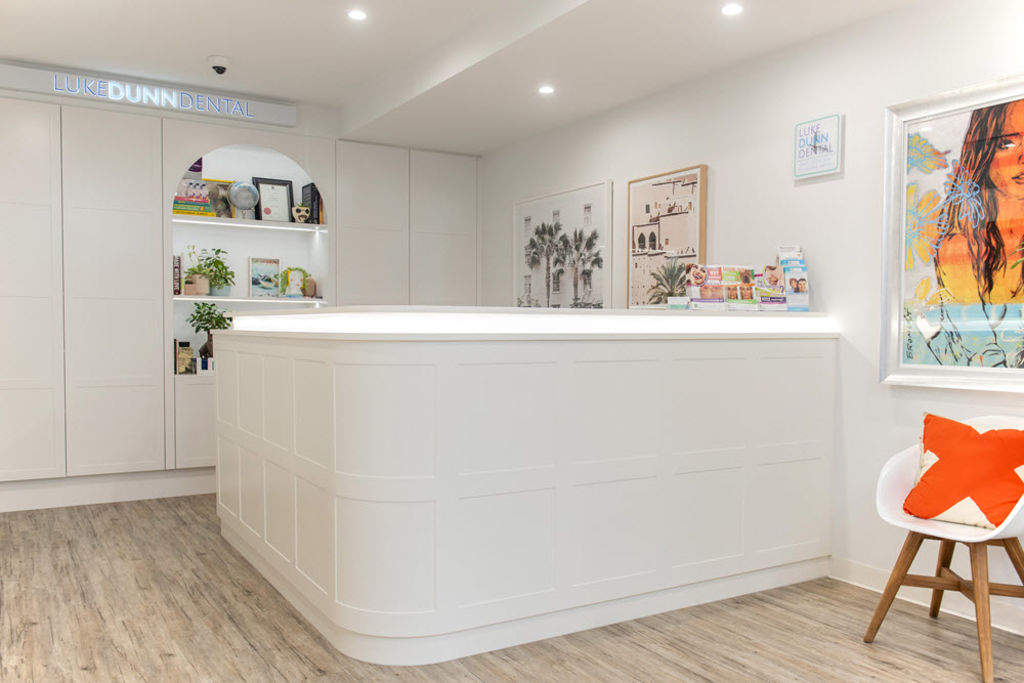 "They'll sometimes need to do things that are confronting and painful but that doesn't mean you can't try to make the experience more relaxing for people. They're wanting to create a point of difference from their competition and fit with a lifestyle aesthetic."
As a result, many are bringing high-quality fittings and furnishings into their surgeries with lots of stylish marble, brass and timber, as well as coffee machines and fridges with bottles of cold water and cool towels.
"We're seeing so many top-notch architects, who more usually work in retail and hospitality, now looking at dental surgeries," said Dr Holt.
"And they're bringing in a level of luxury designs and materials that we've never seen before."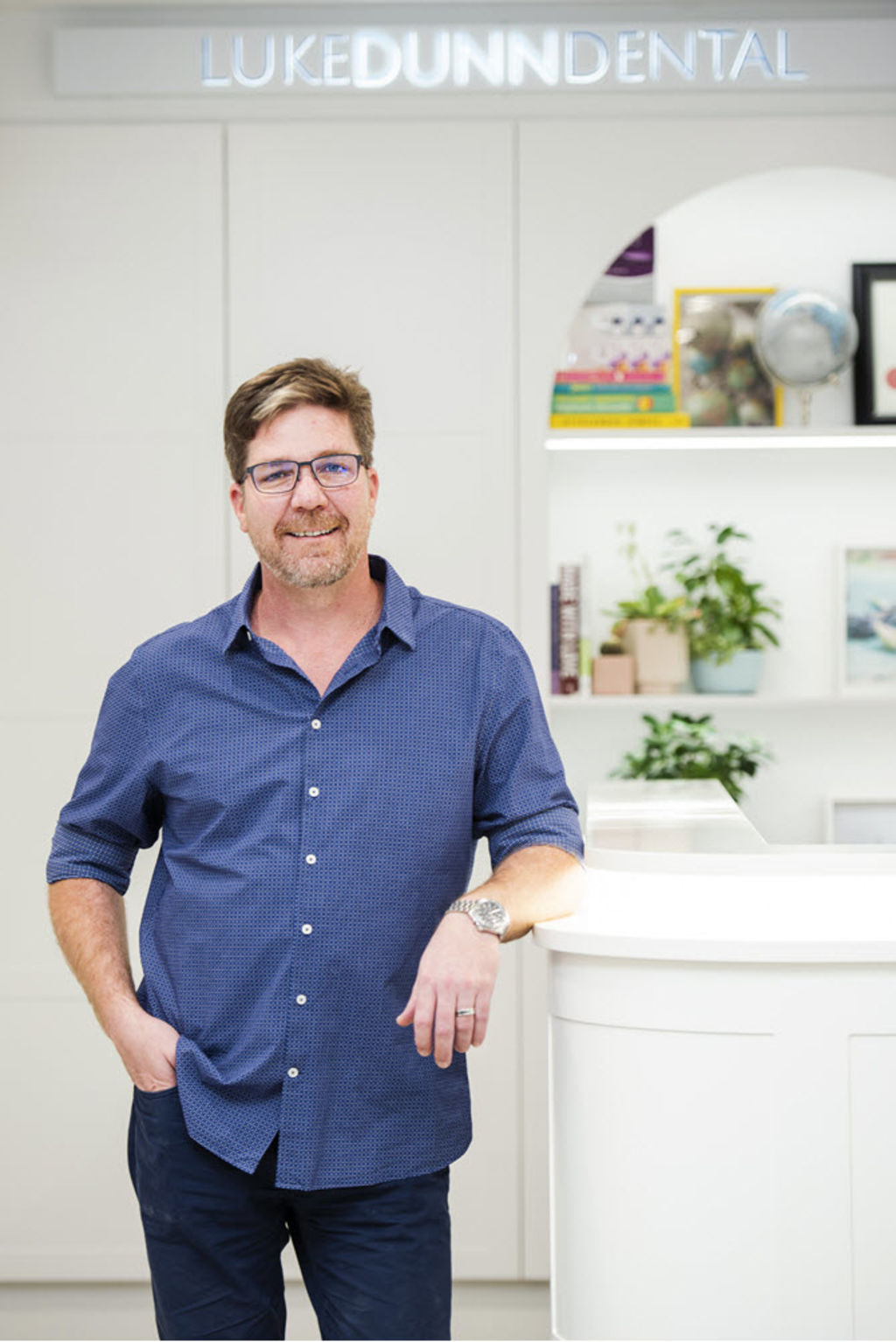 One dentist in Tweed Heads in NSW even has a 'breathing wall' where lights on a wall indicate the speed of patients' breathing, to help them slow down their breath, to make themselves calmer.
There's now also lots of softer lighting, electrified frosting glass, headphones for individual choices of music and dentist's chairs for kids in the shape of dinosaurs and trains.
Dr Luke Dunn, in Cairns, Queensland, has special chairs for adult patients too, in aqua, orange and fuchsia. They're among the vivid pops of colour throughout his mostly white eponymous premises, with a timber-look floor, Tasmanian oak counters, raised ceilings, furniture from local suppliers, a display of 30 pot plants and floor-to-ceiling windows.
"We also have individual music in surgeries, piped into earphones, so patients can request what they want on, which is particularly helpful if they're feeling nervous," said Dr Dunn. "Some people choose heavy metal to drown out the sound of the drill, while others prefer calming lounge music.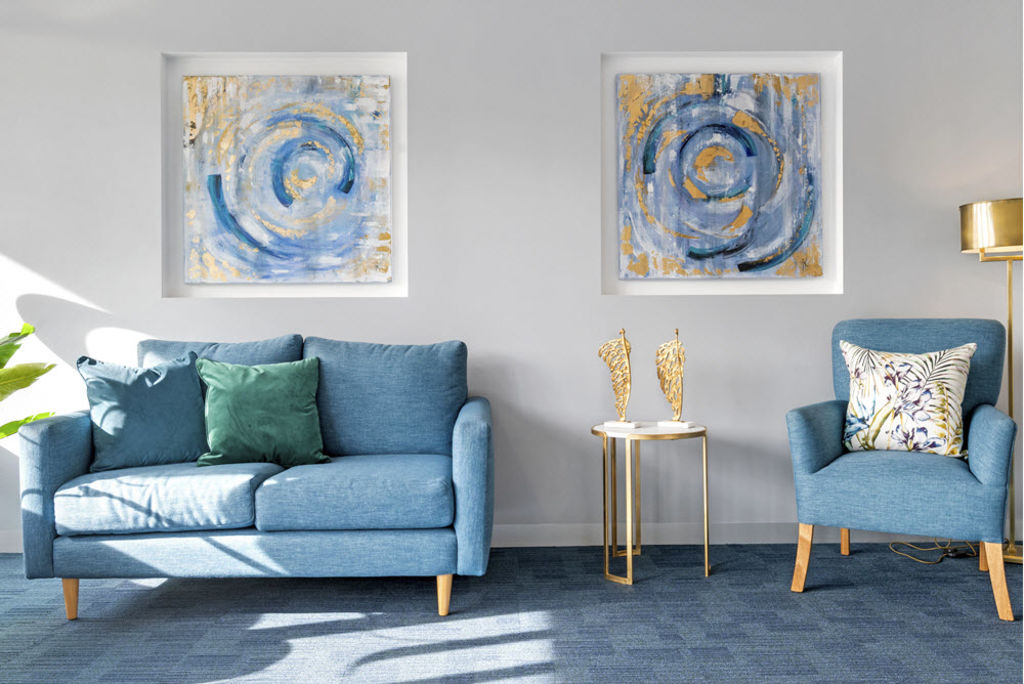 "I think a lot of us have bad memories of dentists, myself included, so we want to create a place that's pleasant to be in, with quality finishes and comfortable, well-designed sofas and cushions."
For the aim is to make people forget a dentist's surgery is a place to be feared, said Dr Deb Rea. She upgraded her Azura Dental in Henley Beach, Adelaide, two years ago, with paintings – done by a patient who's a talented artist – comfortable chairs, a coffee table, calming colours and diffusers and scented candles to get rid of clinical smalls. Today, she's burning a candle with the aroma of lychee sorbet.
"We particularly wanted an environment that was more welcoming to a patient, a comfortable and relaxing space," she said. "We wanted our surgery to say, 'We are looking after you and are interested in how you feel', rather than being a place where someone is worried and scared.
"Dentistry has changed. It's not a dictatorial system any more between the dentist and patient, where they feel they can't ask questions and are powerless. People are more educated and aware now, and dentistry has become, over the last five years, much more collaborative. We're partners in healthcare, and the surroundings have to reflect that."
[dm-listing-recommendation experimentname='below-content-listings' positiononpage='belowContent']
Keep up with Commercial Real Estate news.
Keep up with Commercial Real Estate news.