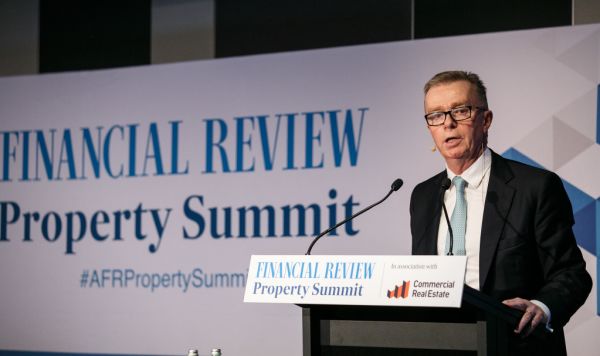 Weak Australian dollar will see more foreign investors target commercial property: UBS director
The commercial property market is set to see a massive inflow of global capital via Australian Real Estate Investment Trusts (A-REITs), a leading investment banker has predicted – a result of strong returns, falling interest rates and the weak Australian dollar.
Tim Church, managing director and head of real estate Australasia with UBS Investment Bank, was speaking at the recent Australian Financial Review Property Summit in association with Commercial Real Estate.
"This is a very conducive environment for those assets," said Mr Church. "The A-REIT average yield has been just under 6 per cent and there's been good growth with that. We're now starting to see a lot more retail money and institutional money come into the sector and, from an offshore perspective, it's even more attractive."
A-REITs have attracted significant demand from investors seeking yield, and he feels this is likely to continue in the current low-interest environment. Additionally, the Australian dollar is at very attractive levels for offshore acquirers.
[dm-listing-recommendation experimentname='midcontent-listings' positiononpage='midcontent']
With an average return of 5.7 per cent, A-REITs compare very favourably with a Westpac five-year term deposit at 1.25 per cent, the Australian official cash rate of 1 per cent, the 10-year government bond yield of 0.96 per cent and the five-year government bond yield of 0.73 per cent.
As well, with the fall of the Australian dollar to 68 cents American, that's a big saving for overseas investors. "A portfolio of $US2.7 billion now costs $US1.7 billion which is a billion-dollar delta," he said.
"So we're seeing a lot more offshore capital coming into Australia, not only because we have a stable economy, but because of the Aussie dollar. And we'll see a lot more."
Australian cap rates for commercial are healthy too, especially when compared to those returns from 10-year government bonds. Since the GFC in 2008, they've always been significantly higher, with industrial offering a 2019 yield of 5.8 per cent, office 5.2 per cent and retail 5.1 per cent.
"No one wants to catch a falling knife"
Retail was, however, proving the least attractive class, said Mr Church. "We're not seeing people buying into Australian retail as off-shore sentiment is extremely negative. When there's mis-pricing, mergers and acquisitions activity picks up, but it won't pick up in retail at the moment. No one wants to catch a falling knife.
"We don't know when we're at the bottom of that cycle, so people don't want to step in, and banks won't fund take-over efforts just now."
Yet retail in Australia is certainly not doing as badly as in some places in the world. ABS figures show that A-REITs continue to trade across all sectors at a robust premium to Net Tangible Assets (NTA) in comparison to their global peers.
Australian retail, for example, has a market capitalisation-weighted average premium (discount) to NTA of 7.1 per cent, as against -8.2 per cent in the US and -35.5 per cent in the UK.
Other sectors, however, are significantly stronger – Australian industrial at 158.4 per cent, as against 12.7 per cent in the US and 11.7 per cent in the UK, and office is at 17.1 per cent, compared to -22.7 per cent in the US and -25.6 per cent in the UK.
There's no shortage of capital in Australia, according to Mr Church.
"We have enormous amounts of capital and they're getting bigger and the cost of that capital with interest rates is getting cheaper. Australia's superannuation market has grown the fastest over the past 10 years, with pension assets growing by 10.2 per cent – the fastest globally.
"From $US0.7 trillion in 2008, we now have $US1.9 trillion. Further growth in Australian pension assets will be underpinned by the super guarantee, increasing to 12 per cent by 2020."
The lower-for-longer interest rate environment will help keep yields strong and Mr Church believes rates will continue to fall, both here and globally.
"We're heading towards Ground Zero, a place we've never been to before," he said. "I've even seen one Danish bank now offering a sub-zero 10-year home loan, in effect paying customers 0.5 per cent to borrow. I think the world has gone mad! But I wish I had one of those home loans …
"We're now in unchartered territory and it's going to be an interesting ride [but] Australia remains well-placed globally to continue to attract capital."
[dm-listing-recommendation experimentname='below-content-listings' positiononpage='belowContent']
Keep up with Commercial Real Estate news.
Keep up with Commercial Real Estate news.