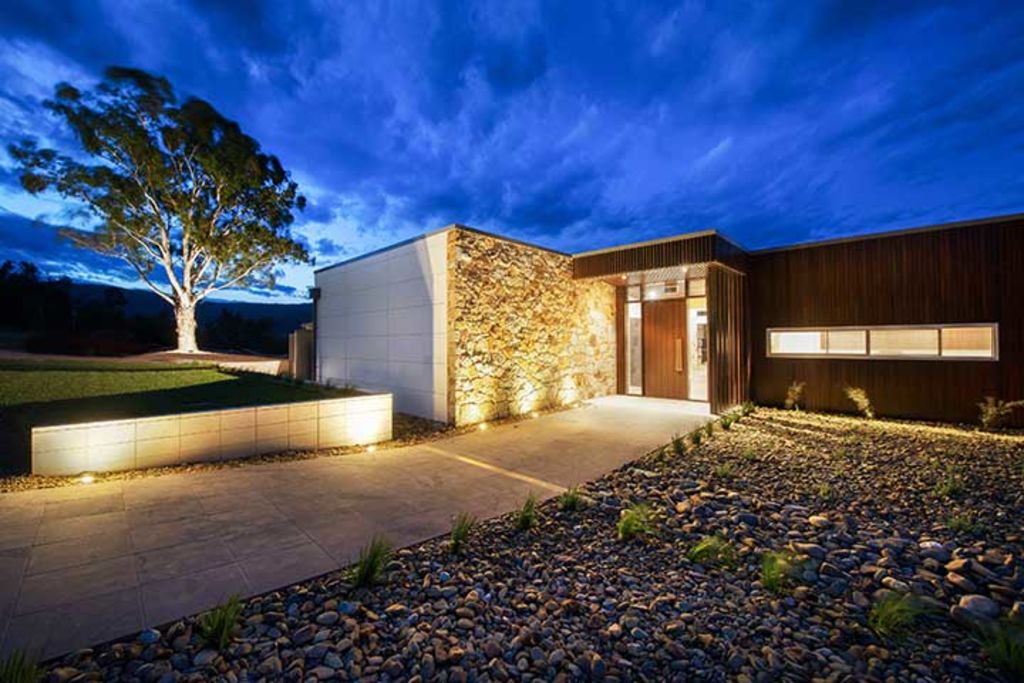 Victorian High Country winery takes out top national design award
The Chrismont winery in Cheshunt, between Mansfield and Wangaratta, is the work of MG Design & Building, which was briefed to design a "stand out" complex capitalising on the elevated site's north facing King Valley views.
MG's solution – a concrete, stone, wood and glass venue – has just been judged Australia's Building Design of the Year by the NABD, which was established in 2013 and has state divisions representing more than 2700 members.
The Chrismont project includes a large, flexible venue space, wine storage facility and office, built near an existing guest house. To make the open-plan entertaining space work acoustically, MG director Mark Gleeson said a sound engineer had to install acoustic panels in ply ceilings.
The building consists of concrete, stone, wood and glass. Photo: Porter Novelli
Completed in 2015, part of the Cheshunt hospitality project was funded by a $150,000 grant from the Victorian government's $1 billion Regional Growth Fund – an initiative launched five years ago to support opportunity in regional and rural economies.
Chrismont picked up two other awards at the national award ceremony: Best New Commercial Design and Best Interior – Non Residential.
The project was partially funded by a grant from the Victorian Government. Photo: Porter Novelli
The prize for Best New Residential Design with a construction cost of more than $1 million went to Gary Keen Design for the Keane Street Residence project in Western Australia 
An accolade for the Best Renovation costing more than $800,000 went to Plantation House in Queensland. 
NRG Systems Winton Wetlands Hub – a function room and café with ranger's office near Benalla, in Victoria, took out the national award for best public building.
The property is situated between Wangaratta and Mansfield. Photo: Porter Novelli
The environmentally friendly Artisan Apartments complex near the Yarra River in Heidelberg, about 13 kilometres north east of Melbourne, was deemed by the NABD to be the country's best Multi Residential Design (over six dwellings).
Interestingly, the Victorian arm of the NABD (known as Building Designers Association Victoria) judged Heidelberg's Artisan Apartments complex over Chrismont, to be the state's 2016 Building Design of the Year. 
The NABD said about half the winners announced at its national ceremony on October 1 were members of its association.
The full list of winners:
National Building Design of the Year 2016
MG Design & Building Pty Ltd for Chrismont Winery (Vic)
Best New Residential Design
Up to $500,000 construction cost
Maxa Design Pty Ltd for Culvert House, Trentham (Vic)
$500,000 to $1m construction cost
Chris Clout Design for Sunshine Villa (Qld)
Over $1m construction cost
Gary Keen Design for Keane Street Residence (WA)
Commendation: Vibe Design Group Pty Ltd for Sorrento House 1 (Vic)
Best Multi-Residential Design
Up to six dwellings
Cunningham Designs for Avon Street (Qld)
EME Design Limited Pty Ltd for Artisan Apartments (Vic)
Best Small Lot Design
Principal Plans for The Cove (Qld)
Best Small Dwelling Design – up to 150sqm
BKD Design for Dudes Ranch (Qld)
Best Alteration/Addition – Residential Design:
Up to $350,000
Janik Dalecki for Stuart Street (WA)
Commendation: Fusion Building Design for Osborn Residence (Qld)
Dig Design for Agnes 4 (Vic)
Over $800,000 construction cost
Chris Clout Design for Plantation House (Qld)
Best New/Alteration/Addition Design
Commercial
MG Design & Building Pty Ltd for Chrismont Winery (Vic)
Commendation: Crosier Scott & Associates for Ballarat Construction Management  Headquarters (Vic)
McMech Drafting Services for proposed warehouse development
NRG Systems Pty Ltd for Winton Wetlands Hub (Vic)
Commendation: Chris Renehan for Katherine Museum (NT) 
Best Heritage Design
Peter Jackson Design Pty Ltd for Dilkusha (Vic)
Best Sustainable Design
EME Design Limited Pty Ltd for Artisan Apartments (Vic)
Best Interior Design
Residential
JFK Design Landscape/Buildings/Interiors for Taking it to the Bank (Vic)
Commendation: Melbourne Design Studios Pty Ltd for Waltham Jewel (Vic)
MG Design & Building Pty Ltd for Chrismont Winery (Vic)
Commendation: Crosier Scott & Associates for BCM Headquarters (Vic)
Best Special Project Design
StruXi Design Pty Ltd for MKC Roma Truck Wash
Commendation: Attic Salt for Food Circus (WA)