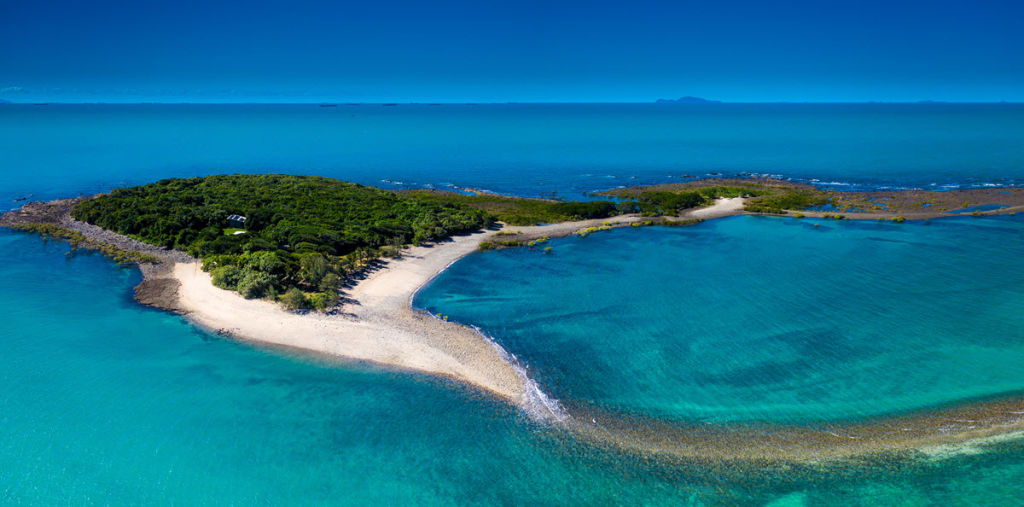 Victor Island in the Whitsundays on the market for $4.7 million
With overseas getaways out of the question for the foreseeable future, you can secure your very own private tropical island, and holiday at home in the Whitsundays, for a cool $4.7 million.
Victor Island, 3.13 hectares in size, is located about two kilometres offshore between the Great Barrier Reef and the Queensland coast, just south of Mackay.
Private and eco-friendly, the island has a recently renovated four-bedroom, two-bathroom home, a caretaker's cottage, pool and helipad. The island is completely off-grid, with stored rainwater, a solar system and a backup generator.
Joint selling agent Deborah Cullen, of Cullen Royle Property Purveyors, said the property was cheaper than many suburban houses in Sydney.
"We are pitching it as a holiday escape within Australia, just without the international flights," she said. "I know that people are still dreaming of overseas holidays but you can do that on our doorstep here in Australia.
"This is a property that already has a holiday income if you want to carry on doing that while you are not there and it can generate income for you," she added, or you could just keep it as a private getaway.
In the days since the expression of interest campaign kicked off, inquiries have been pouring in from NSW and Victoria, the agent says. The EOI ends on July 1.
Owners Megan Sullivan and husband Paul have owned Victor Island for the past six years. They also listed it for sale in 2019.
"They have spent many years here and have spent years upgrading it and it shows," Ms Cullen said. "It's time for their next adventure."
It's being sold with a machinery shed, a tractor and a lawnmower, as well as an 11-passenger Stingray inflatable boat, and a six-passenger Pro-Fisher runabout.
"[As] the prospective buyer, you could do very little or do a lot," Ms Cullen said.
"You could certainly build up the income side of it, and the tourism side. Or you could really work/live there because one of the wonderful things about this period of time for us in property is there is no such place as a silly place to live and work now.
"It's an island escape and it's ready for someone to pick it up and run with."
Joint selling agent Pat O'Driscoll, of Knight Frank Rockhampton, said opportunities such as Victor Island did not come up often.
"It's not like going and buying a home on the mainland," he said. "The opportunity with this particular property is you can live there just for yourself and do what the owners are currently doing – Airbnb – and book it out for yourselves when you want.
"That's the beauty of it, you can mix it up."
Ninth Island, located in the Bass Strait near the town of Bridport, has an asking price of more than $1.98 million.
The 16-hectare island comprises mostly vacant land and comes with a fishing shack.