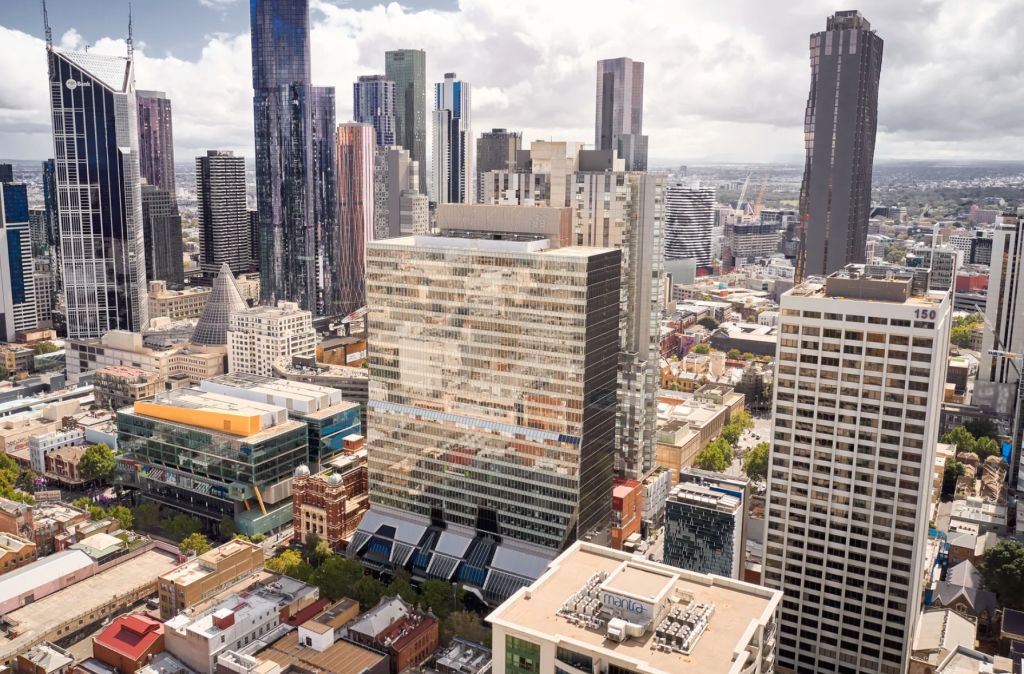 Thryv Australia permanently ditches the office for all staff
In a move that will send shivers down the spines of CBD landlords around the country, 140-year-old Yellow Pages publisher Thryv Australia (previously called Sensis) has ditched the office entirely, allowing all 500 of its staff to work from home on a permanent basis.
Sensis, the former marketing and directories arm of Telstra, occupied an entire office building – nine levels at Dexus-owned 222 Lonsdale Street in the Melbourne CBD – in its heyday (and painted it yellow to represent its most famous product). But that has shrunk to just one remaining floor following hefty job cuts and changes made to the business over the past seven or eight years.
That last floor – level 8 at 222 Lonsdale Street covering 3900 square metres – is being sub-leased by Thryv (three years remain on the lease) fully fitted with workstations and meeting rooms after the company adopted a model allowing staff to work from anywhere in the country.
Once it subleases the Lonsdale Street premises, Thryv will occupy zero office space across the country, and once the lease expires, it will pay no office rent.
The decision by its owner, NASDAQ-listed Thryv Holdings (which owns Yellow Pages in America), to ditch the office entirely, follows accounting giant PwC telling its 40,000 staff in the US they can work remotely from anywhere in the country, though with the catch that they will have to take a pay cut if they move to locations with a lower cost of living.
In Australia, local tech giant Atlassian hasn't ditched the office – it is building $1 billion headquarters in Sydney – but will let its workers do their jobs from wherever they like, even after COVID-19 restrictions have passed while staff at Deloitte will be able to decide when they go back to the office and which hours they work under a new policy.
Thryv's decision come as office towers sit near empty in Sydney and Melbourne, occupancy rates continue to fall and businesses of all sizes reassess their office needs after most of their employees worked remotely since the pandemic hit Australia in March last year.
Thryv Australia CEO, John Allan, who is based in Sydney (the company ditched office space in the city some time ago) said the decision to adopt a "work from anywhere" model had been driven by the pandemic.
"What we learned during the pandemic is that we can operate with a high degree of productivity when employees work from home," Mr Allan told The Australian Financial Review.
"People told us they were happy to work from home, and it made us rethink our whole way of working
"We surveyed our staff multiple times [about the work from anywhere strategy] and they were overwhelmingly supportive."
Mr Allan said Thryv had previously adopted a hybrid office model when the first Melbourne lockdown ended but found it was less effective in terms of productivity than if all staff worked remotely.
He added that it would also help with recruitment efforts, allowing Thryv to employee talented people from outside its Melbourne home base.
"Some roles are highly competitive. By extending the pool out to the whole of Australia, we can get high-quality candidates in another capital city or regional town," Mr Allan said.
However, he stressed operating under such a model requires the right technology set-up (Thryv has invested heavily in cloud-based technologies), a focus on ongoing social connection and mental health and a high degree of trust between management and staff.
Under its new model, Thryv will host regular in-person meetings in Melbourne as well as at least two all-company events a year (flying in about 30 per cent of its staff based outside of Victoria) alongside virtual events.
"So the bigger winner will be Qantas and accommodation providers," Mr Allan said.
Danni Hunter, Victorian executive director of the Property Council of Australia, said while Thryv's decision was more the exception to the rule, the broader trend observed by the council was changes in the way office space is used and configured.
"Lots of businesses are making or have made decisions about what the return to the workplace looks like. We have seen that in the high amount of activity in the subleasing market.
"By and large though businesses are not taking less space, but changing how they use it. You have the exceptions like Thryv, but we're not hearing about that approach broadly."
Victorians will be able to return to the office once the state hits the 80 per cent double-dose threshold, expected on November 5.
But Ms Hunter said it would take months for occupancy to gear up from current levels of just 6 per cent.
"Government will need to take proactive action to encourage and entice a faster return to revitalise the city," she said.