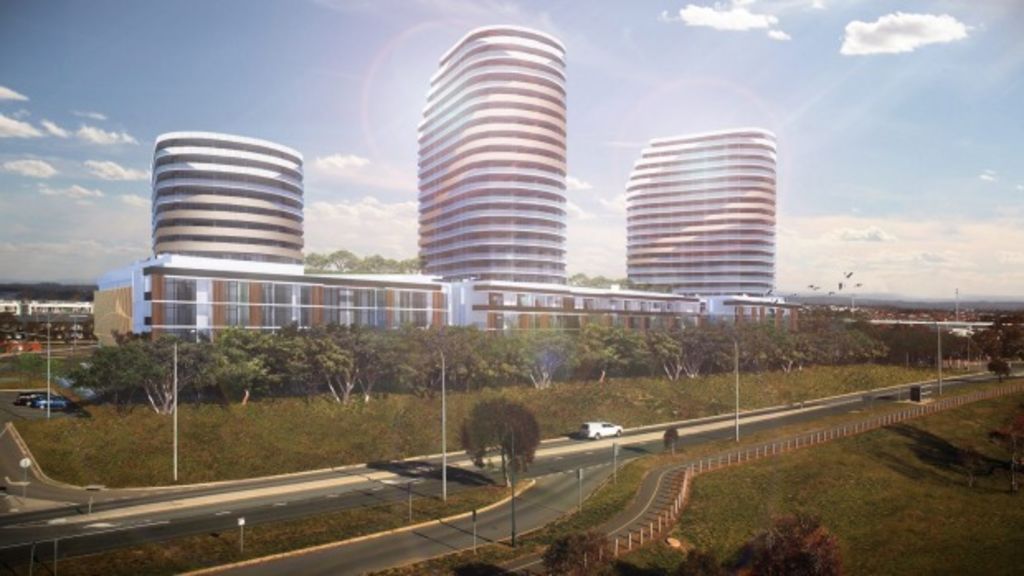 Three high-rise apartments given green light in Gungahlin Central Park project
Gungahlin's skyline will transform from next year after the ACT government approved the suburb's first high-rise residential development.
The Planning and Land Authority gave the green light to development applications for each of the three apartment towers, the tallest reaching almost 70 metres, in the "Central Park Gungahlin" complex proposed by Canberra developers Geocon.
The approval, announced on November 5, came just before a 23-metre height limit is imposed for all new structures in Gungahlin on November 30.
Once completed, the tallest of the towers will be the highest structure in Canberra after Telstra Tower, and the second-tallest residential building in the territory after Geocon's Wayfarer tower in Belconnen.
The approval came with conditions, however, with construction on the $250 million project prohibited until the territory's water authority approves a plan to improve sewerage on the site.
Icon Water initially opposed the application, submitting that the sewer infrastructure on the site could not handle the proposed complex's demands.
The upgrades are expected to be only minor, with releases of the first stage anticipated early next year and construction to start by the end of 2016.
Amendments on the plans were required for the largest tower before the project won approval from the Major Projects Review Group.
Geocon managing director Nick Georgalis​ said the project's market release will be well timed.
About 550 apartments will be available in the complex when the full project is completed by 2018 or 2019.
"It's certainly been a substantial period of time that we've waited to get to here, but I think the timing of it is excellent to get to release next year," he said.
Geocon bought the 17,264-square-metre block on which the complex will be built for $2.5 million in 2010, with the original intention of building a commercial precinct.
A car park and childcare centre have already been built on the land, which is bound by Anthony Rolfe Avenue, Gundaroo Drive and Gribble Street.
Mr Georgalis​ said he expected high demand for the apartments, especially north-facing units which were popular in other parts of the city.
"We know Canberrans like north-facing waterfront towers, for that solar access, and having the water view like many of these units do is going to be very popular," he said.
Community consultation about the application raised 22 main concerns, including inadequate car parking for the development, a lack of nearby community facilities, overshadowing of nearby properties and privacy.
However, the reasons for the decision found the concerns were either allayed by official advice or not "so detrimental as to refuse or redesign the proposal".