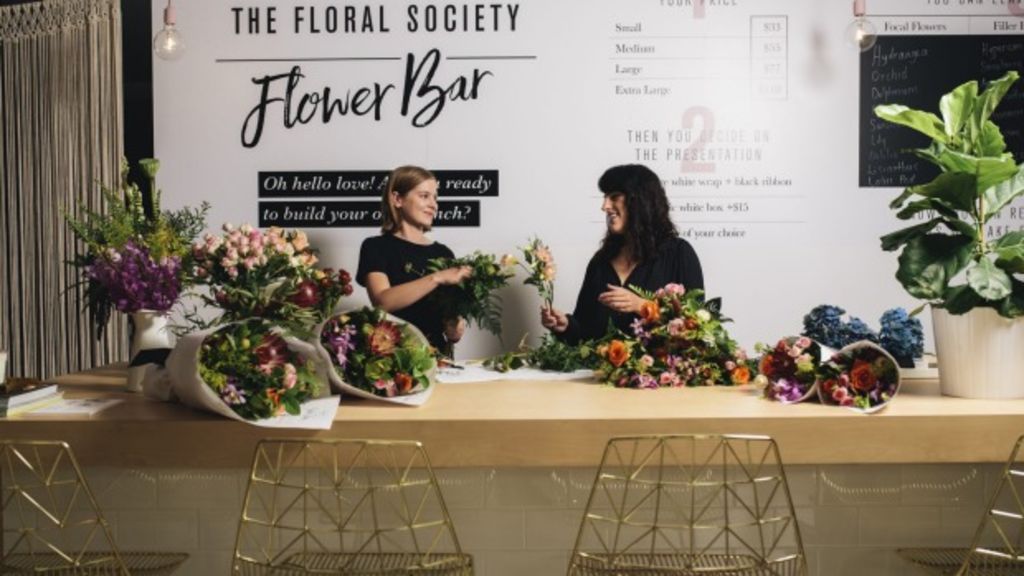 The Floral Society opens a bar with a difference in Kingston
It's Canberra's newest bar, but it's less drinks and more daisy.
Online florist The Floral Society, which launched in October 2015, has opened its first bricks-and-mortar store, in the form of a bar with flowers on the menu.
"We had a lot of customers who have taken to the whole digital thing, where we don't have a shopfront and they're ordering online, but we also had a lot of people who want to come in and have something tangible and want that experience as well," owner Renee Douros said.
Customers are invited to take a seat at the Flower Bar and watch their floral creations be assembled in front of them. Photo: Rohan Thomson
"So, we decided to open The Flower Bar and steer away from that typical florist approach, where you go in and it's a normal florist. I think Canberra has plenty of those and the ones that we have are really great, so we wanted to do something a bit different."
Renee had already been in the Kingston space for three years, running celebration publication Hooray Magazine, which is now stocked in 3000 newsagencies nationally. The large room has been split in two by a white wall, with the side facing on to Green Square now a dedicated flower bar.
Similar to a normal bar, you just pop in, pull up a metallic gold bar stool, and browse the menu.
"You set your price first, so either small, medium, large or extra large – it's all very simple and straightforward. Then you decide on your presentation, then you pick your ingredients: your focal flowers, your filler flowers and your greenery," Renee said.
"It's sort of all scattered around, so you walk around the bar and pick what you want."
The bunches are then arranged right in front of customers on the bar by florist Freyja Spear.
As Renee puts it, it's "kind of like Subway", but with flowers.
It's not the only new baby for Renee, who gave birth to her first child, a daughter fittingly named Rose, only two weeks ago.