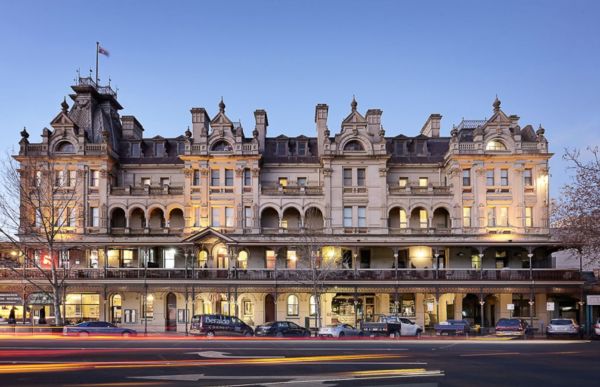 The 7 things you didn't know about Australian pubs
There's something about an old pub that sparks an old-fashioned magic in our collective imaginations. A feeling of a connection to a simpler time, when sweaty horses were roped out the front, and early homesteaders scraped the mud off their boots on the deck before enjoying a – probably room-temperature – beer.
With the reopening of Sydney's 155-year-old pub The Terminus, in Pyrmont, we've been inspired to put on our historian hats and research some curious facts about our very earliest Australian watering holes, and one or two about our current ones.
When and where were Australia's first pubs?
The first legal pubs were established in 1796 in Sydney and Parramatta. However, illicit places to drink booze, known as "sly-grogs", were established as soon as boats hit Australian shores in 1788.
Historians and pub lovers debate over Australia's oldest still-standing pub – many pubs moved locations, or were converted into shops and dwellings – but there is consensus that the Bush Inn in New Norfolk, Tasmania, established in 1815, is the oldest pub operating in the same building.
The Bush Inn, in New Norfolk, Tasmania, one of the oldest pubs still operating from the same building. Photo: eGuide Travel/Wikicommons
What was the typical design?
Our very earliest pubs weren't built for the purpose – publicans just hung a shingle over the front door of a house. "They were just like a small house with a long bar on one side," Chris McConville, research fellow at Victoria University and co-author of The Australian Pub, tells Commercial Real Estate. "It looked more like a little corner shop."
[dm-listing-recommendation experimentname='midcontent-listings' positiononpage='midcontent']
Later, legal pubs were forced by law to have bedrooms for guests, a dining room, a stable, an outside light that burned all night, and lodgings for the owner.
Not all pubs were so structured, though – in the boom of the gold-rush era, hastily built, rickety pubs were thrown together out of wood, hessian, corrugated iron and other scraps.
What did they serve?
In the very earliest pubs, there wasn't the grand range of booze we expect today. "They served spirits more than beer," said McConville. "Probably rum and brandy. Beer didn't have the preservatives it has in it today, so most beer that was sold was brewed in the town quite close to the pub."
There were dungeons in pubs?
According to "The Australian Pub", some pubs in the early convict era had "part-cellar, part-dungeons spaces below floor-level in which travelling road gangs of convict workers were shut at night" by soldiers and officials who drank, and slept, upstairs. "They just locked them away until they were ready to move on," said McConville.
The Hero of Waterloo, in The Rocks, Sydney, has shackles under its bar. Photo: Dean Sewell
Forget a simple game of pool
Pub patrons in the 19th century sure had a lot of fun. Frivolities included climbing greasy poles and catching greased-up pigs, apple bobbing, bowling matches – fancier pubs had their own bowling alley – boxing matches, and in the rougher areas, a dogfight or cockfight. "Free-and-easies", a type of theatrical and vaudeville performance, were popular, and – perhaps brought Down Under by the ballad-crooning Irish – a good old singalong was popular in all levels of drinking society.
What was the golden age of pubs?
When the gold rush hit in the middle of the 19th century, pubs rapidly multiplied. In Ballarat, 22 pubs appeared in just two months and, at one point in Bendigo, there were 20 pubs to each person!
The Shamrock Hotel, in Bendigo, is one of the country's grandest pubs and was first built during the gold rush era. Photo: Shamrock Hotel
McConville believes this is the most pubs we've ever had per capita in Australia. "You've got thousands of people moving around looking for gold, people would set up anything to sell to them." They were nearly all sly-grogs (fun fact: Ned Kelly's mum, Ellen Quinn Kelly, was a gold-rush sly-grogger). "None of this was at all regulated by health or liquor authorities," said McConville. As the boom dried up, so did the booze, with most pubs closing down.
What about Australian pubs today?
More than 200 years since we first started swilling booze in pubs, there are now more than 6000 pubs and bars in Australia.
NSW leads the way with more than 2000 pubs – twice as many as in Victoria and Queensland, and a whopping 65 times more pubs than in the ACT. Like in history, 69 per cent of our pubs are still on corner blocks, and there is a return to drinking locally-brewed beers. But, sadly, the catching of greased-up pigs is no longer offered as entertainment.
[dm-listing-recommendation experimentname='below-content-listings' positiononpage='belowContent']
Keep up with Commercial Real Estate news.