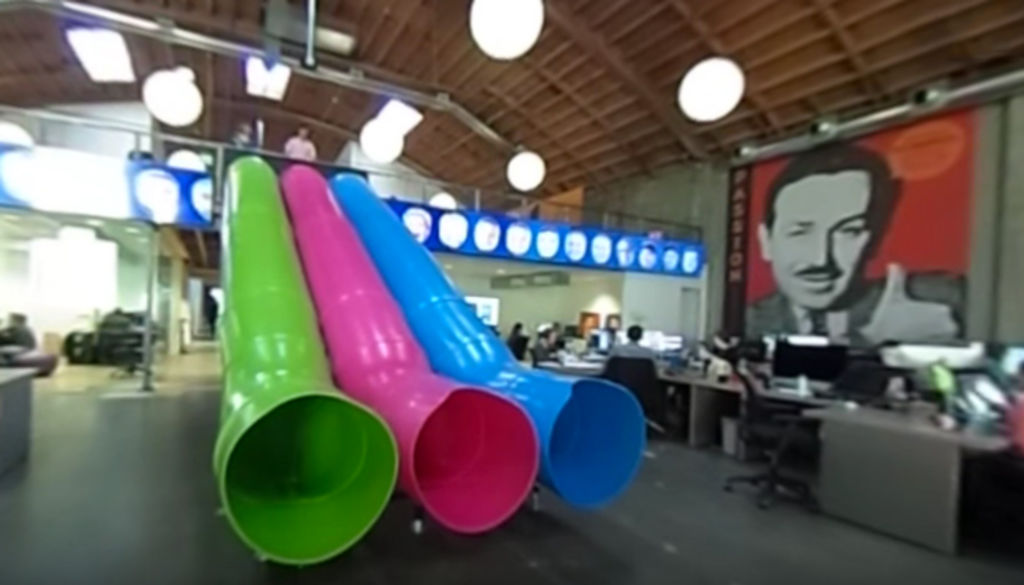 Tech company JibJab creates adult playground for workers
There's a good $20,000 reason three huge slides dominate the two-storey JibJab Media workspace.
"If I had to sit in a meeting during the day, at least I could slide out of it," says Gregg Spiridellis, who co-runs the digital entertainment studio with brother Evan as "CEO Guy".
The brothers and their 100-plus employee workforce at Marina del Rey, California, spend their days creating animated e-cards – which are especially huge on Valentine's Day, their second biggest traffic day of the year, after Christmas.
They also make online cartoons and digital children's storybooks with an eye to funny, so when they recently outgrew their old headquarters, they decided to move and go really bold in their design. Even if it cost upwards of about $20,000 ($28,000 AUD) to fulfil their slide fantasies.
Why use the stairs when you can slide instead? Source: USA Today
A large workplace with huge posters of Walt Disney, Theodore Roosevelt and Louis Armstrong, among others, along with foosball, ping pong and those three main slides are not just a nod to the brothers' Peter Pan syndrome.
It's also about how to attract talented employees in today's tech environment, says Evan, whose title is "Art Guy".
Evan and Gregg Spiridellis, founders of JibJab Media. Source: USA Today
In a traditional office environment, "We could never recruit the people," he says. "It's the nature of where the business is at now."
(Check out the 360-degree tour of JibJab below. Remember to use your fingers or mouse to "click and drag" across the screen to go left, right, up and down. If you're on a mobile device, tap this link instead.)
JibJab had a record 2015, attracting 100 million visitors to its website and 200 million visitors to its YouTube Storybot kids channel.
The company specialises in a technology that lets users stick their faces in animated videos and stories, and Valentine's Day is all about lovers singing songs to each other.
JibJab's Valentine's Day videos are a huge hit every year. Source: USA Today
Staffers work far ahead – they're busy in February getting ready for Mother's Day.
Like most offices, artists toil in front of computers for hours – but are encouraged to let it out with some foosball or ping pong.
"You're more productive if you can take a break and play a bit," says Evan. "People use their brains to interact and socialise, then go back to work."
Alessandra Souers, a marketing manager at JibJab, says the playful environment "represents the playfulness of the work we do each day, and it ensures egos are checked at the door.
"You can't take yourself too seriously when you use a giant slide as a regular means of transportation."
Motivational posters in the JibJab offices include Walt Disney for "Passion". Source: USA Today/YouTube
The huge posters that dominate the work space express the company values and also "make the space fun, and inspiring," says Evan.
Disney represents passion, while Armstrong is innovation, Roosevelt dependability, Mario Andretti agility and Andrew Carnegie fun.
But it's those three slides the brothers are most proud of.
"I never take the stairs," says Gregg. "If I'm going downstairs, I'll slide down. If you can walk down or slide, you slide."