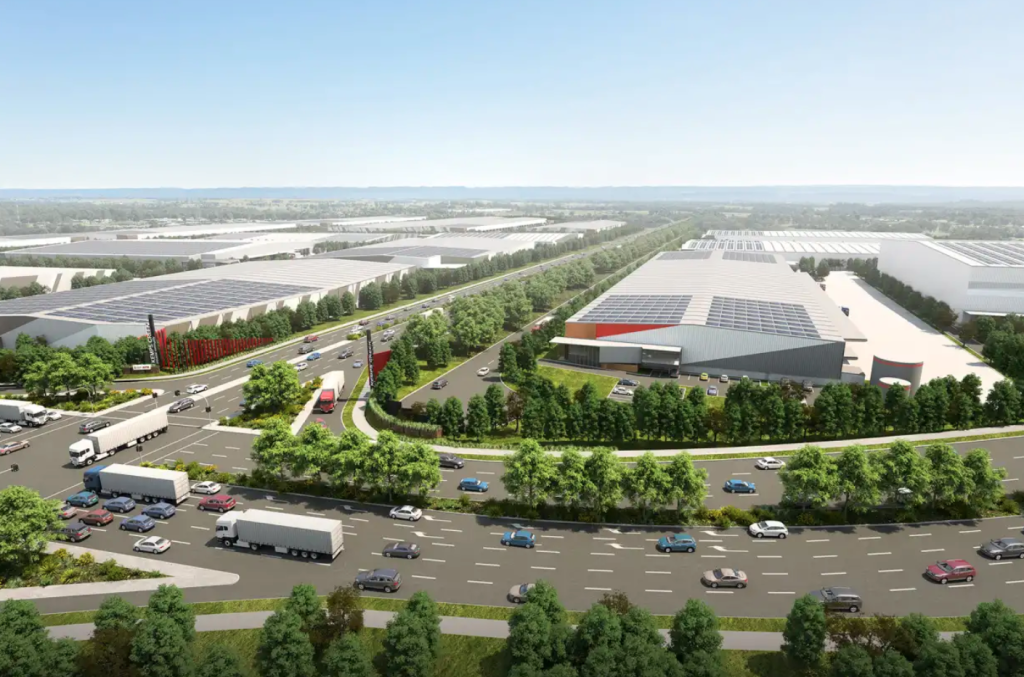 Take-up of industrial land to surge 48pc in Sydney
Take-up of industrial land for new logistics facilities in western Sydney is expected to rise 48 per cent over the next five years, as record low vacancy rates and growing demand for mega sheds spur on the development of new industrial estates.
Commercial agent Colliers International expects the take-up of industrial land to average about 200 hectares per year over the next five years, compared with an average of 135 hectares over the past five years.
Take-up would have been higher in previous years, Colliers said, if it were not for a significant under-supply of appropriately zoned and serviced vacant industrial land in core locations such as Eastern Creek and Erskine Park, a factor also in surging land prices.
"Looking ahead, we expect take-up levels to well exceed historical levels given the increased availability of land as a result of development within the Mamre Road Precinct," said David Hall, national director of industrial at Colliers.
Over the next five years, Colliers estimates that just under 2000 hectares of net developable industrial land will be delivered across 348 sites in western Sydney.
However, as 64 per cent of this land is owned by private groups – of which a large share are not active in the current development cycle – or government departments, this will limit the take-up.
"As a result, this means there is just under five years of industrial land supply based on land owned by active owners," Mr Hall said.
Beyond the next five years, the longer-term pipeline of zoned industrial land will be boosted by the rezoning of land within the western Sydney Aerotropolis for enterprise use, which allows for some forms of industrial and commercial development.
"We estimate the Aerotropolis will provide 2000-2500 hectares of land for industrial use, the bulk of which will be delivered over the next 10 to 20 years and will be structured around the overall growth of the Western Sydney Airport and the delivery of critical infrastructure such as roads and services," Mr Hall said.
According to the Colliers report, two-thirds of western Sydney's developable land exists within the outer west and largely stems from the 850-hectare Mamre Road Precinct, where the likes of Frasers and Sydney fund manager Altis Property Partners plan to develop a $1 billion logistics estate on a 118-hectare site they own.
The Mamre Road Precinct is also set to be the location of choice for a new wave of very large or "hyperscale" warehouses – such as the one Goodman is building for Amazon – a trend being driven by the growth of online retailing.
The Colliers report notes occupiers now require larger floor footprints to accommodate an increase in stock levels and to enable greater efficiencies.
Between 2007 and 2009, the average warehouse size delivered in Sydney was 13,970sq m. However, this has grown by 23 per cent to almost 18,000sq m.
"Sydney for a long time has been unable to accommodate hyperscale requirements and, as a result, the growth in the average warehouse size over the past decade has lagged that of Melbourne and Brisbane," said Luke Crawford, director of research at Colliers
"The delivery of larger facilities [net lettable area of more than 40,000sq m] has been a growing trend in Melbourne in recent years and we expect these types of developments to become more widespread in Sydney.
"[Toolmaker] Techtronic Industries' recent pre-commitment of 73,920sq m within the Mamre Road Precinct highlights this."