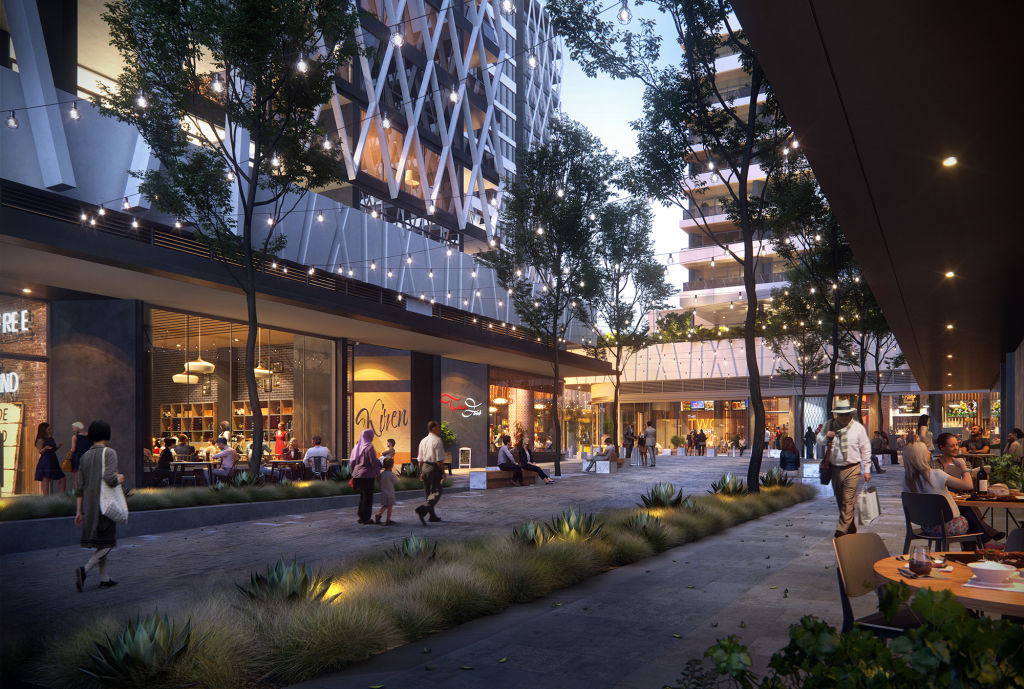 Sydney developer Coronation Property plans build-to-rent project following $41 million Merrylands purchase
Sydney-based developer Coronation Property Co has joined a small group of players in the city's nascent build-to-rent sector, earmarking a recent purchase of a site in the city's west as the first stage in a plan to add 5000 units to the permanent rental market.
The family-owned developer spent $41 million on the 12,418-square-metre site at 52-54 McFarlane Street, Merrylands, which it bought from ASX-listed developer Stockland that owns the shopping centre next door.
Coronation managing director Joseph Nahas said that around 60 per cent – or three of the five towers proposed for the site under the existing approved development application – will be designated as build-to-rent units. The project is believed to be the largest build-to-rent development currently slated for the Sydney market.
Build-to-rent is a residential development in which units are retained by the developer and leased out, rather than sold off to individual buyers.
The DA – submitted by Stockland – allows for the construction of five towers comprising 562 residential apartments and about 4500 square metres of ground-level retail.
Coronation will seek to amend the DA in order to allow build-to-rent apartments, in what Mr Nahas said was an attempt to extract an increased yield from the development.
"Our goal is to deliver a mixed-use precinct with a combination of build-to-rent and build-to-sell apartments, as well as a bustling new retail offering for the community that will include a gym, supermarket and a wide variety of food and beverage vendors," Mr Nahas said.
Mr Nahas said that Parramatta and surrounding suburbs were an ideal place for build-to-rent units owing to a combination of factors including its "large commercial precinct and high degree of transport and infrastructure connectivity".
Lower land costs – than those of inner-suburbs – and a growing population also meant the area was a prime candidate for build-to-rent development.
This low land cost, combined with the "fact that Coronation is fully integrated with their construction company and therefore can control construction costs" will help the project stack up financially, according to a spokesperson for Coronation.
Coronation – which was established in 2012 and currently has major residential projects under development at 8 Phillip Street in Parramatta and the Paper Mill urban renewal project in Liverpool – is describing the Merrylands site as the first step in an ambitious build-to-rent strategy.
"We very much view the Merrylands site as a seed investment for our build-to-rent business – whilst this property sector is relatively new to Australia, it is gaining traction and we see the robust potential," Mr Nahas said, confirming that the build-to-rent projects will be focused in metropolitan Sydney.
"Our goal will be to deliver 5000 apartments over the next seven years, and we believe that with our fully-integrated development and construction business, as well as our proven expertise in delivering multi-family residential properties across Sydney, Coronation Property will play a leading role in the establishment of the build-to-rent sector in Australia."
The two biggest complaints from the sector have been the restriction on foreign investment in the sector courtesy of the managed investment trusts tax withholding scheme and the burden of land tax.
"Coronation agrees that the current tax and regulatory situation does put a lot of pressure on the financial viability of [build to rent]. Nevertheless, the company's approach is to focus on the real estate fundamentals of the specific deal rather than getting caught up focusing on regulatory change, a factor which is largely out of their control," a spokesperson for the company said.
"Of course, regulatory change (land tax, GST and land use classification) would help the financial viability, and the company is confident this change is going to eventuate, however, for now they are comfortable with the underwriting. With the rapid slow-down in construction starts, there will be a housing supply shortage in the near future that will put a lot of pressure on government (state and Federal) to embark on regulatory change," the spokesperson added.