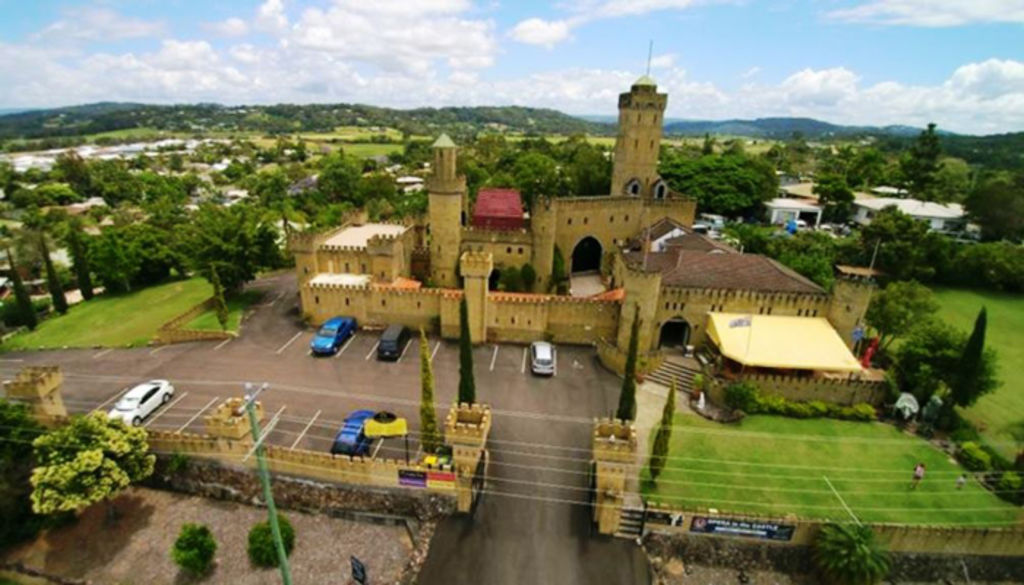 Sunshine Castle for sale: Bli Bli landmark includes moat, turrets and dungeon
It's not every day the opportunity comes up to buy a castle in Australia.
Sunshine Castle, a famous tourist landmark at Bli Bli, Queensland, comes with everything a medieval stronghold needs including a moat, drawbridge, turrets, dungeon and a great hall for feasting.
The Bli Bli property is 90 minutes north of Brisbane and 15 minutes from Maroochydore. Photo: Supplied
There's even a throne – an original prop from the 1990s television series Xena Warrior Princess – a collection of armour and a working ballista, a Middle Ages contraption used to catapult stones during battles.
The Sunshine Coast tourist attraction and function venue is for sale by expressions of interest.
Channel Xena Warrior Princess in the ornate throne. Photo: Supplied
Agent Michael Shadforth, of Ray White North Coast Central, said the owners, who loved castles and the tourism industry, were planning a new venture on the Gold Coast.
"They want to invest in another tourist attraction and to do that, they have to move on," Mr Shadforth said.
Built in 1972 in the Norman style of medieval times, the castle first lowered its drawbridge to visitors in 1973.
Since then it has been developed progressively and now includes a licensed cafe, gift shop, museum and lookout tower.
The 4751-square-metre site overlooks the Maroochy River and is about 90 minutes north of Brisbane.
A potential buyer also has the option to purchase adjoining manager and caretaker residences.
The castle is a popular Sunshine Coast tourist drawcard. Photo: Supplied
Mr Shadforth said the property had attracted interest from people from all walks of life.
"It's quite refreshing there are still people prepared to spend money in places where they've got a passion," he said.
"Castles are a very real part of people's imaginations."
Visitors to Sunshine Castle can take part in activities such a jousting, archery, crafts and cooking that capture life in the Middle Ages.
The venue is popular for weddings and children's parties and also houses big collections of dolls and toys.
Mr Shadforth said current owner Bernd Benecke, who has owned the property since 2002, had always dreamed of owning a castle.
"There's probably many people like him in the world who say 'wouldn't it be great?'" he said.