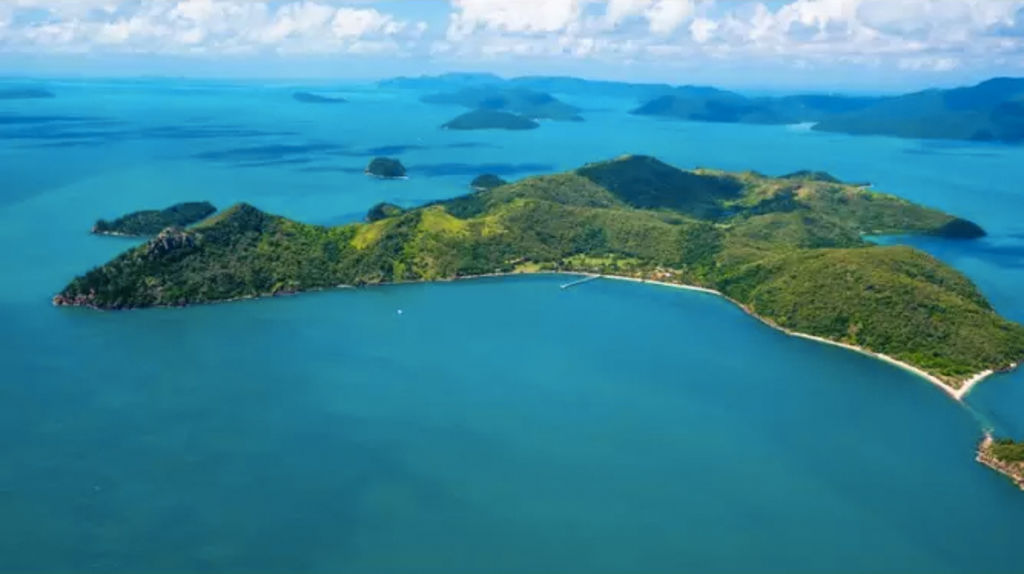 South Molle Island for sale: Developers and investors eye Whitsundays resort
Jack Needham and Rebecca Holland
After weeks of anticipation, resort holiday destination South Molle Island is officially on the market.
Part of the Whitsunday Islands on the Great Barrier Reef, South Molle is being offered for sale as a development opportunity after a number of "unsolicited approaches" from investors and developers, according to agent JLL Hotels & Hospitality Group.
The imminent sale of the island, which is held on a perpetual lease by Koala Adventures owner Craig Ross, was mooted in April. Interest is already being fielded from local and international buyers.
JLL's Peter Harper and Tate Stubbs have been appointed to market the property. A closing date for the expressions-of-interest campaign is expected to be announced in the coming days.
Interest in the holiday resort island is expected from local and international buyers. Photo: Supplied
With prime beach frontage, close proximity to the mainland and calm waters and favourable zoning, Mr Stubbs believes the island is likely to be snapped up by a developer ready to replace and expand the existing facilities on the island.
"We expect fairly strong interest. The listing has been in the market for a few weeks, and so far we've had a good mix of interest from both domestic and local groups," he said.
"Hamilton Island and the Whitsundays are becoming much more open at the moment through Asia. It's the logical thing.
"As with every development it's got to sit within the town planning. It's zoned quite favourably for tourism development, hotels, that's the direction we see it going.
"We've seen both quite significant infrastructure developments going on in places like Hamilton Island. At the end of the day somebody's going to take it and turn it into something quite amazing. Six hundred metres of beach frontage is quite a rare thing."
The 4.6-square-kilometre island and surrounding region is famous for its white-sand beaches, pristine coral reefs and extensive national parks.
"The ability to acquire the perpetual leasehold interest in South Molle Island presents an incredible opportunity to secure one of the last large-scale island development opportunities in the Great Barrier Reef," Mr Harper said.
"It's certainly the premium sale offering in this part of the world at present and we expect global investors and developers to act accordingly."
Mr Stubbs said South Molle Island benefited from excellent connectivity to both Airlie Beach on the mainland and Hamilton Island, with access to their commercial airports via boat or helicopter.
"With strong growth in visitation by both domestic and international tourists and continued investment in infrastructure throughout the region, an incoming owner will inherit the island's considerable future potential," he said.
South Molle Island is held on a perpetual lease. Photo: Supplied
Captain James Cook passed through the Whitsunday passage in 1770. In 1815, Lieutenant Charles Jefferys named it Molle Island after Colonel George James Molle who, at the time, was Lieutenant Governor of New South Wales.
By the 1840s, more small islands in the area also bore the name Molle, including North Molle, Mid Molle and West Molle – now known as Daydream Island. The first lease on the island was granted to a farmer in 1883 for five years.
South Molle was previously operated by Ansett Transport Industries and the Telford Group.
According to Mr Stubbs, the island has been used as a basis for Koala Adventures' cruise operations, with the existing accommodation facilities in need of updating.
"There's currently a resort infrastructure on it. It isn't entirely operational. It is used as a base for some cruise tours," he said.
"The offering currently available doesn't do it justice. It's good, but it could be fixed up. The way we see it going is a complete redevelopment – it's a blank canvas.
"We're incredibly excited about it. It's a beautiful part of the world. The interest that we're seeing in this part of the market, I just see that interest continuing."