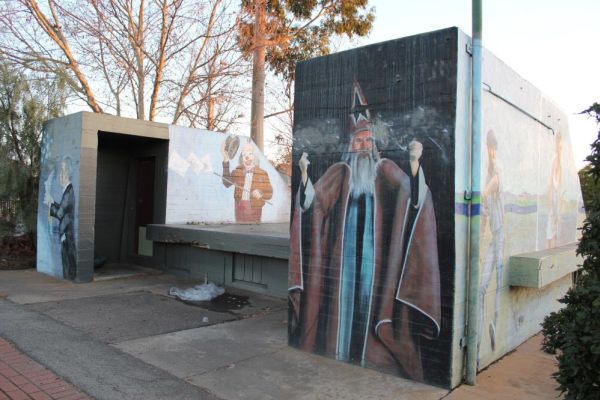 Six of the oddest heritage-listed buildings in Australia
When most of us think of heritage-listed buildings we imagine historic, convict-built houses, or famous architect-designed landmarks.
But the various heritage registries around the country are also home to some strange and wonderful structures. Some gain heritage status because of their previous use, some for cultural significance to their area, while others are recognised for their unique construction or architectural relevance.
Here are seven of the most unusual heritage-listed buildings in Australia.
McDonald's – Clifton Hill, Victoria
[dm-listing-recommendation experimentname='midcontent-listings' positiononpage='midcontent']
Possibly the "most exquisite and intact" example of jazz moderne architecture in Victoria, this McDonald's is one of the few fast food restaurants to be heritage listed.
Located on the busy Queens Parade in Clifton Hill, the two-storey brick building was built in 1937 and was originally the United Kingdom Hotel. The exterior and much of the interior has been maintained, with the cantilevered concrete balconies and rounded shape leading some to dub it the "most beautiful McDonald's in the world".
The building was heritage listed in 1988 because of its architectural and historical significance as an "exemplar of the material culture of the late 1930s".
Stringers Knob Fire Spotting Tower – Gippsland, Victoria
This unique structure was erected in 1941 following the devastating Black Friday fires of 1939 in order to provide better fire detection in the East Gippsland Shire.
A tiny 2.5-metres-square cabin is perched high up on the 28-metre pole and, up until the 1960s, every week a "fire spotter" would spend a week alone in the tower, sleeping in a small shed at its foot and spending the rest of the time up high looking for smoke, which could be seen up to 40 kilometres away.
The structure is heritage-listed because of its "experimental design and unusual construction technique", which involved bolting together two poles of yellow stringbark and red ironbark.
Gus' Cafe – Canberra, Australian Capital Territory
Listed not for its building or architectural value but for its "intangible heritage value", Gus' Cafe pioneered outdoor dining culture in Canberra in the 70s.
After a long-running fight with government bureaucracy, the cafe played a major role in developing the city's social vibrancy and cafe culture.
The cafe was listed because of its "intangible social value and physical public recognition" of its owner in 2011.
It shut its doors earlier this year and was due to reopen under new management.
The Australian Society of Magicians' Offices – Torrensville, South Australia
The Australian Society of Magicians, which strives to promote the art of magic and provide a meeting place for those practising it, now occupies a historic military air raid shelter in Adelaide.
The former World War II civil defence sub-control station is now covered in paintings of witches and wizards, and is one of the few of its kind remaining in decent condition.
The offices now stand as an "indication of the perception of the threat from enemy attack during the war", even as far away as Adelaide.
Incinerator – Sydney, New South Wales
Built in 1933, this is one of only two municipal incinerators left in New South Wales, and its unique design was a collaboration between architects Walter Burley Griffin and Eric Nicholls.
The site is now a local landmark, but was at the centre of much controversy across the years for its use and the operation of waste management, and later became a "cause celebre" in heritage conservation.
Following a fire in 1996, the building was reopened and now houses an art gallery, artist studio space and cafe across its three storeys.
Dolphin Discovery Centre – Bunbury, Western Australia
The large complex south of Perth opened in 1995 allowing tourists to catch a glimpse of the local dolphin population, while also caring for, and conserving, the animals.
Constructed deliberately to have minimal visual impact on the surrounding environment, the centre's role as an educator, tourist operator and scientific researcher, along with its "unique design" and approach to tourism granted it a place on the heritage list.
[dm-listing-recommendation experimentname='below-content-listings' positiononpage='belowContent']
Keep up with Commercial Real Estate news.