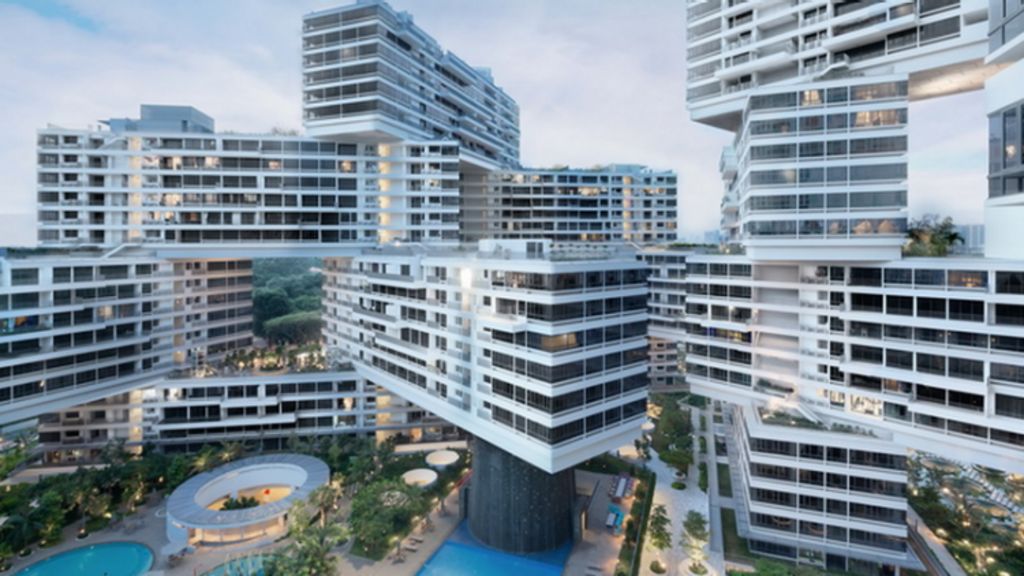 Singapore's 'vertical village' named world's best new building
A cluster of 31 apartment blocks stacked on their sides has won this year's world building of the year title.
Instead of dense high-rise apartment living, the architect behind The Interlace opted for apartment blocks each only six storeys high, but bundled together in piles of four.
The innovative residential development in Singapore, designed by architect Ole Scheeren and OMA, won the Housing – Completed Building category at this year's World Architecture Festival in Singapore.
The residential blocks create a hexagonal formation with communal courtyards throughout. Image: Büro Ole Scheeren
Scheeren brought the concept of "community" to the forefront of his design by creating a complex that accommodates 1000 apartments while maximising shared spaces.
The end result is a hexagonal arrangement of suspended blocks surrounded by greenery and shared outdoor spaces.
The eight courtyards within the development function as "connectors", with walkways leading residents through the communal spaces.
The development, which Scheeren describes as a "vertical village embedded in a rich landscape of activities and nature", encourages shared living with a 50-metre pool, a clubhouse, reading rooms, a space for karaoke, gyms and games rooms.
Surrounding the property is a one-kilometre running track that residents can reach from the internal courtyards.
The six-storey apartment blocks are piled on top of each other. Image: Büro Ole Scheeren
The 170,000-square-metre complex, which was completed in 2013, impressed the panel of judges who picked the project for its "radical and alternative approach" to contemporary living in a tropical environment.
Australia also made its mark at the World Architecture Festival with SJB Architects winning the Mixed-Use Development Award for its Casba project in Sydney.
The judges praised the architects for the way they successfully balanced public space with retail, commercial and residential areas.
Australian firm SJB Architects won the Mixed-Use Development prize for their Casba project in Sydney. Image: SJB Architects