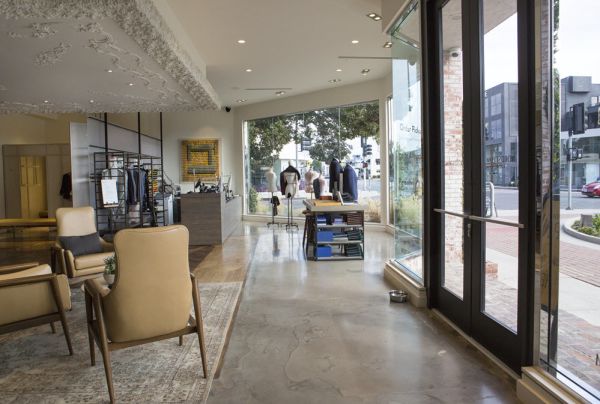 Retailers experiment with a new philosophy: smaller is better
Tiffany Hsu
Brick-and-mortar retail chains, known for sprawling stores that stock a bit of everything, are trying to lift sagging sales using a different strategy: cosier spaces that sell very little of anything.
Showrooms – a retail model popular with bridal designers, car dealers and, recently, online apparel startups – are now inspiring mass-market heavyweights like Nordstrom and Urban Outfitters.
In intimate salons, some the size of a cafe, shoppers can examine a limited selection of merchandise and place orders for products to be delivered or collected later. The customer service is often luxurious, but so is the time commitment.
[dm-listing-recommendation experimentname='midcontent-listings' positiononpage='midcontent']
This is the antithesis of the standard shopping mall experience: the overwhelming assortment of products, the glazed apathy of part-time store workers, the disrobed patrons bellowing from fitting rooms for another size.
But the sector is desperate to evolve after a brutal year of bankruptcies (Toys 'R' Us, Payless Shoe Source, The Limited and more) and store closings (JC Penney, for example, plans to shutter up to 14 per cent of its stores this year). Ecommerce rivals – Amazon, most significantly – are chewing deeper into sales.
Instead of slashing prices and accelerating delivery times, praying for fickle customers to stay loyal, many retailers are aiming higher: to become a desirable place to shop.
"People don't have to go to stores anymore, they have to want to go," said Lee Peterson, an executive vice president at WD Partners, a strategy, design and architecture firm. "And that goes a long way when thinking about what retail has to become."
Nordstrom's Experiment in Melrose Place
Nordstrom opened its first showroom-style store, called Nordstrom Local, on an upscale stretch of Melrose Place in Los Angeles last month.
The 278-square-metre space – Nordstrom balks at calling it a showroom and instead refers to it as a concept store focused on service experiences – employs a handful of specialists. Ten minutes to the west, hundreds of store associates roam a full-size, 11,000-square-metre Nordstrom department store.
Bricks-and-mortar retail chains are trying to lift sagging sales using a different strategy: cozier spaces that sell very little of anything. Photo: Elizabeth Lippman/The New York Times
Nordstrom Local was designed as a kind of neighbourhood hub, where customers can get manicures, have a shirt altered, pick up parcels purchased online or sip rose from the well-stocked bar. They do not come to shop – at least, not in the traditional sense.
The store has no inventory for sale, other than the occasional set of bejeweled boots exhibited on a shelf or the floral caftan hanging in the lounge.
Customers work with personal stylists to put together ensembles, using tablets or phones. The outfits are usually requested from a nearby, full-size Nordstrom store and delivered – sometimes within hours – for customers to try on amid the sleek settees in Local's dressing area.
Without providing precise numbers, Nordstrom said shoppers had used the services thousands of times in Local's first four weeks.
Some, like S.Y. Chen, 29, a graduate student in Los Angeles, stopped by out of curiosity.
"It was like going to someone's room to hang out, not like going into a store at all," she said. "I would use it if I was busier, but because I like to browse, I'll probably just keep going online or to a bigger store with more products."
An Appeal to Some May Turn Away Others
Major chains are trying everything to adapt to market pressures – a wardrobe-in-a-box subscription service from Gap for babies, a personal shopping option from Walmart, shrinking stores from Target and Kohl's.
Showrooms are just another experiment.
The rationale is simple: Instant gratification takes a back seat to visceral experience.
Online vendors such as Rent the Runway and Warby Parker have opened showroom-style spaces in recent years to offer a more tactile relationship with their products. For some companies, the facilities increased local online sales and sometimes produced as much as five times the revenue per square foot recorded by traditional shopping-centre tenants.
Showrooms are more likely to influence consumer purchasing than retail aided by artificial intelligence, in a pop-up setting or with a self-check-out function, according to research conducted by WD Partners.
More than half of millennials surveyed in recent years said that visiting showrooms could compel them to make a purchase, according to the firm. The share of older shoppers who said this surged to 57 per cent this year, from 22 per cent in 2015.
By matching shoppers to the products they want and recording the preferences, showrooms can help limit the number of items that are returned, while encouraging repeat visits.
They also require less storage space, which makes them more affordable to lease, especially in expensive urban areas. Inventory is centralised, dispatched only when ordered. Merchandise theft is minimal.
Employee turnover, a costly problem at mall-based retailers, declines in showroom-style stores, said Nadia Shouraboura, who founded the retail technology company Hointer.
"It's just not pleasant to spend most of your time folding stuff, cleaning displays and having piles of products to maintain," said Shouraboura, a former executive at Amazon. "Showrooms help the progression of a numbingly boring job into something more exciting, like being a stylist."
Offerings at Nordstrom Local, the department store chain's first showroom-style store, on an upscale stretch of Melrose Place in Los Angeles. Photo: Elizabeth Lippman/The New York Times
But showrooms have their drawbacks. Apparel basics, like the socks, T-shirts and other items that support many midrange retailers, might not fare as well in showrooms because the items can be easily bought online, according to a report from the consulting firm Strategy&.
The showroom model could also alienate younger shoppers, who cherish the anonymity of online shopping, analysts said. Older consumers might enjoy the focused attention, but want to be able to buy as well as browse.
"This is just a slower, more expensive version of online," said Bob Phibbs, chief executive of The Retail Doctor, a consulting firm.
A Nation of Retailing Labs
Full-fledged showrooms can be a tricky endeavour for mall-based retailers, known for providing lower prices, higher volumes and impulse purchases. Many chains are exploring the model cautiously.
Nordstrom has no immediate plans for another Local store.
Urban Outfitters opened a temporary showroom in Los Angeles last year, displaying furniture, artwork and decorations that shoppers could order online at kiosks. This fall, the company, which is known mostly for its apparel and beauty offerings, put furniture showrooms in several of its stores; its sister company, Anthropologie, did something similar with room vignettes.
Walmart said it was holding off on showrooms for its namesake stores. But in March, it acquired Modcloth, a vintage-style e-commerce retailer with only one physical store, a showroom in Austin, Texas.
Last summer, Walmart also purchased Bonobos, an online menswear company with nearly 50 showrooms. The 140-square-metre Bonobos Guideshops stock fewer than 250 pairs of jeans, compared with the 3600 pairs available at the average specialty apparel store, according to the Strategy& report.
Macy's tried a showroom of sorts in 2015 at its Manhattan Beach, California, store, where it swapped tightly packed racks of swimwear and athletics apparel for a narrower selection, displayed on mannequins. Shoppers used mobile devices to order items to try on, which would arrive in fitting rooms within seconds, delivered from storage via chutes cut into the walls, said Shouraboura, whose company, Hointer, worked on the effort.
But Macy's, suffering a continuing sales slump and steadily shuttering stores, dismantled the project within a year, she said.
Lesso Group, the Chinese holding company, is doing the opposite. This year, it spent $US92 million ($121 million) to buy the Source mall and surrounding property in Westbury, New York. It plans to turn part of the mostly vacant property into a collection of showrooms for home furnishings, decor and design, and is committing $US25 million to the initiative.
The company envisions opening showrooms in Texas, California and elsewhere, said Michael Mai, a lawyer for the company.
"It's a leaner system compared to general retail," he said.
[dm-listing-recommendation experimentname='below-content-listings' positiononpage='belowContent']
Keep up with Commercial Real Estate news.
Keep up with Commercial Real Estate news.