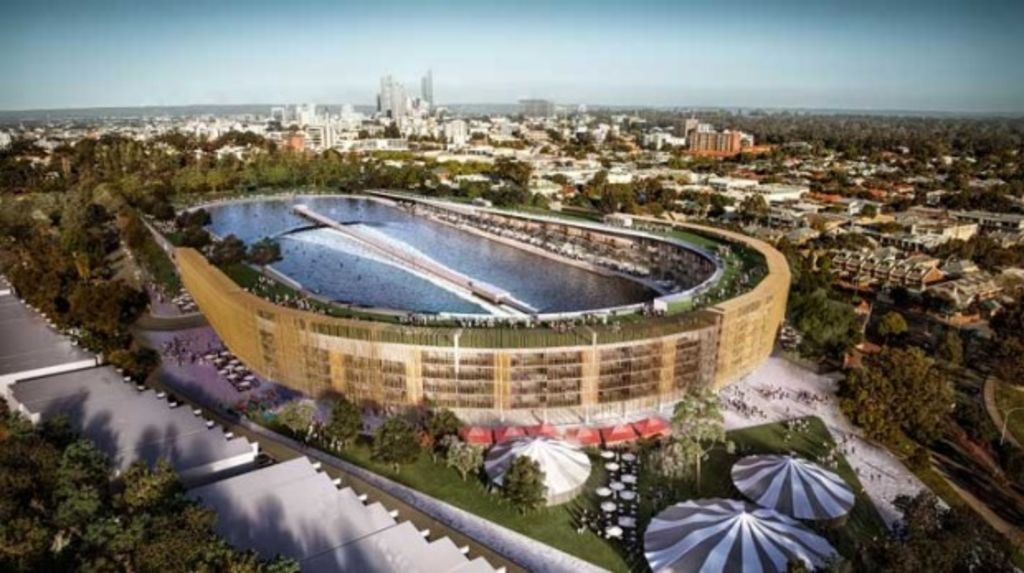 Radical plan to convert Perth's Domain Stadium into a wave park
The man behind a radical plan to convert Domain Stadium into an artificial wave park says it will become a sporting spectacle for wave-starved surfers because the "swell in Perth is rubbish".
Wave Park Group and architects MJA Studio want to bulldoze the current home of WA football and build a wave park, elevated parkland, market place and 220 apartments, which will cost the joint venture $120 million.
The land where Domain Stadium sits is owned by the state government and leased to WA Football Commission, but Premier Colin Barnett flagged that agreement will expire when the new 60,000-seat stadium at Burswood opens in 2018.
Wave Park Group chairman Andrew Ross told Radio 6PR on Monday morning local wave-riders would embrace the idea.
"The waves in Perth are rubbish, so for us it's about providing an authentic alternative to the ocean and it's about proving convenience for people as well," he said.
"We have secured the rights to the world's leading technology… it's brand new and we think it will be an amazing facility for Subiaco to replace footy once it leaves in less in two years now.
"With Subiaco Oval at the moment we have an amazing spectacle, but it's a passive spectacle.
"You go along and watch the footy, but with this type of option it's an active recreation, which also creates a spectacle."
Mr Ross said the surf would cater for beginners and more experienced surfers.
"The lagoon is around 320 metres long by 100 metres wide… it's about the same width as Subiaco Oval but about a third longer and we can host about 70 surfers at once.
"We generate waves from about six foot in height in the peak zone, all the way down to knee high waves for beginners.
"Surfing is only second to AFL for national sporting participation and there are more surfers in Perth than people play cricket, both indoor and outdoor combined and there is going to be a huge market for this."
Mr Ross said the joint venture had already met with the Subiaco council and the Barnett government was "aware" of the plan.
He said developers were lining up to be part of the new development.
"We have spoken to various developers around Perth and they are absolutely jumping out of their skin to get onto a project like this," he said.
"They believe they could sell 100 per cent of the apartments of the plan. So it's one of these amazing ideas, which brings together a whole range of mixed-use activities."
Mr Ross said the project would pay "homage" to Domain Stadium, which had been home to WA football for more than 100 years.
"The grand stand does disappear, but we do keep the historic gates on the south-western corner which are heritage-listed," he said.
"The orientation of the park and the apartments very much mimics and pays homage to what the stadium is."
Surfing WA events manager Justin Majeks said the wave park was an "excellent idea".
"We would embrace a fully functional wave park in WA," he said.
"It would replace one premier sporting facility with another.
"People having access to a custom made wave park for 365 days a year is excellent."
Mr Majeks did admit not all surfers would be rushing to catch a wave at the new surf park.
"Your hardcore Margaret River surfers who are used to surfing 12-foot monsters might not get into it, but for people wanting to get into the sport it's perfect," he said.