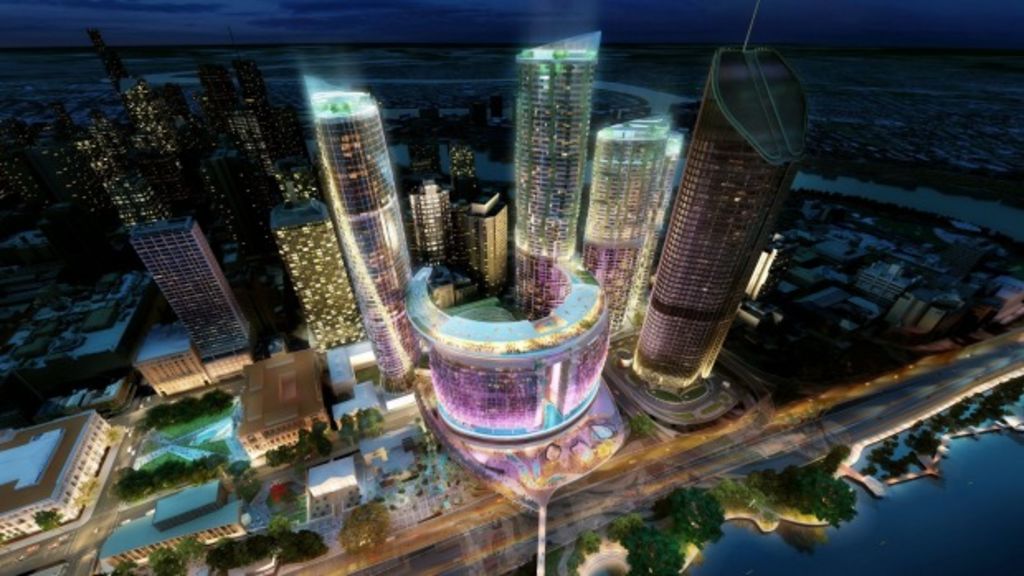 Queensland Queen's Wharf mega casino deal finalised
The Queensland Government is guaranteed $1 billion in revenue from the new $3 billion Queens Wharf casino development, which was finally signed off on Monday morning by Premier Annastacia Palaszczuk.
Most of that revenue – $880 million – comes after the casino has been operating for 10 years.
Ms Palaszczuk told reporters the first instalment of $272 million would begin to be paid to the Queensland Government on Monday.
"Another guaranteed $880 million will follow from casino taxes over the first 10 years of Destination Brisbane Queensland's operations from 2022," Ms Palaszczuk said.
Ms Palaszczuk confirmed the bulk of the money would come after the casino had been operating for 10 years.
"But still, it's a large amount of money, it's a significant sum of money and in total it is more than $1 billion," she said.
"It does mean there is a huge injection of cash that is going directly to pay down debt on our state budget."
Design for Queen's Wharf integrated resort and casino. Photo: Supplied
State Development Minister Anthony Lynham summarised the money to be received by the Queensland Government from the project.
"We have $5 million today, we have $272 million by 2022 [when the complex opens] and in 2032 we have the remaining $880 million," Dr Lynham said.
"So after 10 years of operation, that's correct."
Dr Lynham said the sum was significant despite the time frame.
"It's still a billion dollars. A valuable $1 billion to pay down state debt and boost our budget's bottom line."
Monday's "contract close" means the Destination Brisbane Consortium – which includes Star Entertainment Group, Hong Kong-based investment company Chow Tai Fook and the Far East Consortium – now formally operates the Queens Wharf Brisbane casino project.
John O'Neill, the chairman of Star Entertainment Group, formerly Echo Entertainment, was in Brisbane for the signing and said Monday's agreement was "certainly a milestone for our company".
"The government drove a hard bargain, but we are delighted with the outcome," Mr O'Neill said.
"It will be quintessentially Brisbane, it will be quintessentially Queensland and will reverberate right around the world."
He said the announcement came on the first day of operations for Star Entertainment Group, the new trading name for Echo Entertainment.
"Plenty of entertainment, but no more Echo Entertainment. We are known as the Star Entertainment Group," he said.
Chris Hoong of the Far Eastern Consortium and Conrad Cheng of Chow Tai Fook signed the agreement with Ms Palaszczuk and Mr O'Neill.
What Queens Wharf Brisbane means to south-east Queensland
$1 billion in revenue from casino taxes by 2032.
10,000 jobs including 2000 in construction.
estimated additional 1.39 million tourists a year.
estimated $1.69 million in tourist spend a year.
five new hotels and an integrated resort including a casino.
link across the Brisbane River to South Bank.
a new live theatre, with a $1.3 million business case announced Monday morning.
Premier Annastacia Palaszczuk said the project would have a significant effect on Queensland.
"We would expect to see more than one million tourists coming to south-east Queensland over the coming years," Ms Palaszczuk said.
She said the project would create 2000 construction jobs and 8000 operational jobs, "but we will see overall some 10,000 jobs over the coming year".
The first part of the construction begins in 2017, when demolition of old state government buildings begins.