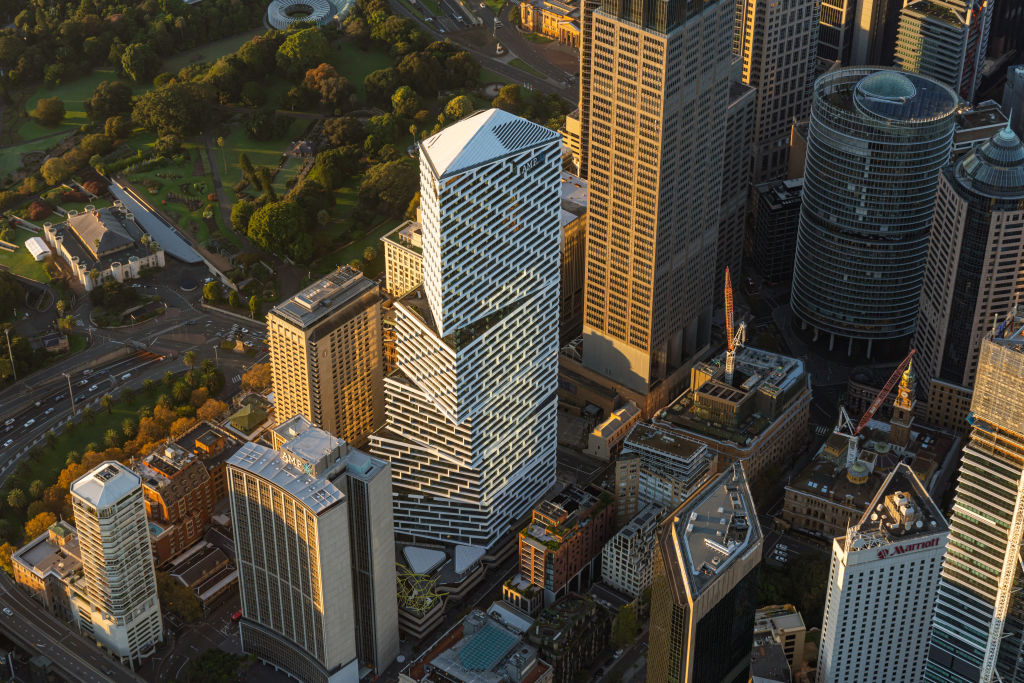 Quay Quarter set to change the global landscape of commercial re-development
It's the Australian world-first tower signposting a landmark $3.7 billion precinct that has created a touchstone for large-scale commercial redevelopments around the world.
With construction completed in April this year and most companies now just moving in or fitting out their premises ready for occupation, the Quay Quarter Tower and its two regenerated city blocks at Sydney's Circular Quay is now being acclaimed as an adaptive-reuse project of global significance.
"It's been a pioneering journey," said Murray Middleton, head of development at AMP Capital, which has redeveloped the precinct on behalf of its investors. "I remember, in the early days, we looked around the world to try to find somewhere where this kind of adaptive-reuse project has been done on this scale.
"We couldn't find anything that came close. So, now it's nice to know that it has been done, and we did it. It's going to change the global landscape; there's no doubt about it. And it's going to ensure better environmental outcomes wherever it's done."
The eye-catching 50-storey skyscraper, designed to look like a stack of revolving boxes, was built on, and around, the previous occupant of the site, 50 Bridge Street. Instead of demolishing the tired old tower, it was stripped down, a third was sliced off and 60 per cent of the existing core structure was retained. Then the new building was grafted onto it, effectively almost doubling its size.
As a result, 6.1 million tonnes of carbon emissions were saved, in addition to a reduced environmental impact on the area and a much-reduced construction time, and the mostly-new building, with its 6 Green Star rating and 5.5-star NABERS energy rating, stands proudly on the harbour skyline.
Quay Quarter Tower, designed by Danish architects 3XN with local input by architecture firm BVN and built by Multiplex, with its two key tenants AMP and Deloitte, was 95 per cent let over its 88,000sqm-plus net lettable area even before it was finished.
Kylie O'Connor, AMP Capital's head of real estate, told a Property Council of Australia NSW seminar on the building and its precinct that it had been the result of massive collaboration. "It was an incredibly ambitious project that has been a decade in the making," she said.
"It's involved two city blocks, this masterpiece tower, laneways and a whole new neighbourhood in a forgotten part of the city tucked away behind Customs House. The original tower was at the end of its lifetime, and we were looking at capital upgrades. We decided that, rather than demolish and rebuild; we'd upcycle the existing building and create a premium office tower almost twice the size."
Adaptive re-use is now common in the residential space but, in commercial real estate – especially with a project of this size in the middle of a densely-built part of the city – it's created a real precedent. Already, the Quay Quarter project has won the Urban Taskforce Australia's Development of the Year 2022 to add to its clutch of awards.
The scale of the operation was breathtaking, with 35,000 people working on the building over its four-year build, with six months taken to erect the scaffolding alone – the largest in the southern hemisphere. Engineers took 1600 core samples of the existing structure to check on the skeleton's condition, durability and likely movement before the bulk of the work could even begin.
Its cubist-inspired design was the brainchild of the architects to maximise natural light and ensure that views over the harbour could be enjoyed by as many of the occupants as possible and to avoid looking straight into the building in front instead. Fred Holt, the architect and partner at 3XN Australia, said that it was inspiring being able to look over at the Opera House, designed by fellow Dane Jorn Utzon.
"We wanted to do something special and sculptured; that's in our DNA," Holt said. "So, we have a vertical village with a stacking of boxes, one on top of each other, so you're looking around the small building in front instead of at it.
"It is Australia's most important sustainable project, both environmentally and socially, leveraging off the infrastructure of everything around it. And we were lucky enough to be able to stick around till the end!"
The building's most important contribution to commercial real estate globally is that it's demonstrated that buildings don't need to be demolished and built again from scratch. With so many ageing buildings in city centres in both Australia and around the world, says Holt, it provides a way of preserving and increasing their value.
Being able to reconfigure an old building and add to it with multiple common areas and big floorplates, the Quay Quarter Tower has also proved very attractive to potential tenants keen to lure employees back to work.
Lawyers Corrs Chambers Westgarth are currently fitting out their offices in the tower and plan to move in at the start of October. Christine Covington, the partner in charge, sees taking up the space there as a way of making a brand statement.
"The primary driver was the opportunity to express our ambition to be Australia's leading independent law firm," she said. "We feel this wonderful building does demonstrate the excitement we feel around that. It has a commitment to wellbeing, sustainability and access to transport, which is important for both our people and our clients."
We're likely to see a lot more of this kind of project in future, believes Murray Middleton. "Now, there's a blueprint for this kind of project," he said. "We know and understand the challenges, the risks and the constraints, and we can see the pathway to working through all those."