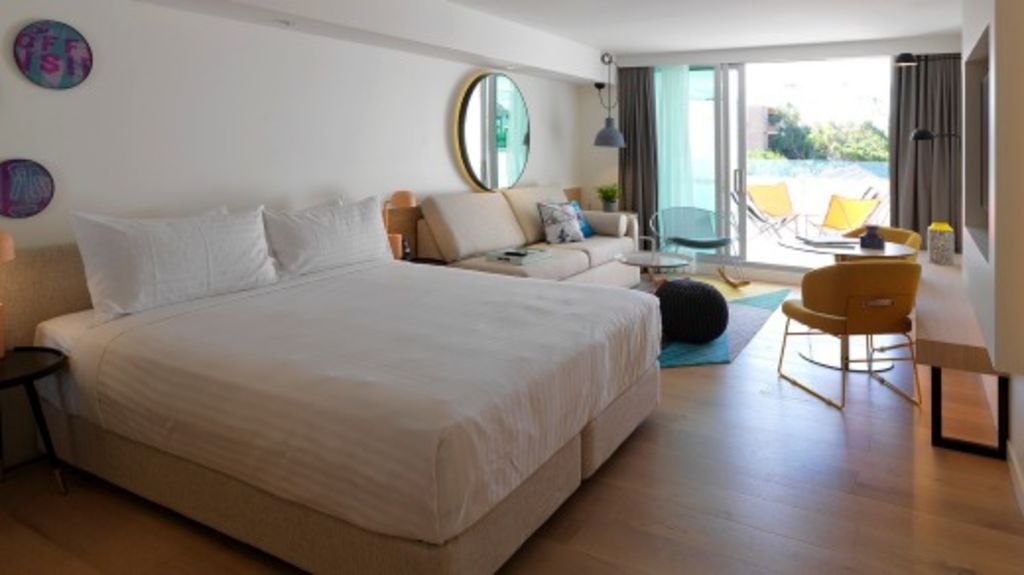 QT Bondi, Sydney: Luxury hotel opens new establishment in Bondi
QT hotel group has quietly opened a new hotel in Bondi, Sydney.
A former backpacker haunt, the hotel group claims it intends to fill the void where the popular urban oasis has fallen far short, in terms of quality and boutique establishments.
Featuring 69 luxury suites, the new premises have been designed to conform with the legendary, laid-back lifestyle of Bondi that attracts so many, with white set against the pop of gelato pastel and limed timber.
The rooms will feature city views, kitchenettes and bespoke designer furnishings.
The QT Bondi's gelato pastel interior. Photo: Supplied
Renowned Australian hotel designer Nic Graham is behind the interior of the new hotel, with Shaun Gladwell, who is well known for his works featuring video and new media, creating the key artworks throughout, including vibrant installations in the lobby.
"Shaun Gladwell draws extensively on the intense physical energy of the local context, blending kinetic movement with the landscape to evoke a brooding almost calming and still sense of romance" said Amanda Love, QT Hotels & Resorts Art Curator.
"This provides a fascinating juxtaposition against the almost extreme sport experience to be enjoyed, providing a thoughtfully measured perspective that truly connects with the Bondi landscape", Love added.
The QT Bondi has a "beachy" vibe. Photo: Supplied
The hotel group have also brought in the big guns to design the staff uniform, employing designer Janet Hine to address the 'unique style and playful vibe that is Bondi'.
QT Bondi is part of the Pacific Bondi development, set to encompass residential apartments, retail shops and restaurants.
Future plans include in-house food and drink offerings of its own.
Rooms start from $280 a night.